Marketed as a heavy-duty computerized sewing machine, Brother XR6060 comes at quite a small cost to believe that such a product is possible at all. And even though this product was discontinued by the manufacturer, you still can get lucky and buy it on significant marketplaces like Amazon. But let's get into details. 
Are you interested in a particular question about Brother XR6060? Then use the table of contents below to jump to the most relevant section. And you can always go back by clicking on the arrow in the right bottom corner of the page. Also, please note that some of the links in this article may be affiliate links. For more details, check the Disclosure section at the bottom of the page. 
Brother XR6060 review
Brother XR6060 features 60 unique built-in stitches, including 100 stitch functions that can handle diverse sewing needs and it's computerized too.
It is lightweight but still sews thicker fabrics well. The range and quality of stitch options are terrific. It usually comes with tons of additional feet, needles, and a bunch of other accessories, which is more than great value for such a low price.  
It really is easy to understand, use, and very light to carry around too. You can effortlessly thread your machine with the automatic needle threader and begin sewing almost immediately out of the box. Brother XR6060 will give you many years of quality service, whether you are doing basic mending, garment construction, or even heirloom sewing. And I would recommend this to anyone ranging from beginner to intermediate. 

Main features
60 built-in utility decorative and heirloom stitches each with various functions
Automatic Needle Threading and built-in Thread Cutter
LCD screen with Computerized Stitch Selection
7 styles of 1-step auto-size buttonholes
Variable needle position
Built-in thread cutter
Built-in accessory storage
One-step bobbin replacement
Full Assortment of Accessories included

Brother XR6060. SYS rating,  pros, and cons
 A powerhouse of sewing for a low cost. It is so easy to use, and within minutes it will be up and running.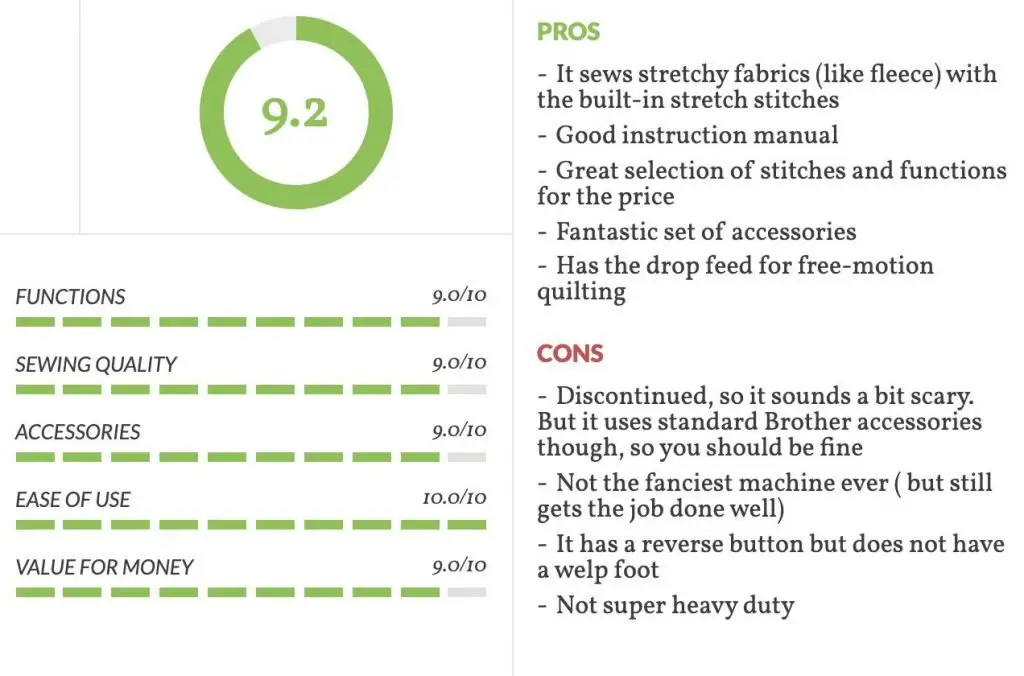 Brother XR6060 manual 
You can download the full manual here.

Brother XR6060. FAQ and Troubleshooting
How to thread Brother XR6060?
For detailed instructions check out this video: 

Does it sew through leather and jeans? 
Even though it's not the most heavy-duty machine ever, it can handle the denim and leather if you are following the manual. Use 90/14 needle when sewing on heavyweight fabrics or stabilizing products (for example, denim, puffy foam, etc.). A 75/11 needle (installed by default) may bend or break, which could result in injury. 
There might be several steps to make it work:

 First, make sure that the sewer is cleaned and oiled.  
Then check that the fabric, needle, bobbin, and thread are selected following the manual.
If none of them is working, you have to confirm that the chip controlling buttonholes is operational. 
If going through three steps above didn't solve the problem, you might have to contact the service. 

Brother XR6060 accessories
At this moment, accessories might vary, but typically this sewer comes with a zipper, and buttonhole foot along with walking foot SA140, quilting foot SA129, 1/4 inch quilting foot SA125, quilting guide SA132 and eyelet punch X25051-001. 
Brother XR6060 bobbins 
This machine uses SA156 bobbins. If you are using the bobbins from other models, the unit will not operate correctly.

Is Brother XR6060 really a good one? Our verdict
This machine is smooth running, and it runs straight. The range and quality of stitch options are terrific, and the work looks as good as something produced by much more expensive machines.   
If you are looking for a power horse that is easy to use, heavy-duty, lightweight, and very affordable, Brother XR6060 surely fits the bill. 


Disclosure: at sewingyourstyle.com we only write about the products that we've researched and considered worthy. But it's important to mention that we are a participant of several affiliate programs, including Amazon Services LLC Associates Program, an affiliate advertising program designed to provide a mean for us to earn fees by linking to Amazon.com and affiliated sites. As an Amazon Associate sewingyourstyle.com earns from qualifying purchases.