I like all products from this manufacturer, but Juki MO623, an entry-level overlocking machine, is one of the best ones. And even though you might be a complete beginner, you will get all the help you need from the seam guide included. I think the learning curve with this Juki machine is not steep. So, both a beginner and an experienced sewer can craft anything ranging from simple to extravagant sewing projects. But let's jump into specifics. 
Do you have a particular question about Juki MO623? Then use the table of contents below to jump to the most relevant section. And you can always go back by clicking on the arrow in the right bottom corner of the page. Also, please note that some of the links in this article may be affiliate links. For more details, check the Disclosure section at the bottom of the page. 
Juki MO623 review 
Juki MO623 is a 1 needle, 2, or 3 thread overlock. But the best part about it is that it comes with a built-in rolled hem, meaning that you won't have to switch the needle plate. You will see this is a great advantage since it will save you a lot of trouble (needle plates are challenging to switch!). Also, you will notice that the thread tension dial is convenient and straightforward to use.
It's a reliable work-horse, so you can use it with all kinds of materials and threads for working on practically any project you have in mind a reality.  
Juki MO623 can boast with flawless performance, and it comes at a reasonable price. It can offer excellent serger performance for your needs. 
But there is a small disadvantage you might notice: the tension is hard to get straight right away. So you might need to spend some time mastering it.  
Other than that – it's a great choice, ready to use out of the box. It's fast, and it makes absolutely impeccable stitches—an all-around overlocking winner.  

Main features
Built-in needle plate 
3 thread for overcasting; 2-thread adaptor available
Sews up to 1500 stitches per minute 
Adjustable stitch length and cutting width
18.26 pounds

Juki MO623. SYS rating, pros, and cons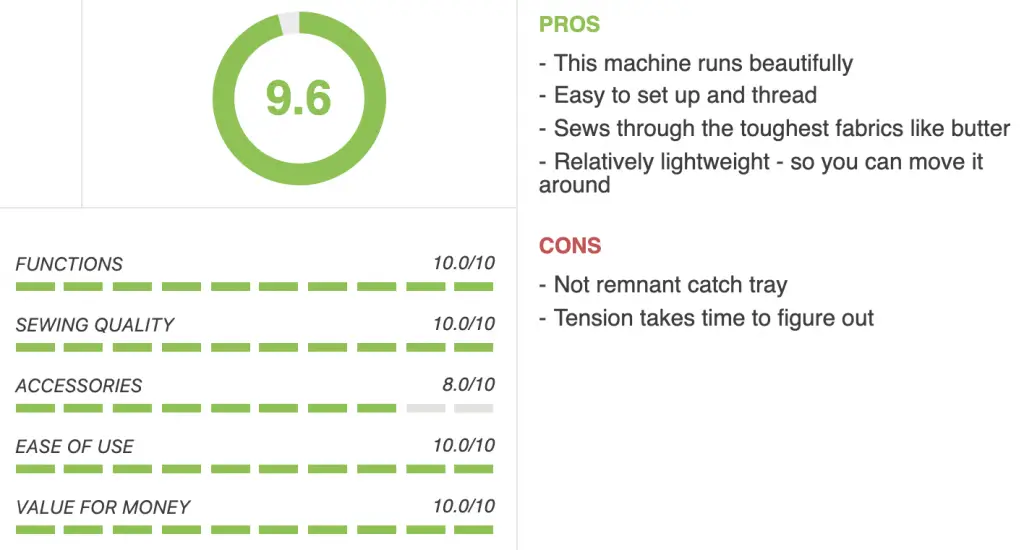 Juki MO623 manual 
You can download the full manual here.

Juki MO623. FAQ and Troubleshooting
How to thread Juki MO623? 
Does it sew through leather and jeans? 
This model will work just fine on denim, leather, and other challenging fabrics. Just don't forget to consult the manual for the correct settings and use an appropriate needle and thread. It may make sense to perform some tests on smaller scraps of fabric to see if you got the tension and everything else right. 

Juki MO623 accessories
This machine comes with some essential accessories. Not much but enough to get you started right out of the box (with a few extras). The list includes foot controller, tweezers, looper threader, cleaning brush, power cord. Also screwdriver, oiler, accessory bag, dust cover, and instruction manual. 

Is Juki MO623 really a good one? Our verdict 
Juki MO623 serger is one of the most affordable options that get you access to some pro sewing features. It is highly reliable. It produces really high-quality stitches (on practically any fabric as long as you follow the manual!) that will enhance the look of your finished designs in no time.  
This machine is also built with durable materials, meaning that it can become a long-term investment. 
This is one of the fastest sergers on the market, with sewing speed up to 1,500 stitches per minute (but it can go slower, of course).
To sum up, Juki MO623 is compact, user-friendly. It's a cool and a budget option for anyone looking forward to getting a grip on serging at home. 

Credits: photos by Canva

Disclosure: at sewingyourstyle.com we only write about the products that we've researched and considered worthy. But it's important to mention that we are a participant of several affiliate programs, including Amazon Services LLC Associates Program, an affiliate advertising program designed to provide a mean for us to earn fees by linking to Amazon.com and affiliated sites. As an Amazon Associate sewingyourstyle.com earns from qualifying purchases.