Singer 4452 is a heavy-duty sewing device built to work on various projects you might have in mind. And if you're wondering what this means, here's the answer: with this Singer machine, you can design with anything ranging from denim to canvas embroidery. The model comes with a powerful motor that helps you keep up with it. But let's get into specifics. 
Do you have a particular question about Singer 4452? Then use the table of contents below to jump to the most relevant section. And you can always go back by clicking on the arrow in the right bottom corner of the page. Also, please note that some of the links in this article may be affiliate links. For more details, check the Disclosure section at the bottom of the page. 
Singer 4452 review 
Singer 4452 will let you create original designs, sew tailored fabrics, or transform your home by working on curtains and throw pillows decorations. There are 32 various stitches you can work with, including basic, stretch, decorating, and even one-step buttonhole too. 
It is quite straightforward to operate. It comes with adjustable foot pressure and a stainless-steel bed plate that enables smooth gliding over the machine. It's also one of the fastest machines in the category and within a similar price range – up to 1,100 stitches per minute. 
This machine is simple to use, and more durable due to its sturdy build. Overall, it is a solid investment that will help you complete all the creative projects you might have in mind. Even if you are thinking of the most challenging heavier fabrics. 

Main features
32 built-in stitches (basic, decorative, stretch, buttonhole). 
Automatic needle threader 
Up to 1,100 stitches per minute 
The stainless steel bedplate 
Top drop-in bobbin 
Adjustable presser foot pressure
Three needle positions
Automatic tension
Easy stitch selection
Automatic bobbin winding 
LED working lighting 
Relatively lightweight 15.71 pounds

Singer 4452. SYS rating, pros, and cons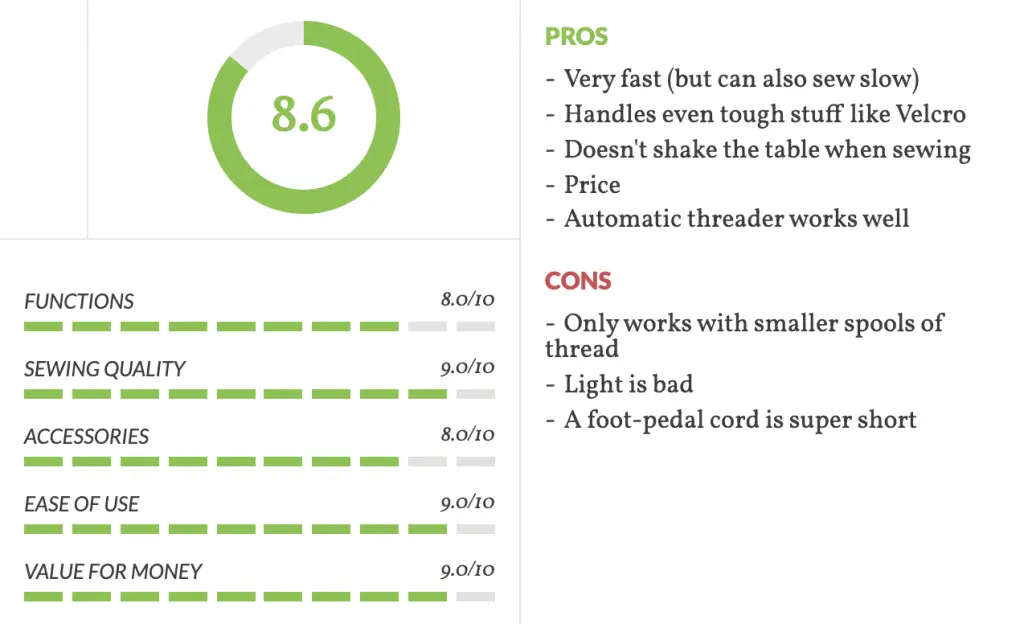 Singer 4452 manual 
You can download the full manual here.

Video guidelines

Singer 4452. FAQ and Troubleshooting
How to fix the fact that the Singer 4452 comes unthreaded while sewing?
You can fix this issue by pulling a thread about three inches long after you finished a row of stitching. Make sure you cut the end of the seam you just sewed. When you begin the next row, pull that tail out behind the foot, and keep it there for the first couple of stitches. 
How to fix an uncentered needle?
Make sure the stitch width is set to position 0. It can be the main reason why the needle is uncentered. 
Can you use leather or denim with this machine?
This Singer is created for household purposes, meaning that it can be used on a wide array of materials. It is great to sew 4 layers with ease. When it comes to leather or denim, you should go slowly and follow the manual vigorously choosing the right foot, needles, and thread and presser foot position for the process. 

Singer 4452 accessories
This model comes with a generous set of accessories, including several feet (even feed/walking,  all-purpose, zipper, buttonhole, and non-stick for leather and vinyl).
It also has bobbins, 5-pack of Size 16 needles, and a Clearance Plate for thick seams. Plus seam ripper/lint brush, screwdriver, auxiliary spool pin, spool pin felt, soft-sided dust cover, quilting guide, and manual. Great value if you ask me. 

Is Singer 4452 really a good one? Our verdict 
Singer 4452 is a great heavy-duty machine for your daily tasks if you prefer something durable, easy to use, and fast. And it also priced very reasonably, especially considering all the extras you are getting with it. 
The downside might be that the tutorials about it are short, so you might need additional research if you're a complete beginner.  But Singer are well known for their online tutorials, so I don't think it's going to be a problem. 
Although if you are on the hunt for more heavy-duty sewers, check my guide on the best heavy duty machines. I am sure you'll find the only perfect fit for your budget and specific creative needs. 

Credits: photos by Canva

Disclosure: at sewingyourstyle.com we only write about the products that we've researched and considered worthy. But it's important to mention that we are a participant of several affiliate programs, including Amazon Services LLC Associates Program, an affiliate advertising program designed to provide a mean for us to earn fees by linking to Amazon.com and affiliated sites. As an Amazon Associate sewingyourstyle.com earns from qualifying purchases.