Quilting is the method of sewing together various layers of fabric to create a thicker, warmer piece. A quilt is split into three parts: the Quilt Top, the Wadding, and the Backing. Quilters often like using a 'quilt sandwich' analogy when describing this setup. Just like the sandwich is split into three primary parts, so is a quilt in a comparable sense.
Using sewing machines for quilting is a somewhat faster method in which a quilter utilizes a sewing machine to stitch the quilting layers together. You can still quilt with your standard sewing machine. However, the tension may keep getting off, the light won't work, and every so often, the bobbin will come unthreaded. In that case, you might end up obliviously humming along until you pick up your chain piece just to have it all fall apart. 
So if you're serious about your quilting, you should definitely consider investing in a proper quilting unit. 
If you are in a rush and only here for a quick suggestion of an absolute best quilting machine, my top choice would be Juki TL-2010Q because it's super-fast, makes fantastic stitches, and is a terrific workhorse. For quilting and beyond.

Otherwise keep reading. I've spend 20 hours to do this research, so you won't have to.
Are you interested in a particular machine for quilting? Then use the table of contents below to jump to the most relevant section. And you can always go back by clicking on the arrow in the right bottom corner of the page. Also, please note that some of the links in this article may be affiliate links. For more details, check the Disclosure section at the bottom of the page. 
Important quilting machine features
Among some features, you have to look for in that perfect quilting machine are the following: 
Larger working space – you need it for an outstanding quilt! 
Good quilting sewing machines also should have easy threading feature. You have to change your stitch at a particular stage of your creating process. The finest quilting units allow you to turn mid-stream stitches and apply custom characteristics. In the end, it will help to improve the easy of work and the quality of the quilt you are making. 
The possibility to adjust the stitch characteristics, the width, the length, and room between each stitch, is also essential.  The proper quilting units provide a width of up to 7 mm, thus generating a lot of design variation. And they also often allow you to be more exact with each stitch. 

Quilting machines should have the power to sew for hours while maintaining the same stitching precision. Only in that case the stitched will come out beautifully and look the same across a quilt.
A quality machine constructed to industrial standards should last for decades − stitch after stitch, quilt after quilt.   
So, as with any significant investment, when raising up your quilting game, it pays to do your homework. And we hope this report will help make the right choice.

How I've picked the best quilting sewing machines
We've analyzed the selection of most popular sewing machines that are sold on Amazon.com and selected 70+ best-rated units with quilting capabilities.  
We've scrutinized the shortlist based on the units' design, users' reviews and feedback, functionalities and more. 
The final list of top 5 best sewing machines for quilting was categorized based on the major machines' capabilities or features: whether its portability, price, or else. 

Best sewing machines for quilting comparison
For your convenience, you can locate all the major data points describing each sewing machine in the rating in one table below. You can quickly access the detailed review related to the particular model by clicking on its name in the left column. 
And now let's dive deeper into details about the best quilting sewing machines in each category.

Best rated sewing machine for quilting
Juki TL-2010Q
Description: 
Just to clarify, we don't mean top-rated by the editors of this report when we say top-rated. Triumphing in this category signifies that this machine has the highest user rates compared to other models. We are not surprised about this one, though, Juki TL-2010Q is a terrific workhorse. For quilting and beyond.
It makes fantastic stitches. It's mechanical, no computers, no blows, no whistles. However, if you want a powerful, reliable quilting machine without spending a fortune, this is the one. This device is the dream of a quilter. (But you can also sew on it as well).

Juki TL-2010Q manual:
Download User's guide (PDF)
Instructional videos:

Features:
1500 stitches per minute
Foot and Sliding Speed Control
Comes with large (12 x 23) working table
Knee-lift and a needle up-down
Model's detailed rating, pros and cons: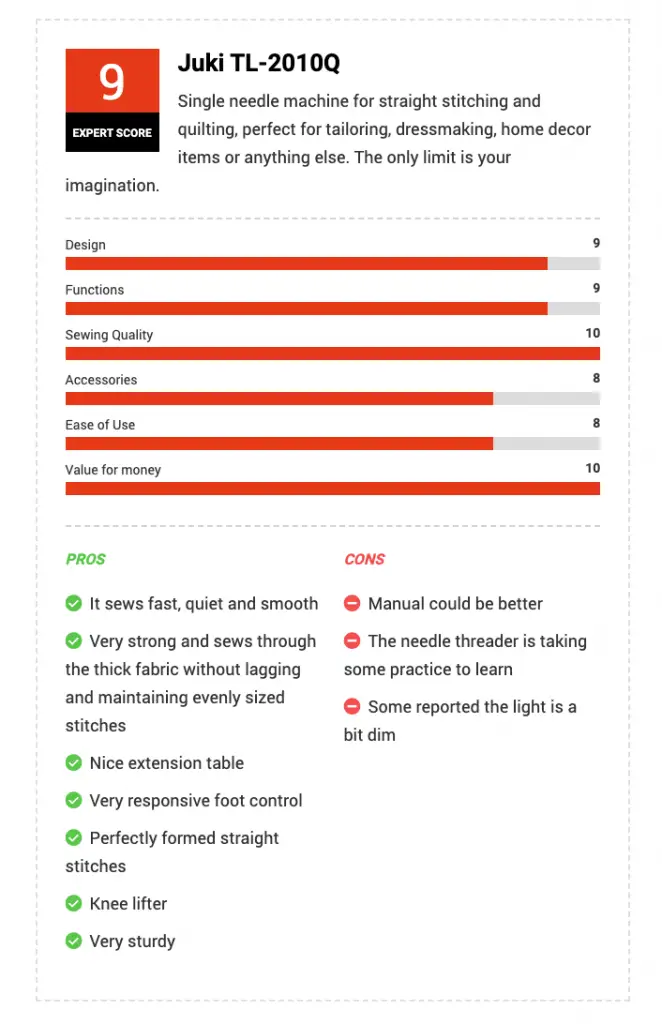 Best sewing machine for free-motion quilting
Brother Project Runway CE7070PRW
Description: 
For free-motion quilting, your sewing machine must be able to lower its feed dog. So that there is no pushing, pulling, or any other fabric resistance. You will also need a free-motion foot that is consistent with your sewing machine. It is brand-specific in most instances.
Once the feed dog is in the right position, and your free motion foot is safely attached, you are in full command of the fabric and stitching. Your machine will not provide any resistance so you can freely maneuver with your "quilt sandwich" around and construct any pattern you like.  And this machine, this little worker, is capable of it. It can basically sew any sort of stuff and will do whatever you want, even if you quilt / sew every day.
It's pretty much as awesome as $5,000-worth industrial quilting units. But costs a small fraction of it. And it's lightweight so you can even bring it along on the trips or meeting. You'll enjoy the detachable broad sewing table that comes with this model and the free arm quilting drop feed system.
Brother Project Runway CE7070PRW manual
Download User's guide (PDF)
Features:
70 built-in stitches
Tons of accessories, including 7 presser feet, 4 bobbins, 3-piece needle set, ballpoint needle, twin needle, etc.
Automatic needle threader
7 styles of built-in, one-step buttonholes 
Wide table for larger projects with ruler markings
Jam-resistant Quick-Set bobbin
Drop feed for free-motion quilting 
Model's detailed rating, pros and cons: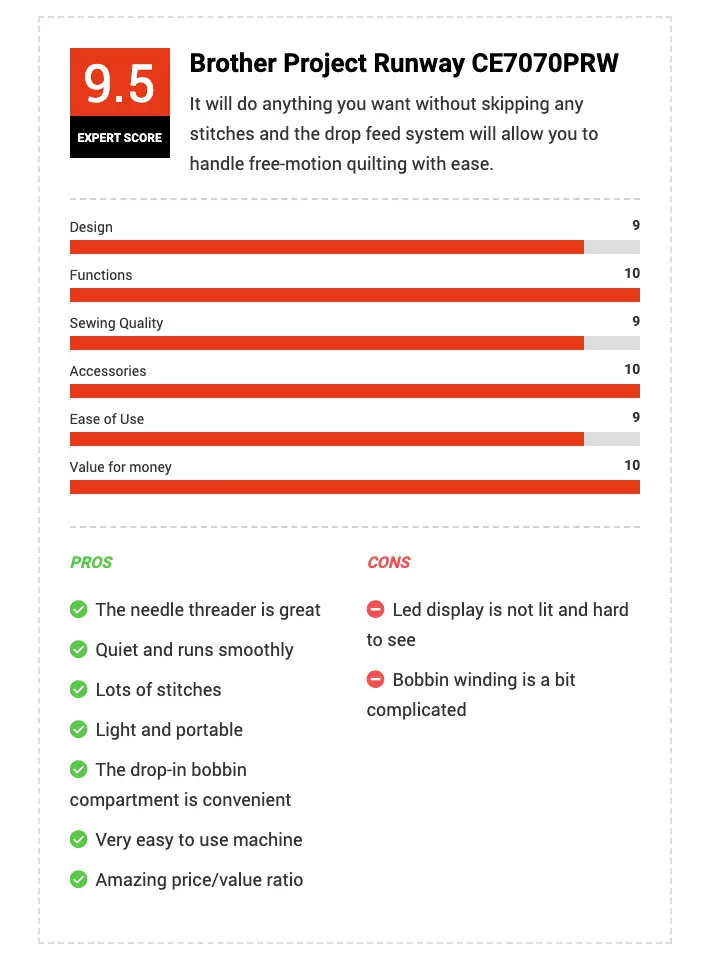 Best quilting machine for a beginner
Brother XM2701
Description: 
This machine has once hit our ratings before. It was featured as the best value for money in our searches of the best sewing machines by Brother. (You can read it here).
So now you know that it's not only great for a quilting beginner, but for any Brother's aficionados. Especially the ones who appreciate an opportunity to get the most of the sewing power per dollar. It's also a sound machine for novices who are learning to sew and quilt and even fit the needs of more seasoned sewers who are looking for more versatility.
Brother xm2701 manual
Download User's guide (PDF)
Instructional videos:
Features:
27 built-in stitches, including decorative, and quilting stitches
Sewing speed up to 800 stitches per minute
Jam-resistant drop-in top bobbin
Built-in free arm
One-step buttonholer
Includes 6 sewing feet and more accessories
Model's detailed rating, pros and cons: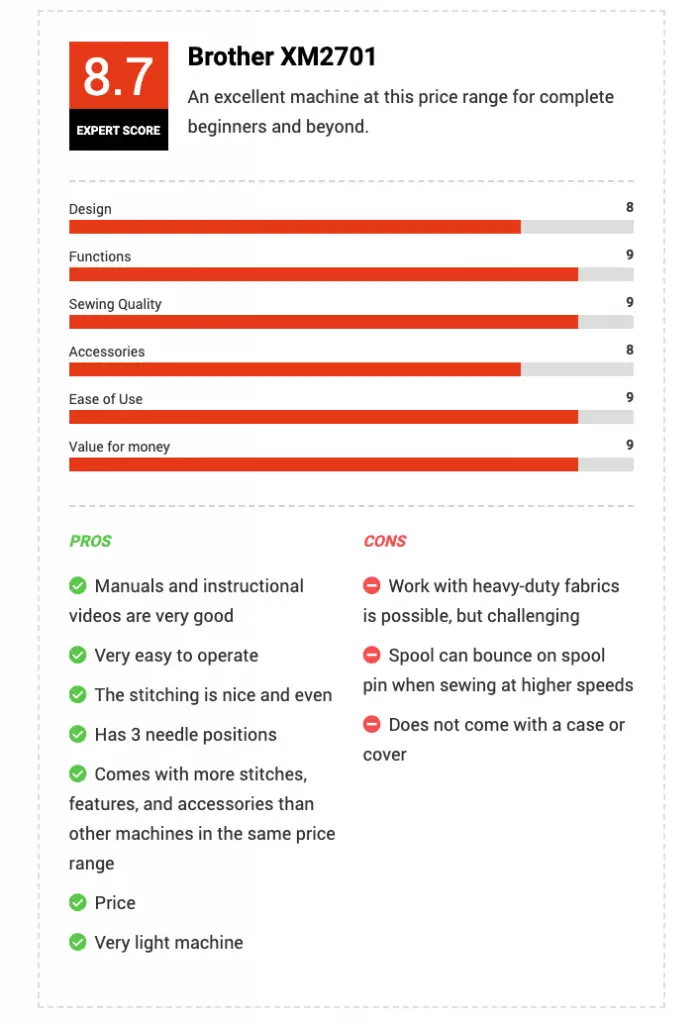 Looking for more "beginners" options? Check our research of best sewing machines for beginners here.

Best machine for both sewing and quilting
Brother XR9550PRW 
Description: 
This unit is TERRIFIC for the price. There are more than enough types of stitches. It even has a monogramming functionality. A good set of accessories is included with each machine purchased. And it comes with most of the feet you might ever need for any project (including hopping quilting foot) 

You can create anything from curtains to a quilt on this unit. And any of those projects destined to turn out great as long as you are following the manual.

Brother XR9550PRW manual
Download User's guide (PDF)
Instructional videos:

Features:
Includes 110 utility, decorative and heirloom stitches
8 sewing feet included (for buttonhole, zipper, overcasting, blind stitch, monogramming, quilting, etc)
Comes with a protective hard case and an oversized wide table 
Equipped with a large LCD screen that enables computerized stitch selection
Free arm capability for sewing cuffs and sleeves
Drop feed for free-motion quilting and sewing
Model's detailed rating, pros and cons: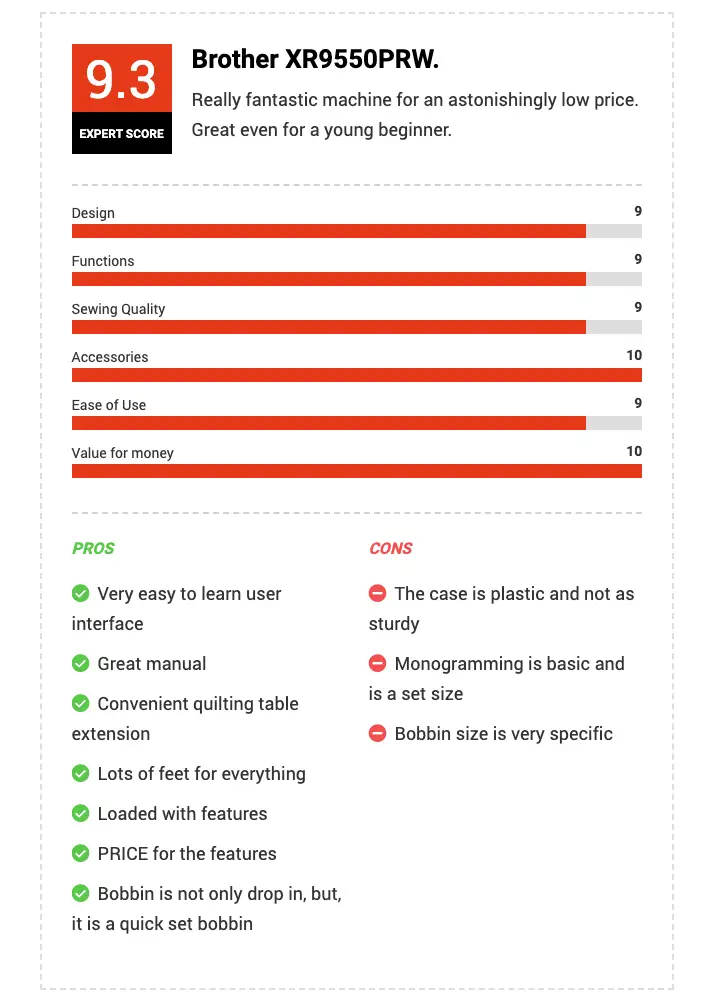 Interested in more options from Brother? Check our research of the best brother sewing machines here.

Best inexpensive sewing machine for quilting
Brother SQ9185 
Description: 
Yes, it's Brother again. But what can we do if they create those solid machines, packed with features and very moderately priced? So, yes, it's not surprising that this one is a winner in the "cheap" category. 
See for yourself: drop-in bobbin, velocity control, up / down needle button, reverse push button, free arms for sewing sleeves and baby clothing, and 185 built-in stitches. Not enough?
Computerized, lightweight, it comes with an assortment of the most used, snap-on, feet. Even a walking foot that is great for slippery or hard to manage fabrics is included. And if all these characteristics seem a bit intimidating, the user manual is also pretty amazing. It's a great machine for an aspiring quilter on a budget. 

Brother RSQ9185 manual
Download User's guide (PDF)
Instructional videos:

Features:
185 Built-in Stitches, including styles for quilting and monogramming
Large easy to navigate LCD Display
LED-lit work area
Bunch of accessories included ( many feet, including ones for buttonholes, zippers, monogramming, various quilting feet along with quilting guide, etc.)
Wide table for larger projects such as quilts 
Free arm for sewing cuff and sleeves
Easy-to-use speed control
Model's detailed rating, pros and cons: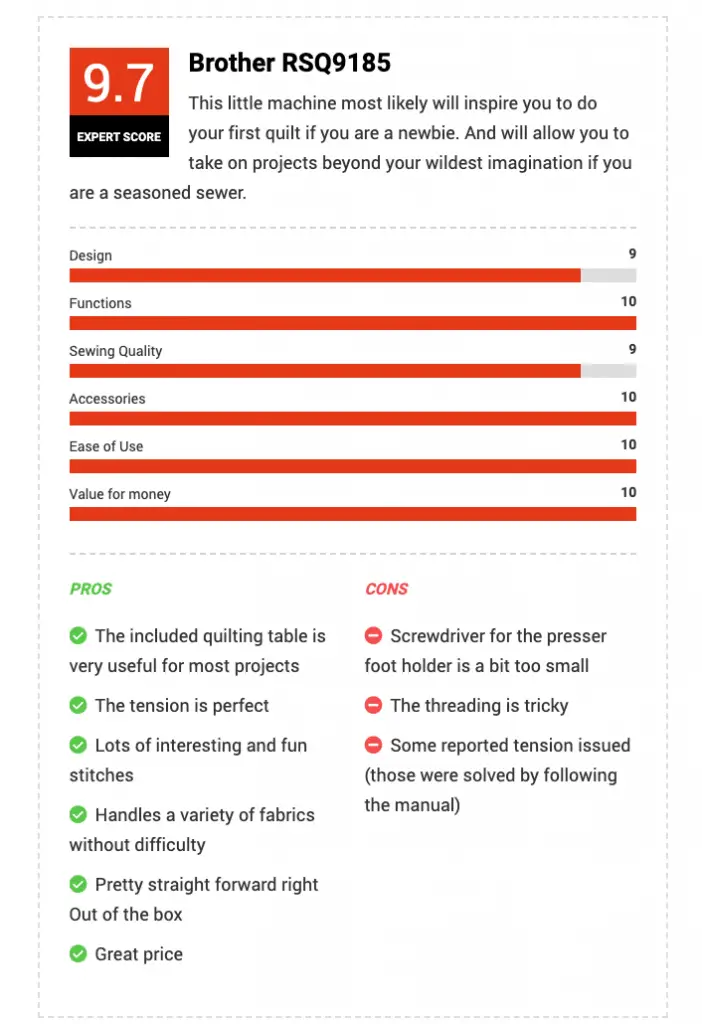 Looking for more inexpensive options? You might like our list of 8 best cheap sewing machines HERE.

Quilting machines deals and pricing guide
Credits: photos by Canva
Disclosure: at sewingyourstyle.com we only write about the products that we've researched and considered worthy. But it's important to mention that we are a participant of several affiliate programs, including Amazon Services LLC Associates Program, an affiliate advertising program designed to provide a mean for us to earn fees by linking to Amazon.com and affiliated sites. As an Amazon Associate sewingyourstyle.com earns from qualifying purchases.