The new Janome 3160QDC is a computerized sewing machine packed with many features like LCD panel, an automatic needle threader, easy-to-change-bobbin, and so much more. It also comes with many various accessories to get you started in no time. But let's learn more about this newcomer. 
Do you have a particular question about Janome 3160QDC? Then use the table of contents below to jump to the most relevant section. And you can always go back by clicking on the arrow in the right bottom corner of the page. Also, please note that some of the links in this article may be affiliate links. For more details, check the Disclosure section at the bottom of the page. 
Janome 3160QDC Review
Janome 3160QDC can be used for every type of sewing, including home décor, high fashion, patchwork, and quilting.
It's a lightweight sewing machine that does everything well. 
It comes with a walking foot that is an excellent feature that is necessary for accuracy, but doesn't come standard with many other, even more expensive, machines.
It is easy to use and produces smooth sewing, even when sewing through several layers.
This machine has 60 built-in stitches, including 6 buttonhole stitches giving you the perfect range of stitches for any task you want to undertake. And it comes with a good number of extra feet too, so you can work on practically any project.
This sewing machine is easy to thread and has a convenient top drop-in bobbin. The bobbins are also clear plastic so you can see when you are about to run out of thread.
3160QDC has proper tension and a handy automatic thread cutter. It also handles bulky seams well. 
The default stitch setting is the standard recommended stitch length for quilt piecing, and the bobbin winder works well.
The easy to control panel and LCD panel allows for detailed and decorative stitches. The precision tension dial keeps the tension you set.
3160QDC comes packed with an extension table. The stitch quality is excellent at speeds up to 820 stitches per minute.
The built-in features of this machine will help you cope with any sewing challenge. You can control the maximum sewing speed for precision work, trim off threads with the built-in automatic thread cutter, thread the needle automatically. This machine has everything you need to make your sewing easier.
All-in-all 3160QDC is a feature-packed computerized sewing machine that most likely will satisfy the needs of even the most demanding seamstress.

Main features
60 built-in sewing stitches
6 built-in buttonholes 
Automatic needle threader
LCD panel 
Top-loading bobbin system
Thread cutter button
Reverse stitch button 
Lock stitch button
Needle up/down button 
The sewing speed of up to 820 stitches per minute
Great accessories bundle included
Relatively lightweight – 20.5 pounds 

Janome 3160QDC. SYS rating, pros, and cons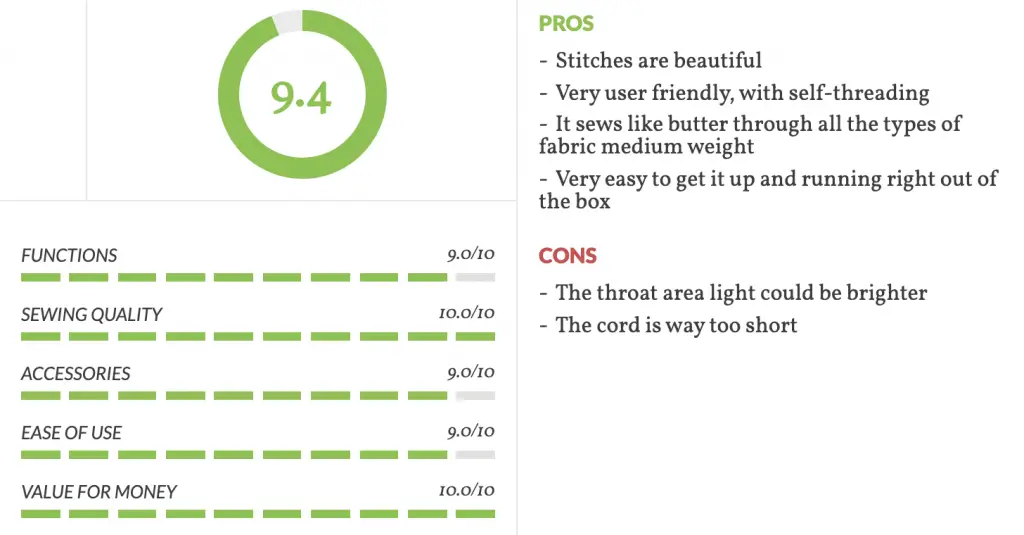 Janome 3160QDC manual 
You can download the full manual here.

Video guidelines

Janome 3160QDC. FAQ and Troubleshooting
Q. How do I fix uneven stitches? 
A. Try double checking your threading and make sure that you are not pulling on the quilt or that the material is not hanging up on anything. The walking foot should do all the work with you, just guiding the fabric.
Are you sewing fast? Some walking feet don't like to go fast. Try going slower.
You can also check the bobbin area. Make sure you have a right high-quality bobbin on and that it isn't wound too tight.
You can also check for any lint or misthreading that might be messing with the bobbin tension.
Q. How to clean 3160QDC? 
Q. Does it sew through leather and jeans? 
A. Two layers of denim should be just fine. But don't forget to use the right heavy duty needle and go slow to make it work.

Janome 3160QDC accessories
This machine comes with an incredible amount of accessories. It includes a bunch of feet: open-toe even feed, open-toe darning, zig-zag, overedge, 1/4″ seam "o," zipper, zig-zag "f2", buttonhole, satin stitch, and blind hem foot. 
It also comes with a hardcover, extension table, bobbins and needles, screwdriver, lint brush, seam ripper, manual, and some other extras. 

Is Janome 3160QDC a good machine? Our Verdict
Janome 3160QDC has some excellent features and is very user friendly. It is well-built and yet is light enough to carry. It has all of the features (and TONS of extra feet) at a bargain price. The cover case is a plus, and the accessory package is pretty complete.
Overall It is an excellent machine for both sewing and quilting. And even though it's relatively new, I am pretty confident this model is destined to become a classic. 
And if you are still looking for more ideas and love Janome I suggest you to check my rating of best Janome sewing machines.