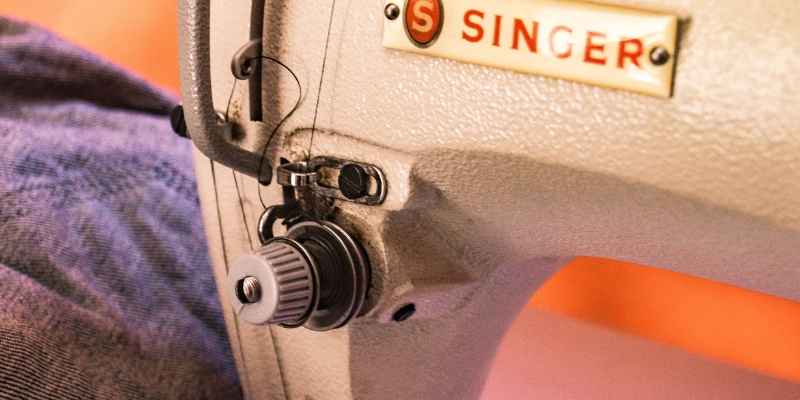 Here's what we'll cover:
Singer may be the most popular sewing machine brand and the most well-known. It has been making powerful sewing machines since the 1850s. So it's not surprising that the name of the company is synonymous with sewing itself. The brand had some curious ups and downs.
The firm suspended sewing machine production during World War II to take on public agreements to manufacture guns. They restarted the construction of sewing machines in 1946. And that was really a golden age for Singer: they were pioneers who launched their first zigzag-functioned sewing machine back in 1952. In the 1960s and 70s, Singer ran into some business problems. The company ended up as a part of a massive corporation. It also owns the Pfaff and Husqvarna, amongst others.
Under the new leadership, however, Singer continued to innovate, e.g., in 2017, they introduced the world's first Sewing Assistant App for sewing assistance on the go. And their sewing machines have always been famous for their durability that they have been passed down for generations.
Singer sewing machine troubleshooting
Any machine, even the most expensive, can sometimes be challenging to handle. So, whether it's Singer or any other brand, the problems you might experience are quite similar. Among all-time favorites:
Fabric is not feeding properly
In this case, the wrong position of the presser foot might be the cause. Lower the foot of the presser and resume sewing. Also, you can check if the control of the stitch length is set to "0." Increase this setting and keep sewing.
Another reason the machine may not feed fabric the way you want it is that the feed dogs are loosed. So make sure they are correctly set up for the sewing. A handy tip: If your machine has drop feed feature, resume ordinary sewing by shifting the drop feed lever to standard sewing mode. Then turn the handwheel towards you one complete turn to re-engage feed dogs.
Thread loops are showing on the underside of the fabric

This issue indicates that the upper thread is not threaded correctly. This occurs when the bottom strand is not correctly positioned in the tension system and has not been threaded through the take-up lever. You solve it in a few easy steps. First, lift the presser foot lifter and lift the needle to its highest position. Then the thread can be accurately placed in the tension system and bring up the lever.
Bobbin thread is showing on the top of the fabric

Most likely that the top thread tension is off, or bobbin thread is not in the bobbin case tension. Check that the upper thread feeds freely without interference (like getting stuck behind the spool cap or getting trapped at any rough areas on the thread spool).
Needles are breaking
No surprise here. Discard the old needle and put on a new one. Don't forget that you always have to use the needles designed for your preferred fabric.
Needles can also break if you "push" or "pull" the fabric while sewing, as it causes the needle to deflect. The feed dogs are actually meant to do the job of drawing the material under your foot as you work – you only have to guide the fabric.

The list goes on. However, the beautiful thing about Singer is that they provide great assistance to their clients. So you can always refer to their troubleshooting videos (like this one) or look for videos produced by an enormous base of Singer fans.
And now it's time to get to the heart of this report. Let's unveil the 9 best Singer sewing machines.
back to menu ↑
How we compared the best Singer sewing machines
We've analyzed the selection of most popular sewing machines that are sold on Amazon.com and selected 30+ best-rated Singer machines.
We've scrutinized the shortlist based on the design, users' reviews and feedback, functionalities and more.
The final list of top 9 best Singer sewing machines was categorized based on the major machines' capabilities or features: whether its portability, price, or else.
back to menu ↑
Compare Singer sewing machines
For your convenience, you can locate all the major data points describing each sewing machine in the rating in one table below. You can quickly access the detailed review related to the particular model by clicking on its name in the left column.
And now let's dive deeper into details about the best Singer sewing machines in each category.
back to menu ↑
Top-rated Singer sewing machine
SINGER | Heavy Duty 4432
Description:
First things first, when we say top-rated, we don't mean top-rated by ourselves. We imply that this machine has the highest user rates relative to other designs. SINGER Heavy Duty 4432 is a terrific sewing machine with that being said.
If you want a bunch of bells and whistles, it's not for you, though. It makes buttonholes, zig-zags, and makes a few fancy stitches, but basically, it's a workhorse that will never let you down.

It has plenty of power to go smoothly through various layers of the thickest fabric. It will take you a little effort to get to understand the machine and adjust your settings properly. But once you get there, the unit will perform flawlessly, almost as great as $5,000 worth of heavy-duty industrial devices would do. A little dynamite. And VERY fairly priced.
SINGER | Heavy Duty 4432 manual
Download User's guide (PDF)
Features:
You can check more specifications HERE.
SINGER | Heavy Duty 4432
With a heavy-duty metal interior frame, stainless steel bedplate, extra-high sewing speed and powerful motor, it can sew through a variety of fabrics and deal with all kinds of projects. A true workhorse.
PROS
Superfast
The stitch quality is excellent
Clear bobbin window
Buttonhole option is easy to use
Glides over those thick seams without looking back
Easy to use
Sturdy
CONS
The auto threader is hit or miss - takes an effort to master
A bit hard on needles
The manual is challenging to understand
back to menu ↑
Best Singer sewing machine for beginners
SINGER | Start 1304
Description:
Even though SINGER Start 1304 is tiny, lightweight and inexpensive, It has enough stitches and features. So it will be helpful for all the basic projects and more advanced things like sewing on buttons and creating buttonholes. Completely recommended for beginners.

SINGER | Start 1304 manual
Download User's guide (PDF)
Features:
You can check more specifications

HERE
.
SINGER | Start 1304
You will love the smooth action, the small size, and ease of use.
PROS
The tension is correct right out of the box
Nice stitching
Easy to operate
Quality of the stitches is off-the-charts
Operates quietly
Lightweight
Price
CONS
Doesn't have a lot of extras
Changing the bobbins is challenging
Bobbin might jam - you need some training with the machine to eliminate this issue
Looking for more "beginners" options? Check our research of best sewing machines for beginners here.
back to menu ↑
Singer portable sewing machine
SINGER | Talent 3323
Description:
SINGER Talent 3323 is so light yet on the table it doesn't dance around. It has exceptional foot pedal velocity control, so you can go as slow or as quick as you like.
And even though the stitches only include the most simple ones, it's still enough for any project: zigzag, blind hem, stretch stitch, edge overcasting, and dozens more. You'll enjoy the automatic threader and the buttonhole maker. Overall, it's a great little machine for beginners and intermediate seamstresses.
SINGER | Talent 3323 manual
Download User's guide (PDF)
Features:
You can check more specifications

HERE
.
SINGER | Talent 3323
A nice little basic and COMPACT machine very well worth the money.
PROS
Pretty quiet
Has many features and attachments
Many accessory feet are included
Good fit for any desk
Self threader is very handy
Very high-quality stitches
Price
CONS
Auto threader is not easy to understand at first
The bobbin is a little awkward to get out but you are going to be fine with a bit of practice
back to menu ↑
Singer featherweight sewing machine
SINGER | Featherweight C240
Description:
Portable is great, but featherweight is even better, right? While not precisely "feather," this little baby weighs less than 15 pounds and is PACKED with features. It sews quickly through the different materials, feeds smoothly, it's lightweight and not bulky, and it's quiet. It has a lot of SPECIAL stitches.
The change of the foot is literally a snap. Threading the needle is fast and straightforward. And, of course, the cherry on top, the new integrated even feed system. It eliminates all the bunching and puckering. If you pick this machine, I am almost confident that you'll be impressed with all the characteristics and Singer quality.

SINGER | Featherweight C240 manual
Download User's guide (PDF)
Features:
You can check more specifications

HERE
.
SINGER | Featherweight C240
Light, portable, sews with beautiful stitches and is easy to operate.
PROS
Lots of cool stitches
Solid construction
Quiet
Lightweight
Good size for storing
Programmable needle
Plenty of storage in the extension table
CONS
Some found that the cover over the spool holder is a bit flimsy
Generic feet won't fit
back to menu ↑
The best basic Singer sewing machine
SINGER | Simple 3223G
Description:
It's hard to find things you don't like about this device: beautiful color, cute design, lightweight and portable for traveling. You will appreciate easy threading, simple stitch choice, and bonus accessories. Setting it up and using it is a breeze and the cost is dreamy. LOVE!

SINGER | Simple 3223G manual
Download User's guide (PDF)
Features:
You can check more specifications

HERE
.
SINGER | Simple 3223G
Great (and pretty) sewing machine for all your basic sewing needs.
PROS
Instructions are easy-to-follow
Lightweight and compact
Versatile
It has all of the basic stitches you might want to use
It comes with extra needles, bobbins, and feet
Comes with a nifty cover
Looks absolutely adorable
CONS
The learning curve on getting the bobbin tension perfect
Many components are made out of plastic
Interested in more "the best of the best" options? Check our comprehensive research of the best sewing machines with comparison and current deals HERE.
back to menu ↑
Singer heavy duty sewing machine
SINGER | Heavy Duty 4423
Description:
This machine is quick and reliable and feels durable while still quiet and lightweight. And the automatic threader is so easy and brilliant! It doesn't have trillion fancy stitches, which most people won't use anyway. But it has the most valuable ones that will satisfy all your needs
. It even has a serger-like stitch to offer your products that polished finish, without buying an additional sewing unit for the purpose. Overall great machine for its speed, precision, power, quality, and cost.

SINGER | Heavy Duty 4423 manual
Download User's guide (PDF)
Features:
You can check more specifications

HERE
.
SINGER | Heavy Duty 4423
Durable, versatile, excellent value and sews through layers of thick fabric like your kitchen knife through melted butter (or soft tofu, in case you are vegan/or vegetarian).
PROS
Sews well through multiple layers of fabric.
The automatic needle threader is amazing
Good selection of stitches and switching between Easy
Beginner-friendly
Quite compact and light
Amazing value for the price: it's ridiculously Affordable
CONS
It has some flimsy parts
Tension sometimes goes out of whack
Can get noisy
Regulating the speed with foot pedal takes time to master
Interested in more heavy duty models? Check our research of the best heavy duty sewing machines HERE.
back to menu ↑
Singer quilting machine
SINGER 7463 Trust
Description:
A multi-purpose and inexpensive machine that will never skip a beat if you will use the correct needle for the fabric and run your sewer according to the manual. The feet that come with it are great for sewing and quilting.
SINGER 7463 Trust manual
Download User's guide (PDF)
Features:
You can check more specifications

HERE
.
SINGER 7463 Trust
Overall, it's quite simple to comprehend, it makes beautiful stitches. Great for beginners in quilting (and sewing) at a relatively low cost.
PROS
Very easy to figure out how to use
Seems solid
Easy to thread
The light is good
VERY easy to attach and detach accessories
Works for all types of sewing tasks and also works for quilting
CONS
Some reported problems with the bobbin tension
A bit noisy
Comes with SOFT cover, so hard case needs to be purchased separately if you need it
If you are serious about quilting we suggest to check our research of the best quilting sewing machines here.
back to menu ↑
Singer computerized sewing machine
SINGER | 7258
Description:
This one is fantastic! I can't understand how Singer managed to pack this unit with so many characteristics while selling it at such a small cost. Using it is super simple. The range of stitches (a hundred!) is great. It's computerized, with a big LCD screen that allows you to navigate stitches settings easily. The length and width can quickly be modified. And it even handles heavy fabrics with the correct settings, presser foot, and needles.
Excellent and flexible little machine with the whole bunch of complimentary feet and accessories at a magnificent cost.

SINGER | 7258 manual
Download User's guide (PDF)
Features:
You can check more specifications
HERE
.
SINGER | 7258
It's affordable and makes sewing seem easier because the machine just does what it should. And it's just perfect if you want to give "computerized" a spin, but scared to pay too much for that trial.
PROS
The stitches are really pretty
Tons of extra sewing feet
Storage compartment
Easy to follow manual
Quiet
Easy threading
CONS
Foot pedal cord could have been longer
Taming the bobbin winder was challenging for some users
back to menu ↑
Best Singer serger
SINGER | Professional 5 14T968DC Serger
Description:
The versatility provided by this machine is worth the cost alone, making professional finishes a breeze. You'll enjoy the auto-tension dial function as it makes adjusting the needles and loopers tension so much easier! And it's all color-coded, so it makes sense. It can even sew through several layers of denim weight fabric, but may not be appropriate for 4-5 layers of upholstery fabric, though. This machine does not have presser foot pressure adjustment, so too thick material will lift the presser foot raised enough to loosen the tension.
It is just as capable as the most expensive devices. The only difference is that you'll spend a little more time threading it when altering stitches. Regardless, this offer is still an excellent value for a 5-thread machine that both overlocks and cover stitches
SINGER | Professional 5 14T968DC manual
Download User's guide (PDF)
Features:
You can check more specifications

HERE
.
SINGER | Professional 5 14T968DC
Excellent Serger/Coverstitch machine!
PROS
Large work area
Comes with a clear presser foot by default.
Convenient seam guide with 1/8
CONS
Threading is a bit challenging at first
It can sew through thick fabrics, but it doesn't LOVE it
back to menu ↑
Singer sewing machines deals and pricing guide
Credits: cover photo Canva
If you've found the information above valuable, please, share it. And thank you for reading.
Disclosure: at sewingyourstyle.com we only write about the products that we've researched and considered worthy. But it's important to mention that we are a participant of several affiliate programs, including Amazon Services LLC Associates Program, an affiliate advertising program designed to provide a mean for us to earn fees by linking to Amazon.com and affiliated sites. As an Amazon Associate sewingyourstyle.com earns from qualifying purchases.