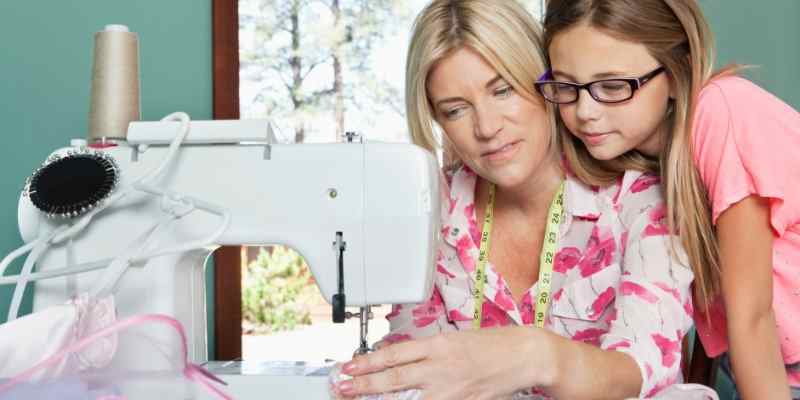 Here's what we'll cover:
Tips for buying a sewing machine for beginners
First, you have to think about the primary intended use of your machine.
Will you occasionally mend one piece of clothing or another? Or maybe you're willing to create fashion pieces from scratch? Or do you have a strong desire to save on gifts from now on and you need the perfect sewing kit to create personalized handmade presents?
What do you need this machine for?
Another question worth considering here is how you anticipate using the machine over the coming years. If your only goal is to make basic repairs, then your requirements will differ from someone who aspires to learn and progress towards more challenging projects. If you envision a move to more complex projects, it will make sense to find something suitable for all levels. Otherwise, you'll have to purchase another machine when you overgrow the cheaper unit you start on.
Most beginners make an error of buying a very simple sewing unit, but after some practice, they are missing features in their sewing machine.

How often are you willing to use it? This may seem self-evident but be honest about how often you plan to use your sewing machine. If you just pull it out very occasionally, then it doesn't make sense to spend a thousand dollars on a highly technical model.

Buying a cheap machine made mainly of plastic is highly unlikely to be a wise decision either for those planning prolonged and sustained use.
And also how much space are you willing to dedicate to your new appliance? Are you going to move it around a lot? (Maybe you are traveling or would you like to attend sewing courses?).
Answering all these questions will set the tone of your searches. And also help to figure out the precise features you have to look for in your perfect sewing match. It's not boiling down to price, brand name and reviews by the end (although keeping the related preferences in mind too). The most important thing is to understand what YOU want.
back to menu ↑
Beginners' sewing machine basic features
Types of sewing machine

Mechanical sewing machine
Machine not powered by electricity is the most straightforward choice of all. Many of the mechanical versions you see today are considered "vintage." They lack the features present in modern advanced varieties and also require much more physical work on the owner's part. But due to the extreme durability, many sewers still prefer this type. Those are still quite versatile and well-suited to the most basic projects.

Electronic sewing machine
This machine has a single motor that powers the needle electronically. A foot pedal, also electronic, helps you control the speed. Applying pressure with your foot means you will have both hands free and can control the fabric. The stitches are straightforward to adjust with a dial that is usually located on the side of the unit. And electronic machines come with more wonderful extras depending on the model. These are perfect for more or less any project you have in mind. And also easier to grasp.
Computerized sewing machine

Technology is advancing at a tremendous rate. Computerized versions enable you to make the sewing machine fit your precise needs. LED, LCD, or touch screen displays make it extremely easy to operate.
Even the most basic computerized machines can memorize your favorite stitches and set the tension accordingly. With the higher-end models, even advanced programming for elaborate embroidery patterns is possible.
It's a fantastic idea to create your own designs on the computer, and then upload it to your machine via USB slot. Everything is possible. Computerized machines are an extremely versatile investment that helps you speed up the rate at which you can attack any project. Although the convenience often comes with the price, some models, are still worth considering due to the terrific price-value ratio.
Overlocker Machines / Sergers
This type of machine is highly specific. Its primary purpose is to finish seams and hems professionally. They have fewer functions than regulating sewing machines but can handle most fabric super fast. Overlocker machines work differently from standard sewing machines. Using between 2 and 9 threads along with several needles.
It's ideal for making hems or curtain as well as sewing knitted material or adding that polished look to all your projects.
Embroidery / Sewing Machines
Those may come as embroidery only, but let's talk about the functionality of the sewing machine WITH embroidery here. In addition to all the features and options found in a standard sewing machine, you will also be able to do monogramming and embroidery for all types of projects. Clothing, pillows, you name it.
This type of machine has a hoop under its needles and moves it as the needle sews in all four directions. It works like this: you start by stretching fabric over a hoop. Secure it under the needle. A touch screen or computer link allows you to position the design and specify colors for design elements. Machines often will enable you to resize, reposition, and mirror the patterns, and more. Designs are pre-built into the unit's memory, but can also be purchased/created and uploaded to the device via data sticks.
If the idea of creating handmade gifts seems entertaining to you, the embroidery machine can be such a huge money saver. And, who knows, maybe it will turn your new sewing passion into a successful home business?
Something about the brands
The price bands of models from most known brands span from a few hundred to a few thousand dollars. At the upper end are flawless machines well suited for precise commercial tailoring. Brother, Husqvarna, Janome, Viking, Bernina, Babylock, and Juki have plenty to offer.

If you're a beginner, then Brother, Singer and Janome all have a proven history of producing great basic machines. Besides, those are equipped with more than enough features to satisfy you.
Overall, check out the price/value ratio + remember all your "wants" for the perfect machine. That's coming first.
If you are curious to know more about those brands we have dedicated articles about best Brother and Janome sewing machines. Along with analyzing particular sewing units we've also covered the history behind the companies there. So if it's something you're interested about going ahead and read it.
If you are curious to know more about those brands we have dedicated articles about best Brother and Janome sewing machines. Along with analyzing particular sewing units we've also covered the history behind the companies there. So if it's something you're interested about going ahead and read it.
Price
Most beginner-oriented sewing machines are quite affordable. Many of them cost less than $200 and will effectively help you start building the skills you need. More costly options can be priced in the $700 + range. And can be a logical option if you are really determined to invest time and efforts in building that new sewing skill.

Good quality sewing units aren't particularly cheap. You will notice a reduction in quality with plastic machines. Maintaining precise movements with these is much more difficult. Ultimately, if you go for a cheaper option, be realistic. Sometimes all those negative reviews you can read on the internet related to solid but cheap machines are because of buyers' irrelevant expectations. Generally speaking, the more you pay, the more you get in return.
Do your math. Decide what you can afford to spend.
Make your purchase when you found the perfect compromise between all your requests on sewing machine features, quality, and price.
back to menu ↑
Features that make your life SO MUCH easier
I've compiled a list of beginners-handy sewing machine features that you might want to have in your machine. Those will simplify and speed up the learning process significantly. And you'll be able to finish your first project practically in no time. So here it goes:
Built-in stitches
Choose a sewing machine with at least 15 built-in stitches. It must have all the essential stitches (nearly all beginner machines have this) plus some decorative and buttonhole stitches. It gives you some room to grow your creativity. If you only have a sewing machine with a couple of stitches, you will outgrow it quickly.
Top Drop-in Bobbin
There are beginner machines with front-loading bobbins, which means you need to remove the storage compartment attachment whenever you want to change the bobbin.
Top drop-in bobbin improves the ease of unit's use to some degree. Most of them even come with a transparent cover that allows you to keep an eye on the thread supply.
One-step buttonhole
Old mechanical sewing machines came with 4-step buttonholes. It means you'll have to go through four steps to finish a buttonhole. Modern sewing machines come with 1-step buttonholes that allow you to finish it in a single step. It's a no-brainer what to choose.
Needle Up / Down
This function is a must If you are interested in quilting. With this button, you can tell the machine to either stop the needle in the up or down position. This is vital when pivoting or removing the fabric, and it literally works like an extra hand.
Automatic Needle Threader

Threading used to be a big PITA on old machines, now it's not, thanks to the automatic needle threader. The automatic needle threader will thread the needle's eye for you, thereby saving you from eye strain.
Drop Feed And Free Arm

The free arm allows you to sew around easily. Drop feed will enable you to do some free-motion designs. While most beginner sewing machines have free arm feature, drop feed is a rare gem.
Powerful motor

A sewing machine with a powerful motor will be able to easily sew through multiple layers of thick fabrics such as denim. And do it FAST, too. Usually, a beginner machine will have a motor speed ranging from 700-900 stitches/min, and it's okay. Anything higher than that, and you can consider yourself lucky.

Accessories

Find out what's coming with your machine. It's great if it includes a lot of presser feet. Each of these can have different purposes, so you're not going to spend extra on buying it separately. A multi-purpose foot allows you to do straight and zig-zag stitches for basic sewing, but you'll also want a zipper foot and buttonhole foot. Ruffler will assist with fabric coordination to make ruffles. An adjustable presser foot controls how tightly the machine handles the fabric while you are sewing, preventing puckering and stretching. There are many presser feet to choose from. And the more comes with your device, the better.
Working space

When you sew anything bigger than a baby blanket, the amount of sewing room to the right of the needle becomes a problem. You don't have to jam your project through when you have extra width and height. It's easier to see what you're doing, and you're actually going to have the room to try things like meandering stitching. So make sure that your dream machine has enough of space.
back to menu ↑
Here's how we compared sewing machines:
We've analyzed the selection of most popular sewing machines that are sold on Amazon.com and selected 90+ best-rated units, easy enough for beginners to master.
We've scrutinized the shortlist based on the design, users' reviews and feedback, functionalities and more.
The final list of the top 11 best sewing machines for beginners was categorized based on the crucial machines' features: whether its quilting functionality, portability or else.
back to menu ↑
Compare best sewing machines for beginners
For your convenience, you can access all the major data points describing each sewing machine in the rating in one table below. You can quickly find the detailed review related to the particular model by clicking on its name in the left column.
And now let's dive deeper into details about the best sewing machine for beginners in each category.
back to menu ↑
Portable sewing machine for beginners
Mini Beginner Sewing Machine by Shendian
Description:
This machine does anything you might need for your beginner projects. It's so small that it can fit even in the tiny apartment. It comes with everything you might need apart from the machine itself, including needles and threads too.
It's great for sewing and making plushies, and this machine would work great if you're on a low budget. Foot pedaling is suitable for sewing control, and built-in LED light provides an adequate light source.
Since the machine is lightweight, it is easy to move around. And you can fit in the handbag if it is necessary to bring it along somewhere.
Mini Beginner's Machine by Shendian manual
Watch tutorial video created by the manufacturer here
Features:
You can check more specifications

HERE
.
Mini Beginner Sewing Machine by Shendian
Small enough to fit in place, but powerful enough for major sewing.
PROS
Convenient to use food pedal
Small and fit anywhere
Lightweight
Unbeatable price
Basic accessories are included
Built-in working surface
Easy to use
Quite powerful
CONS
Not as solid as more expensive machines
Good for learning but not great for more serious sewing projects
Go back to comparison chart or to the beginning of the report
back to menu ↑
Easy sewing machine for beginners
Janome JW8100
Description:
Fantastic quality for its price point. This model can help you take on virtually ANY project-whether you want to create a dress, a quilted blanket, or personalized gifts for your loved ones. And it is very intuitive. The machine is quiet, and even if you're new to sewing, you'll quickly gain confidence in your skills due to complete speed control…
Even using the foot pedal to control the speed is a breeze. The bobbin is easy to wind and load, the selection and size of the stitch are simple to program. It has so many incredible features such as a needle up / down button and a needle threader that made sewing and quilting so much easier.
It comes with tons of stitch functions for any possible project. Along with lots of accessory feet, which would be much more expensive to purchase separately.
Janome JW8100 manual
Download User's guide (PDF)
Features:
You can check more specifications

HERE
.
Janome JW8100
A great and EASY machine for not a lot of money.
PROS
Selecting different stitches is easy.
Threading the machine is easy.
Winding a bobbin is easy.
The thread cutter is easy
Convenient stop with needle up feature
Runs smooth and quiet
Stitches every stitch nicely with good tension
Good price
Versatile enough to be multifunctional
feels like a solid machine
CONS
Can handle several layers with the right needle and settings but heavy-duty is not its strength
Hard to find the right bobbins
The throat is very tight for larger hands
Go back to comparison chart or to the beginning of the report
Love Janome? Check our research of the best Janome sewing machines HERE.
back to menu ↑
Small sewing machine for beginners
SINGER | Start 1304
Description:
This product is of high quality, has a clear instruction manual, is easy to use, is well supported by the manufacturer, and creates beautiful stitches every time. And it is tiny and lightweight (only 9.8lbs).
An excellent choice for beginners, as you get the most basic functions, Singer quality, and it all comes at an attractive price.
Simply select your stitch and start sewing. If you need a compact, reliable machine to learn how to sew and get an idea of the basic stitches, you will find the machine easy to use, straightforward and fun. In a nutshell, it is a small, simple, easy-to-use mechanical sewing machine.

SINGER | Start 1304 manual
Download User's guide (PDF)
Features:
You can check more specifications HERE.
SINGER | Start 1304
Nice, small, basic sewing machine, practically goof-proof.
PROS
Operates fairly quietly
Seems capable of long-term use
The QuickStart guide is very handy
The thread cutter is a pleasant surprise
Heavy duty with the right needles
Lightweight and portable but still solid
CONS
Need to put some pressure to get the best from the foot pedal
Need to adjust the bobbin tension
The bobbin is inside the machine which is challenging at first
Go back to comparison chart or to the beginning of the report
back to menu ↑
Best cheap sewing machine for beginners
Brother XM2701

Description:
This one is the perfect combination of good price, unit quality, and various functionalities that you can benefit from during your sewing-skills-mastering journey. It will be handy not only when you start with the basics, but also later on.
You'll love the needle threader, extra feet, and automatic bobbin drop-in feature. Definitely worth the investment (although the price is quite unbeatable).
Brother XM2701 manual
Download User's guide (PDF)
Features:
You can check more specifications

HERE
.
Brother XM2701
An excellent machine at this price range for complete beginners and beyond.
PROS
Manuals and instructional videos are very good
Very easy to operate
The stitching is nice and even
Has 3 needle positions
Comes with more stitches, features, and accessories than other machines in the same price range
Price
Very light machine
CONS
Work with heavy-duty fabrics is possible, but challenging
Spool can bounce on spool pin when sewing at higher speeds
Does not come with a case or cover
Go back to comparison chart or to the beginning of the report
Looking for more inexpensive options? You might like our list of 8 best cheap sewing machines HERE.
back to menu ↑
Best basic sewing machine for beginners
Spiegel SP3201
Description:
This is a fine machine, particularly for beginners who are not yet sure that sewing will be a big part of their habit. It's a breeze to use and arrives with everything you need to get started. Just buy some mo threads, and you're ready to go. It also looks sturdy and sews very nicely, pulling the fabric straight through and not too loud. It is also quite powerful and fast ~700 stitches per minute.
So, if you're looking for a simple basic machine to learn how to make simple clothing alterations – Spiegel SP3201 would be a wise choice. It would cost much more to pay for shortening, hemming, etc., so this investment will quickly pay for itself within a few weeks.
Just be aware that this machine will not last you too long if you plan to do anything other than basic sewing. It is not strong enough to last more than a few years of heavy use. But getting this one to get you started and then move to a better one later is an excellent idea.

Spiegel SP3201 manual
Download User's guide (PDF)
Features:
You can check more specifications

HERE
.
Spiegel SP3201
Surprisingly good unit especially for the price that will give the user a good idea of how a sewing machine works.
PROS
You can hem jeans with the proper needle
Quality stitching on all types of fabric
Self-explanatory instructions printed on the machine
Easy to set up
Clear bobbin compartment and storage compartments are great
It has some great stitches
Portable
CONS
It's not a TRUE heavy-duty machine,
Using the built-in needle-threader is challenging
Horizontal spool pin might let the thread slip off
Go back to comparison chart or to the beginning of the report
back to menu ↑
Best computerized sewing machine for beginners
Brother CS6000i
Description:
If you're a novice seamstress looking for a computerized option but just want a simple machine, Brother CS6000i is close to perfect. Set-up and instructions are clearly explained, and this works like a charm. It smoothly goes through thickest materials.
It has terrific decorative stitches with which you can have so much fun. It has the computerized stitches and tells you which presser to use. All in all, user-friendly and portable sewing and quilting machine at an affordable price. Offers a wide range of quilting and sewing features.
Brother CS6000i manual
Download User's guide (PDF)
Features:
You can check more specifications

HERE
.
Brother CS6000i
Great computerized sewing machine at a great price for a complete beginner.
PROS
Automatic buttonhole maker is a breeze
Great value for your money- will last you for many many projects
Lightweight
It is quiet and almost foolproof
It has the computerized stitches and tells you what presser foot to use
Good even for a complete beginner
CONS
Like in many machines, the light is dull, so you better sew during the daylight
The bobbin can be finicky where it can snag/catch the material in the feed dogs
Some users reported minor tension issues
Go back to comparison chart or to the beginning of the report
back to menu ↑
Best rated sewing machines for beginners
Juki HZL-F600
Description:
First things first, when we say top-rated, we don't mean top-rated by us, but that machine has the highest user rates compared to other models. With that being said, Juki HZL-F600 is an incredible sewing machine. It beats all the competition when it comes to the higher-priced units. This machine is TOUGH and without a hitch will go through multiple thick fabrics.
It has a ton of useful features and stitches. Intuitive controls and an excellent manual that's easy to navigate and understand. Great machine for the price, and with many features of the very best high-end models.

Juki HZL-F600 manual
Download User's guide (PDF)
Features:
You can check more specifications HERE.
Juki HZL-F600
For a sewer this machine is love in a box. Heavy-duty, easy to use, and more powerful than you'll probably ever need.
PROS
Neatly straight and snug stitches
The work surface is HUGE and very comfortable.
Auto threader works perfectly
The presser foot knee lift and thread cutter are awesome when paper piecing quilt blocks
The bobbin winder has its own motor
The manual is really well organized with lots of step-by-step illustrations
A ton of tools and extra feet are included
Speed adjusts automatically
Hard over-case and larger platform that comes with it
The machine has a very solid and quality feel in general
CONS
A few of the included fonts don't look that great
A bit pricey
A bit heavy
Go back to comparison chart or to the beginning of the report
Interested in more "the best of the best" options? Check our comprehensive research of the best sewing machines with comparison and current deals HERE.
back to menu ↑
Best embroidery sewing machine for beginners
Brother SE1900
Description:
Even if you're just starting with embroidery, with this unit you'll be able to learn quickly. It has all the bells and whistles as any sophisticated embroidery machine, while not breaking the bank. And the instruction manual is still straightforward to follow and will give you all the directions you need.

Instead of the memory cards of the old days, any data, including your own designs, can be transferred to machine memory via USB port. There are a ton of built-in embroidery designs, plus you can instantly select alternate color combinations for each picture. If you're looking for an easy-to-use combo sewing and embroidery machine for beginners, the Brother SE1900 is an exceptional choice.

Brother SE1900 manual
Download User's guide (PDF)
Download Embroidery Design Guide (PDF)
Features:
You can check more specifications

HERE
.
Brother SE1900
Perfect multipurpose sewing and embroidery machine that is easy to use and packed with features.
PROS
Easy threading
Great sewing and embroidery in one (and switching between functions is simply
Easy to use and sews beautifully.
Well-built
The color touch screen is far improved than the old monochrome screen
5X7 hoop is sufficient for most jobs
CONS
A bit expensive, but a good machine for the price
Heavy
Standard 4X4 hoop doesn't work with this machine
Go back to comparison chart or to the beginning of the report
back to menu ↑
Best value sewing machine for beginners
Janome 2212
Description:
Oh, Janome… Your tension is great. The foot stays firm while sewing to make the perfect stitching lines. The foot of the buttonhole is straightforward. It's also easy and convenient to spool a bobbin.
The stitching options are basic, which keeps it simple for a beginner, but still ensures some variety. A few straight stitches and a few zig-zag stitches choices… Overall high-quality, affordable, easy to use sewing machine for beginners.

Janome 2212 manual
Download User's guide (PDF)
Features:
You can check more specifications

HERE
.
Janome 2212
Lightweight and easy to use, amazing sewing machine for a beginner with all the blows and whistles included at a fantastic price.
PROS
The sewing speed is phenomenal
Helpful instruction manual.
Lightweight and small but efficient
Easy to thread
The least expensive SOLID machine that could be used for quilting
CONS
Lightweight, so it's possible it will slide around the table
Difficult to get the bobbin in and out
Go back to comparison chart or to the beginning of the report
back to menu ↑
Best serger for beginners
Janome MOD-8933
Description:
The primary function of a serger is to finish the ends of clothing. And to do this, it uses 2 needles. Have you ever been intimidated by the idea of threading the serger in the past (like most of us)? Well, it's about to stop. Threading this machine is relatively straightforward as there are labels all over that remind you how to do it.
It also has some neat functions: a rolling stitch and a cutting stitch. The rolling stitch rolls the fabric edge into the stitch to create a rope-like effect. The cutter trims off the end to create a stitch at the very end of the fabric. So, not only are your projects easier to complete, but they will have that professional, polished look to them.
This fantastic machine will remove all the mystery of serger sewing for any beginner. Overall, easy to set up and highly functional.

Janome MOD-8933 manual
Download User's guide (PDF)
Features:
You can check more specifications

HERE
.
Janome MOD-8933
Compact and easy to use serger that will allow you to ace any beginner denim, knit and hemmed projects. Perfect.
PROS
Serges beautifully
Mostly quiet
Heavy enough to feel solid and sturdy
Excellent value for the money and sturdiness
Step by step threading instructions, color-coded
Comes ready to use
It produces a clean cut while feeding the material through
Handles tight turns well
Quit small
CONS
Slightly noisy at the high speeds
There's still definitely a learning curve when using a serger
Go back to comparison chart or to the beginning of the report
back to menu ↑
Best heavy duty machine for beginners
Singer Heavy Duty 4423
Description:
The stitches of this Singer are so beautiful. The machine is fast and precise, feeling sturdy while still quiet and lightweight. And the automatic threader is so ingeniously straightforward! And although it's light and small in size, it's still sturdy. Nice, simple machine that works very well on heavy fabric.

Singer Heavy Duty 4423 manual
Download User's guide (PDF)
Features:
You can check more specifications
HERE
.
Singer Heavy Duty 4423
The most powerful amongst the easiest machines to use.
PROS
This machine has a serger-like stitch for a polished finish
It's quite possible to straight line and free motion quilting on this machine
Auto-buttonhole function
Absolute Beginner Friendly
Switching stitching patterns is easy
Convenient storage bin built into the front
The price is ridiculously affordable for the value
CONS
Foot control is a bit challenging
The presser-foot and spool holder are made of plastic
Loud
If not threaded correctly tension sometimes can go out of whack
Go back to comparison chart or to the beginning of the report
back to menu ↑
Last tip for the beginner seamstress
I really hope this guide has been helpful and you've been able to make your choice in finding your best sewing match. The last thing I would love to share is just a few words of encouragement.
The hardest in starting anything is to take your time and be patient with the process. That includes learning how to sew and use the machine. If you begin getting tired or frustrated while trying to finish your first project, just STOP, do something else and take it up later.
The most challenging part about mastering sewing is the realization (and accepting) that your projects won't be perfect for some time. And that's okay for many beginners. All that really matters is that you practice your new skills and enjoy yourself. Eventually, you'll get better and better. You can definitely do it!
back to menu ↑
Beginners sewing machines deals and pricing guide
Credits: cover photo Canva
If you've found the information above valuable, please, share it. And thank you for reading.
Disclosure: at sewingyourstyle.com we only write about the products that we've researched and considered worthy. But it's important to mention that we are a participant of several affiliate programs, including Amazon Services LLC Associates Program, an affiliate advertising program designed to provide a mean for us to earn fees by linking to Amazon.com and affiliated sites. As an Amazon Associate sewingyourstyle.com earns from qualifying purchases.