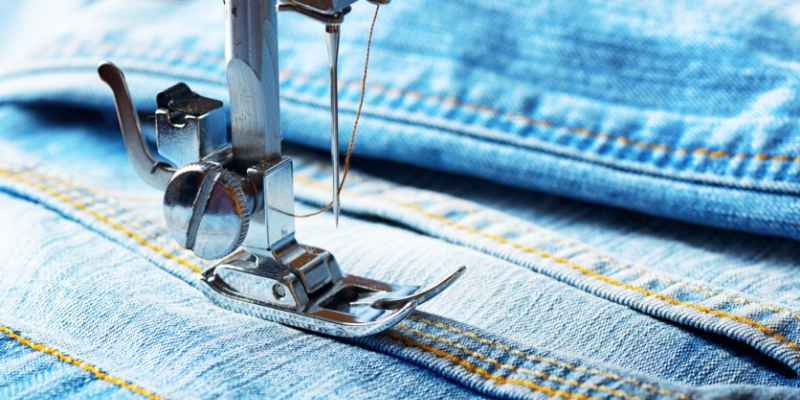 Here's what we'll cover:
Essential characteristics of a heavy-duty machine
A heavy-duty sewing machine is specially designed using top-notch components to make it possible to work with challenging fabrics. For instance, upholstery, denim, canvas, leather, and many layers of thick materials. You can quilt at the higher speeds with a machine like this.

Among the characteristics of a proper heavy-duty machine are the following:
Ability to sew stubborn and very dense fabrics as well as various layers;
Metal construction rather than plastic or plastic components for durability;
Smooth operation without skipping stitches and offer a high-quality stitch;
A powerful engine that will cut through dense textiles without breaking the needles;
It has to be heavy enough.
back to menu ↑
How to sew heavy-duty fabrics right
Even if your machine is the strongest and toughest, you should ALWAYS use the correct settings to work with those tricky fabrics. The specifics may differ depending on a particular sewing unit you are using.
However, fundamental tips are similar.
Usually,

shorter stitches can create tighter seams

. It will be easier to sew through delicate fabrics with numerous stitches. For thicker materials, frequent stitching is the wrong choice.
Always use some scraps of your fabrics to first test-sew

and check if the chosen settings work fine. Test the tension with all the stitches you're going to use (straight stitch, zig-zag stitch, and any other). And remember to make a note what works the best with your project.
Use the right thread and needle.

Both should tightly match the size and correspond to the type of fabric you are using. Use upholstery weight thread with a sharp needle size 16/100 or 18/110 for dense upholstery fabric. Try heavy duty thread with a denim needle size 90/14 if you are sewing denim or canvas.
Press iron or tie the seams and trim the edges

so that running the stitches on the thick fabric won't be troublesome for the presser foot. If you are using the pins, make sure it won't leave holes in the material.
Use the correct feet.

When sewing dense fabrics, you can use a walking foot and roller foot. The roller foot is also appropriate to use for sticky materials such as leather, faux, vinyl, and more.
Following these simple instructions, you will get the most out of your machine and make it last. Now it's time to get to the essence of this report: Buying a heavy-duty sewing machine: how to make the right choice?

back to menu ↑
How we compared the best quilting sewing machines
We've analyzed the selection of most popular sewing machines that are sold on Amazon.com and selected 70+ best-rated units with heavy-duty capabilities.
We've scrutinized the shortlist based on the units' design, users' reviews and feedback, functionalities and more.
The final list of top 7 best heavy-duty sewing machines was categorized based on the essential machines' capabilities or features: whether its portability, price, or else.
back to menu ↑
Compare the best heavy-duty sewing machines
For your convenience, you can locate all the major data points describing each sewing machine in the rating in one table below. You can quickly access the detailed review related to the particular model by clicking on its name in the left column.
And now let's dive deeper into details about the best heavy-duty sewing machines in each category.
back to menu ↑
Best heavy-duty portable sewing machine
SINGER 7463 Confidence
Description:
OK, that's a difficult one. How powerful and hard can the lower and lighter machine be?
I discovered this compromise alternative. Singer Confidence 7363 is comparatively light (16.25 pounds) – and you can readily carry it around and travel with it.
The feet that come with it are great for sewing and quilting. And it handles different kinds of "difficult" textiles with the correct needles and settings.
For example, for sewing denim fabrics, the manufacturer advises using an Inspira or Singer Denim needle, type 2026, size 14-18. Using another brand may trigger tension and/or timing problems. They also suggest to use a longer straight stitch with the All-Purpose Foot (it comes with the machine) and sew at a moderate pace. So with enough care, this smallish device will readily last you for about 20 years and will allow you on almost any project.

SINGER 7463 Confidence manual
Download User's guide (PDF)
Features:
You can check more specifications

HERE
.
SINGER 7463 Confidence
A multi-purpose and affordable machine that will never skip a beat if you'll use the right needle for the right fabric and operate the unit properly.
PROS
Very easy to figure out how to use
It is solid
Easy to thread
The light is good
VERY easy to attach and detach accessories
CONS
Some reported problems with the bobbin tension
A bit noisy
Comes with SOFT cover, so hard case needs to be purchased separately if you need it
back to menu ↑
Best heavy-duty sewing machine for denim
Brother ST371HD
Description:
Once you get this device out of its box, it can be set up in minutes. The stitches are lovely and even. The tension and type of stitches can be easily adjusted. The machine can sew through six layers of heavy denim and do an excellent job.
Just look over the manual, use the correct needle, place the thread in the right position, and move the lever according to the instructions. Piece of cake.
And even light is a bit dim (can be easily solved with LED light strips or over head lamps). It also comes with a Teflon foot which will be quite handy for working with many of the exotic fabrics you might ever want to use. Plus, this sewing machine just looks cool with its rugged carbon-ish panels and dark accents.
Brother ST371HD manual
Download User's guide (PDF)
Features:
You can check more specifications

HERE
.
Brother ST371HD
Perfectly designed heavy duty sewing machine for those requiring flexibility and durability.
PROS
Rubber base keeps the machine from moving while you sew
Good consistent stitches
Way less costly than other heavy-duty machines
Easy to use
Quick and reliable
Solid
CONS
Cord on the pedal foot could be longer
Threading the machine is a bit tricky
Speed control takes time to figure out (depends on how much pressure you put on the foot)
Interested in more options from Brother? Check our research of the best brother sewing machines here.
back to menu ↑
Best heavy duty sewing machine for home use
Singer 44S
Description:
The singer 44s is a small powerhouse, a real working horse. All the stitches have to be set by the controls, but that can be a good thing. Just make sure to thread correctly, and I believe you'll be happy with this machine. As it will sew pretty much through anything, quickly without thread-related accidents. And it's quiet.
If you need an easy and powerful mechanical device with a mid-price range for your simple home needs, Singer 44S is undoubtedly one you should look into purchasing.

Singer 44S manual
Download User's guide (PDF)
Features:
You can check more specifications

HERE
.
Singer 44S
With an extra-high sewing speed (1,000 stitches per minute) you'll be able to sew just about anything. And the price won't break the bank.
PROS
Factory settings are accurate and stay
Fast, stitching up to 1000 stitches per minute
Feels very sturdy and strong
One-step buttonhole
6mm stitch width (unexpected for such an inexpensive machine)
Will sew through several layers of very heavy fabric
Easy to use
CONS
Needle adjustments are limited
Set screw to attach various presser feet is tricky to handle
Faster speed means less precision
Think that SINGER might have more options you'll like? Check our research of the BEST SINGER SEWING MACHINES HERE.
back to menu ↑
Heavy-duty computerized sewing machine
Janome MC-6300P
Description:
Janome MC-6300P sews smoothly and peacefully. Each stitch is perfect. It has some awesome features, like easy stop/go, needle up/down, speed control, bobbin top-loading, etc. And going through thick denim is a dream.
I would surely suggest having a closer look at this unit to an experienced seamstress, but by no means to a beginner. Even if you come from an "old school" when it comes to gadgets, this model is pretty straightforward, and you'll pick up how to operate it immediately.

Janome MC-6300P manual
Download User's guide (PDF)
Features:
You can check more specifications

HERE
.
Janome MC-6300P
Speed, power, and precision critical for advanced "all-type-of-fabrics" sewing with some serious blows and whistles included.
PROS
Very sturdy
Extra 3 inches in throat space makes a huge difference
Easy to make buttonholes of an exceptional quality
Electronic foot control
Auto needle threader and thread cutter work very well
Comes with a lot of different feet and a nice case to organize everything in
Extension table gives you so much space to work
CONS
Too heavy to carry around
Although the bobbin fills up fast it does not fill up the edge of the bobbin, so you have to fill it more often
Love Janome? Check our research of the best Janome sewing machines HERE.
back to menu ↑
Industrial-like heavy duty sewing machine
SINGER | Heavy Duty 4432
Description:
If you want a bunch of bells and whistles, it's not for you. It makes buttonholes, zig-zags, and makes a few decorative stitches, but basically, it's a workhorse that will never let you down. It has plenty of strength to go smoothly through multiple layers of the thickest fabric.
It will take some time to get used to it and experiment with the settings. But once you get there, it will work flawlessly, almost as big as $5,000 worth of heavy-duty industrial machines. Great one. And priced VERY fairly.

SINGER | Heavy Duty 4432 manual
Download User's guide (PDF)
Features:
You can check more specifications

HERE
.
SINGER | Heavy Duty 4432
With a heavy-duty metal interior frame, stainless steel bedplate, extra-high sewing speed, and powerful motor, it can sew through a variety of heavyweight fabrics. A true workhorse.
PROS
Super fast
The stitch quality is excellent
Easy to use
Clear bobbin window
Buttonhole option is easy to use
Flies over those thick seams without looking back
Sturdy
CONS
The auto threader is hit or miss - takes an effort to master
A bit hard on needles
Instructions in the book are a bit hard to understand
back to menu ↑
Best value for money heavy duty sewing machine
Janome-HD3000
Description:
This is a beautiful, versatile machine. Unless you have particularly specific requirements, this is all the sewing machine you'll ever need. It is certainly capable of heavy-duty sewing, but it also handles more delicate jobs. And changing a pressure foot requires about two seconds.
If you're not amongst those seamstresses, who believe that $3,000 device that makes 200 stitches is the best you can get then you'll agree that Janome-HD3000 is just perfect.
It handles the dense thread without jamming, and the layers of thick fabrics without hesitation. This device will allow you to be fearless and to endeavor in any sewing project. So much fun ahead!

Janome-HD3000 manual
Download User's guide (PDF)
Features:
You can check more specifications

HERE
.
Janome-HD3000
Well made heavy-duty machine. It breezes through layers of dense fabric. It runs quietly & smoothly. It's very easy to adjust settings.
PROS
Foot storage in the top of the machine is wonderful
Fast enough
Convenient visual sewing guide reference
Sews through multiple layers of paper and canvas, wax, jeans, whatever
Sews a beautiful stitch
Great price
CONS
The needle threader seems fragile and hard to use
You must use Janome needles and bobbins
Interested in more "the best of the best" options? Check our comprehensive research of the best sewing machines with comparison and current deals HERE.
back to menu ↑
Heavy-duty sewing machine best for beginners
SINGER | Start 1304
Description:
This machine is highly recommended for beginners, and it can surely work with denim and other heavy fabrics with the correct settings.

Here's what recommended:
1. Longest straight stitch (to allow fabric thickness)
2. Metal All-Purpose Foot ( comes with the machine)
3. Singer 2026 Needle, Needle size 16 to 18
4. Moderate speed when sewing across many layers and seams.

Even though it's small, lightweight, and inexpensive, it has enough stitches, power, and all the features you might need. So, all in all, it's a great choice.

SINGER | Start 1304 manual
Download User's guide (PDF)
Features:
You can check more specifications

HERE
.
SINGER | Start 1304
You will love the smooth action, the small size, and ease of use.
PROS
The tension is correct right out of the box
Nice stitching
Relatively goof-proof
Easy to operate
Quality of the stitches is off-the-charts
Operates fairly quietly
Lightweight
Price
CONS
Doesn't have a lot of extras
Changing the bobbins is challenging
Bobbin might jam - you need some training with the machine to eliminate this issue
Looking for more "beginners" options? Check our research of best sewing machines for beginners here.
back to menu ↑
Heavy-duty machine deals and pricing guide
Credits: cover photo Canva
If you've found the information above valuable, please, share it. And thank you for reading.
Disclosure: at sewingyourstyle.com we only write about the products that we've researched and considered worthy. But it's important to mention that we are a participant of several affiliate programs, including Amazon Services LLC Associates Program, an affiliate advertising program designed to provide a mean for us to earn fees by linking to Amazon.com and affiliated sites. As an Amazon Associate sewingyourstyle.com earns from qualifying purchases.