Singer 44s is a heavy-duty sewing machine. It comes with a sturdy metal frame and powerful motor making this the ideal sewing machine even for thicker fabrics like denim and canvas. Of course, with the adjustable pressure foot, you can sew lightweight materials, such as sheer fabric. It also has some more extras! Let's dive into it. 
Do you have a particular question about Singer 44s? Then use the table of contents below to jump to the most relevant section. And you can always go back by clicking on the arrow in the right bottom corner of the page. Also, please note that some of the links in this article may be affiliate links. For more details, check the Disclosure section at the bottom of the page. 
Singer 44s Review
Singer 44s is definitely a heavy-duty sewing machine. It feels sturdy and strong and is free of unnecessary complexities that most other heavy-duty sewing machines have.
You can sew just about any fabric you put into the machine, including quilts, placemats, drapes, and more with ease.
44s is the perfect machine for beginners to average sewers. This machine is great at backstitching over multiple layers as well as seam tape. It is a small powerhouse and is fast stitching up to 1000 stitches per minute.
This machine has an automatic needle threader with a top drop-in bobbin. And it comes with 23 built-in stitches that are useful for creating both standard applications and embellishments.
This model also allows you to adjust the stitch width, density, and length. Three needle positions give you the flexibility needed for sewing different types of materials.
And 44s also comes with a variety of accessories to make creating various projects a breeze.
Any novice that needs a simple, durable machine will most likely find this machine very appealing.

Main features
23 built-in stitches
One-step buttonhole
Lots of tutorials online including Singer's owner's class
Automatic needle threader
Top drop-in bobbin
Easy stitch selection and adjusting
Heavy-duty metal frame
Good accessories pack
Adjustable presser foot pressure
Sewing speed up to 1110 stitches per minute
Free arm
Snap-on presser feet
3 needle positions
Relatively lightweight – 17 pounds

Singer 44s. SYS rating, pros, and cons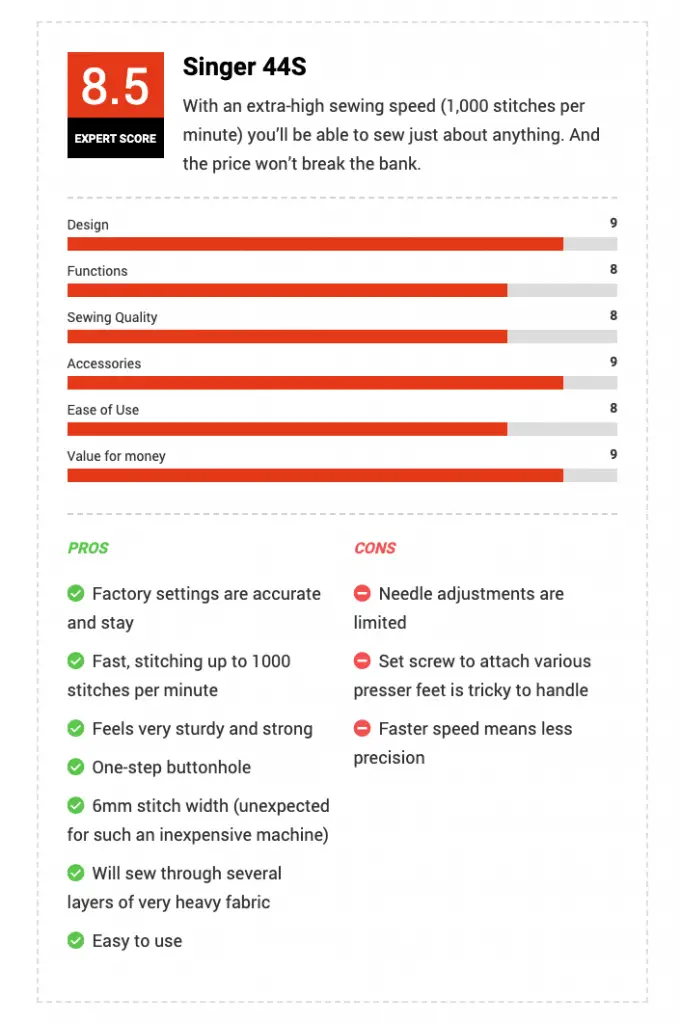 Singer 44s manual 
You can download the full manual here.

Video guidelines

Singer 44s. FAQ and Troubleshooting
Q. How to thread Singer 44s?
Q. What can I do if the bobbin gets stuck?
A. There are several things you can try. First, engage and disengage the bobbin winding mechanism, then remove the thread and apply machine oil.
Ensure that the spring mechanism that holds the bobbin in place isn't locked and is moving freely.
You can also take the machine to a qualified repair technician. If there is a problem with the mechanism prying off the bobbin might damage the device more.
Q. Does this machine have problems with the bobbin thread jamming?
A. Bobbin thread typically jams for several reasons, but this machine doesn't tend to have this problem. Just make sure to wind your bobbin thread tightly since loose bobbin threads can cause a jamming problem.
Q. Does it sew through leather and jeans? 
A. It's sort of a machine's specialty. It works very well on 4 layers of bulky fabric like denim, as long as you use the correct needle and thread. Some sewers found that a topstitch needle works better than a denim needle. So it's something you might want to try too. 

Singer 44s accessories
This model comes with everything to get you started right out of the box. Many feet are included: general-purpose, zipper, buttonhole, and button sewing. It also comes with extra needles, bobbins (class 15, transparent), quilting guide, soft dust cover, and much more. 

Is Singer 44s a good machine? Our Verdict
Singer 44s is a heavy-duty machine that is easy to operate. And it is capable of handling virtually any fabric. The instructions that come with this machine are simple to follow, and there are tutorials on the website that are helpful.
This is an excellent machine for a novice who is looking for a well-built machine that does exactly what it promises to do. It sews through several layers of heavy fabrics, and it sews quickly. 
This machine has enough utility and decorative stitches for just about any sewing project. And it even comes with a 6mm stitch width, which is an unexpected bonus for an inexpensive machine. Very worthy sewing candidate!
And if you are looking for more options and love Singer you might also look into my guide on best Singer sewing machines here.

Credits: photos by Canva

Disclosure: at sewingyourstyle.com we only write about the products that we've researched and considered worthy. But it's important to mention that we are a participant of several affiliate programs, including Amazon Services LLC Associates Program, an affiliate advertising program designed to provide a mean for us to earn fees by linking to Amazon.com and affiliated sites. As an Amazon Associate sewingyourstyle.com earns from qualifying purchases.