Bernette B48 Overlock provides sewers with a variety of different stitch options to meet most of the sewing needs. If you've heard that sergers can be challenging (the threading! Urgh!) 
the color-coded threading path on this machine makes the machine very easy to use. It also includes a handy waste collector and a large working area to enhance your work's comfort levels. But let's learn more about this serging trooper.
Do you have a particular question about Bernette B48? Then use the table of contents below to jump to the most relevant section. And you can always go back by clicking on the arrow in the right bottom corner of the page. Also, please note that some of the links in this article may be affiliate links. For more details, check the Disclosure section at the bottom of the page. 
Bernette B48 review
Bernette B48 is the top machine of the company's Funlock series and is a combination overlock and coverstitch machine. This machine offers a total of 23 stitches, 15 overlock stitches, 4 combination stitches, 3 coverstitches, and a chain stitch.
The overlock stitches have a stitch width of up to 7mm. While the coverstitches have a stitch width of either 2.8mm or 5.6mm. The combo stitches have a stitch width of up to 10mm.
The color-coded thread paths make threading this machine easier, and the needle area has a manual threaded for simple threading of your needle.
The lower looper and chain looper has a mechanical threader. The knife operates from below, which ensures a cleaner cut edge while allowing for safe handling. It can be comfortably adjusted using just one hand.
This machine has a bright LED light, which keeps the sewing area well lit. And it can work as fast as 1300 stitches per minute.
Bernette B48 is pretty straightforward and uncomplicated to use too. The color-coded threading makes threading this machine frustration-free. 
Although the Unlock B48 is somewhat expensive for a machine lacking in bells and whistles. However, the fact that it offers you an impressive array of stitches somehow makes up for the higher cost. Let's face it, it is a well-built serger.

Main features
2, 3, 4 and 5-thread seams
Wide coverstitches: 2.8 / 5.6 mm
Wide overlock stitches: 3-7 mm
Wide roll hem stitches: 1.5 mm
Wide combo stitches: up to 10 mm
Bright LED light
Large working area to the right of the needles: 87mm
Sewing speed up to 1300 stitches/minute
Color-coded threading paths for easy threading
Includes waste collector

Bernette B48. SYS rating, pros, and cons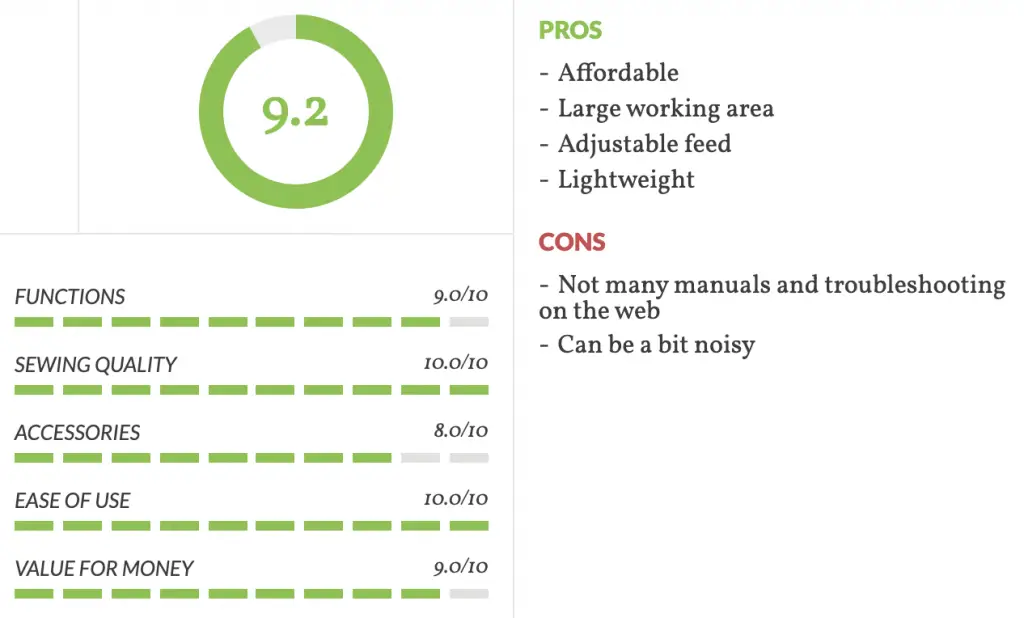 Bernette B48 manual 
You can download the full manual here.

Video guidelines

Bernette B48. FAQ and Troubleshooting
How to thread Bernette B48?
Bernette B48 accessories
Bernette B48 comes with a pretty decent set of extras and accessories. It includes standard presser foot, screwdriver, oiler, spare upper knife, spool caps, stabilizer, and nets, set of needers, needle threader, upper looper converter, dust cover, cover/chainstitch inserter, etc. 

Is Bernette B48 a good machine? Our Verdict
Manual operation and all Bernette B48 Funlock offers you an impressive 23 stitch options. With color-coded threading, a cutting blade designed with your safety in mind, a quick sewing speed of 1300 stitches per minute, it is a capable and user-friendly serger. It is sturdy, compact, and produces perfect stitches on all types of fabric.

Credits: photos by Canva

Disclosure: at sewingyourstyle.com we only write about the products that we've researched and considered worthy. But it's important to mention that we are a participant of several affiliate programs, including Amazon Services LLC Associates Program, an affiliate advertising program designed to provide a mean for us to earn fees by linking to Amazon.com and affiliated sites. As an Amazon Associate sewingyourstyle.com earns from qualifying purchases.