Singer 3232 is a portable sewing machine that comes with many handy features. The list includes (but not limited to) a built-in threader, 110 stitch applications, 1 step buttonhole, and a heavy metal frame.
It's also pretty fast and can sew up to 750 stitches per minute. So it can help you to tackle both small and large projects without overcomplicating things or breaking a bank. But let's learn more. 
(Or if you love Singer maybe you also want to check my guide on best Singer sewing machines for more options).
Do you have a particular question about Singer 3232? Then use the table of contents below to jump to the most relevant section. And you can always go back by clicking on the arrow in the right bottom corner of the page. Also, please note that some of the links in this article may be affiliate links. For more details, check the Disclosure section at the bottom of the page. 
Singer 3232 Review
Singer 3232 gives you 32 different stitches to choose from. The adjustable stitch length allows you to handle different kinds of fabrics. And it can even sew through appliqués.
You can also make buttonholes in one easy step, whether you are making costumes or a trendy outfit or something else.
Essential accessories for this machine can be stored in the sewing machine's removable sewing compartment.
There is also a stitch length dial for selecting your stitch length. It allows you to customize your project by making your stitches shorter or longer.
Singer 3232 allows you to take care of little sewing projects around the house, such as hemming, clothing repairs, and a variety of more complicated tasks.
It has just the right amount of bells and whistles, such as an automatic needle threader and several settings to choose from. This is a great sewing machine that is easy to use and comes with great options to make your project clear-cut and professional.
It gets the job done beautifully.

Main features
32 built-in stitches, 
Built-in 1-step buttonhole
Automatic needle threader
Heavy-duty metal frame
Up to 750 stitches-per-minute
High presser foot lifter
Free arm to sew hard-to-reach areas
Lightweight: only 12.25 pounds

Singer 3232. SYS rating, pros, and cons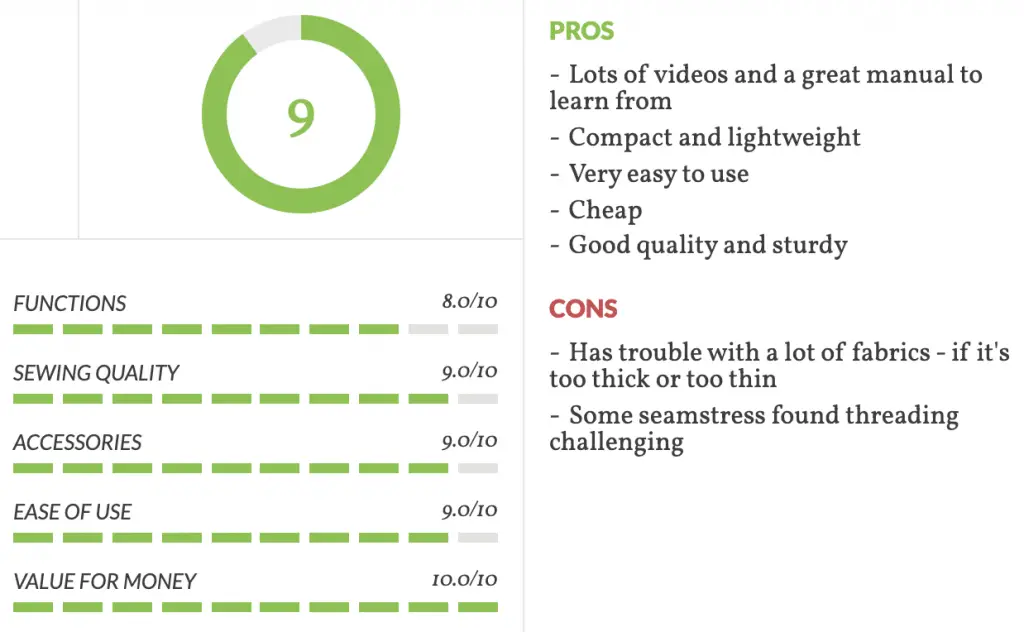 Singer 3232 manual 
You can download the full manual here.

Video guidelines

Singer 3232. FAQ and Troubleshooting
How to thread Singer 3232?
Q. Does it sew through leather and jeans? 
A. Yes, but you need a denim needle and denim thread. Singer reps recommend using Inspira or Singer needles only (using another brand can cause tension and/or timing issues). And for Denim, you will need needle type 2026 and size needle according to the manual.  
Q. What causes nesting when using reverse stitching?
A. There can be a few problems that might cause nesting. If the bobbin isn't correctly set, the needle may be catching on the bobbin thread, creating a messy nest. Try taking the bobbin out and then setting it again.
The problem may also be that the thread you are using is too thin, or the needle may be threaded incorrectly. Also, check and make sure that the presser foot is down. And you can read more suggestions in this article.
Q. Why does my bobbin keep jamming?
A. There are several things that you need to check. Start by checking to ensure that the needle is inserted and threaded correctly. You also need to hold both the top and bottom bobbin thread to the rear of the machine.
You can also try to adjust the tension with the presser foot down.
If that doesn't solve the problem, then make sure that the bobbin is correctly wound or try using high-quality thread such as Gutermann, or Mettler.
You can also check to make sure that you have the correct bobbin for the machine and the thread in the bobbin is heavier than the thread on top. You also need to make sure that the thread is not too large or smaller than a needle.

Singer 3232 accessories
Singer 3232 comes with everything you might need to start sewing out of the box. Standard packaging includes 4 feet (all-purpose, zipper, buttonhole, button sewing foot), seam ripper with a lint brush, edge/quilting guide, needles, thread spool caps, bobbins (class 15).
It also comes with a screwdriver, darning plate, soft-sided dust cover, machine intro DVD, instruction manual with stitch guide, foot control, and power cord.
Singer 3232 bobbins 
Singer suggests using INSPIRA or SINGER bobbins for best sewing results. It has to be Bobbins Class 15 to avoid jamming. 

Is Singer 3232 A Really Good Machine? Our Verdict
Singer 3232 is a simple and easy machine to use. It's an excellent working horse for basic sewing. The portability of this machine makes it easy to set up, use and put it away.
If you are a beginner sewer or want a reliable machine, I would suggest this machine. Manual machines such as this machine cost far less than digital devices and are easier to repair too.
And it has some fancy features (like automatic threading) and some pretty stitches to choose from. An excellent option at a very affordable price. Love it!

Credits: photos by Canva

Disclosure: at sewingyourstyle.com we only write about the products that we've researched and considered worthy. But it's important to mention that we are a participant of several affiliate programs, including Amazon Services LLC Associates Program, an affiliate advertising program designed to provide a mean for us to earn fees by linking to Amazon.com and affiliated sites. As an Amazon Associate sewingyourstyle.com earns from qualifying purchases.