Janome sewing machines have been around for quite some time and are known for making reliable machines that won't break the bank. Janome NQM2016 is first and foremost a quilting machine that is loaded with tons of features making this unit pretty much perfect for more experienced quilters.
This machine has 60 built-in stitches, a 6 one-step buttonhole maker, manual thread tension control, built-in needle threader, easy set bobbins, and a bobbin winder.
Although this machine is a few years old (and kind of rare, since it was a limited edition), it is still popular. This is especially so for those who enjoy quilting. And want a machine with all of the bells and whistles. But let me try to elaborate on that. 
Are you interested in a particular question about Janome NQM2016? Then use the table of contents below to jump to the most relevant section. And you can always go back by clicking on the arrow in the right bottom corner of the page. Also, please note that some of the links in this article may be affiliate links. For more details, check the Disclosure section at the bottom of the page. 
Janome NQM2016 Review
Janome NQM2016 National Quilt Museum 25th anniversary machine is a limited edition that was introduced to the market in 2016. This model is loaded with features that most experienced quilters will love. It offers a wide array of stitches, including 60 built-in stitches and a host of other features designed to make a quilters life easier.
Some of these features include snap-on presser feet (you get a ton included – zigzag, over edge, zipper, satin, blind hem, ¼ inch seam, and much more). 
This machine is quiet and sews straight stitches as well as those more decorative stitches that you want for those special projects.
While NQM2016 is a somewhat expensive machine, you do get a lot of bang for the buck. The LED panel on this machine makes navigation easy, the automatic stitch cutter is terrific, and users really like the automatic threader.
It is a reasonably lightweight machine (21.3 pounds) and, therefore, extremely portable. It has most of the features you would expect to find in the most expensive machines, but you'll get this one at a reasonable price.
For those who are new to quilting may find this machine a little more than they want or need, as having so many features can be confusing. However, even newbie quilters and sewers can learn to use this machine as long as they are willing to practice and learn how this model works.

Main features
Top loading bobbin
60 built-in stitches including 6 one-step buttonholes
Built-in needle threader
Easy bobbin winder
Manual thread tension control
Snap-on presser feet
Automatic thread cutter
Speed control slider
Needle up/down with down as default
Bright LED screen with easy navigation keys
Included Extension Table
Easy reverse button
Locking stitch button
Foot pressure adjustment

Janome NMQ2016. SYS rating, pros, and cons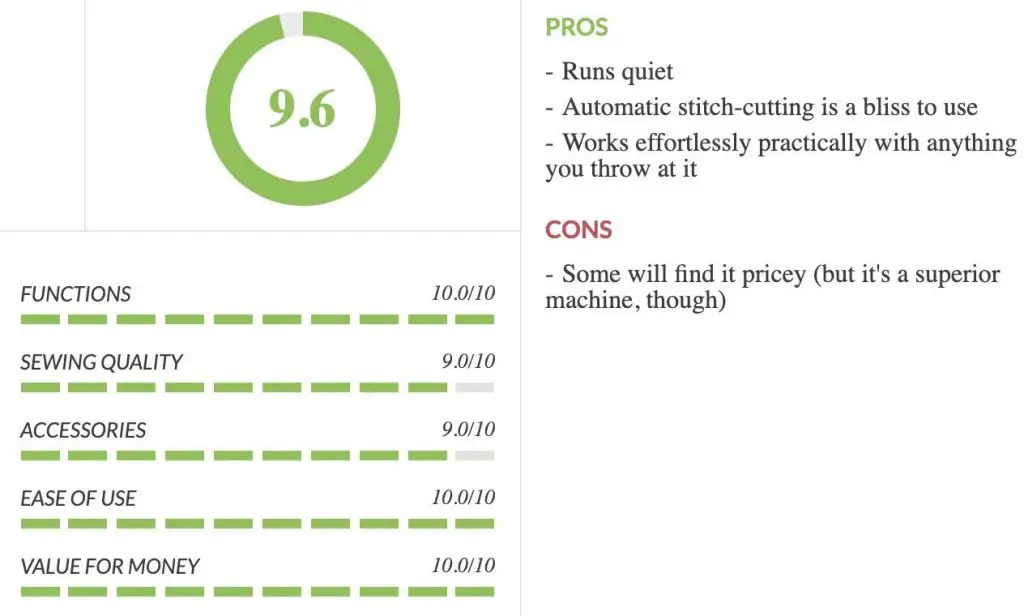 Janome NQM2016 manual 
You can download the full manual here.

FAQ and Troubleshooting
Q. How to thread Janome NQM2016?
Q. Does Janome NQM2016 sew through leather and jeans? 
Yes, you can work with sturdy materials without any issues. Just go slowly and guide the needle with the wheel at the thickest seams. Also, don't forget to address the manual when picking the appropriate needles for a particular fabric. 

Janome NQM2016 accessories
This machine comes with a pretty generous accessories package. It includes tons of extra feet (zigzag, overedge, zipper, satin stitch, blind hem,¼", buttonhole, etc.) Along with needles, bobbins, extension table, and more depending on the seller. 
You might want to purchase additional light, though since NQM2016 only has one LED, which is sufficient for young sewers. But if your eyesight is not as perfect, you might want to fix it. A great option can be these lights – it's affordable, energy-efficient, and you can adjust the lighting too. 
If you are interested in free motion quilting, you might want to get an appropriate foot for that. This one should work just fine since NQM2016 is a low-shank model. 
Other than that, this machine's accessories are very sufficient to start sewing out of the box. 

Is Janome NQM2016 really a good one? Our verdict
Janome NQM2016 comes with some premium features such as the stitch locking function and the thread cutting feature, which are excellent. In fact, this machine has all of the features that most quilters and seamstresses might look for in a high-quality machine, including the ability to do free-motion sewing. And you get all of these features for a very reasonable price.
Besides, it's quite portable too, so you can take this machine along to workshops or community events.
The only downside to this machine is that since there were only a limited number of these machines made, you may have a difficult time finding one to purchase. If that's the case, you might want to check my guide on the best quilting machines and best Janome sewing machines. 

Credits: photos by Canva

Disclosure: at sewingyourstyle.com we only write about the products that we've researched and considered worthy. But it's important to mention that we are a participant of several affiliate programs, including Amazon Services LLC Associates Program, an affiliate advertising program designed to provide a mean for us to earn fees by linking to Amazon.com and affiliated sites. As an Amazon Associate sewingyourstyle.com earns from qualifying purchases.