Japanese Juki is known for its high-quality sewing, serging, and overlocker machines. Juki MO644D is a portable serger. This model is surprisingly easy to thread, and it makes practically perfect stitches. And when used correctly, it can speed up and improve the quality of your sewing projects. But let me try to share some more details. 
Are you interested in a particular question about Juki MO644D? Then use the table of contents below to jump to the most relevant section. And you can always go back by clicking on the arrow in the right bottom corner of the page. Also, please note that some of the links in this article may be affiliate links. For more details, check the Disclosure section at the bottom of the page. 
Juki MO644D Review
While you don't need a serger for every sewing project, a serger comes in handy if you work with a lot of knits or produce a lot of ready to wear quality clothing.
Sergers are faster than regular sewing machines for sewing seams, installing elastic, and making rolled hems. MO644D can also sew as a one-step sewing machine for making lightweight dresses. 
JMO644D is a reasonably priced 2-needled 2, 3, or 4-thread serger that produces a high-quality stitch and is easy to use. And it's also SUPER fast – up to 1500 stitches per minute. This model has a dedicated cutting system and convertible 2/3/4 thread serging with an automatic rolled hem capability.
To make threading easier, MO644D uses a color-coded threading system and breakaway looper. 
This machine also comes with a multi-purpose foot for sewing a variety of stitches, tape, and elastic. There are also optional presser feet for cording, piping, gathering and creating blind stitches.
This serger also has other helpful features such as one-rotation tension adjustment, an upper and lower knife for better cutting, an automatic hem rolling setting. 
Juki MO644D also has a seam guide for easy sewing of seams as well as bright LED lights to make seeing your work easier.
While a serger won't take the place of a regular sewing machine, it is the ideal companion to anyone who sews a great deal. And wants to enhance the quality without complicating the process or paying too much for the upgrade. 

Main features
2/3/4 Thread serger with automatic flip and rolled hem
Easy tension adjustment
Color-coded threading breakaway looper adjustment for stitch length and feed
Heavy-duty knife system with a dedicated drive mechanism
Multi-Function snap-on presser foot: 
Bright LED lights 
Easy stitch length adjustments
Easy cutting width adjustment
Machine weight 15lbs

Juki MO644D rating, pros, and cons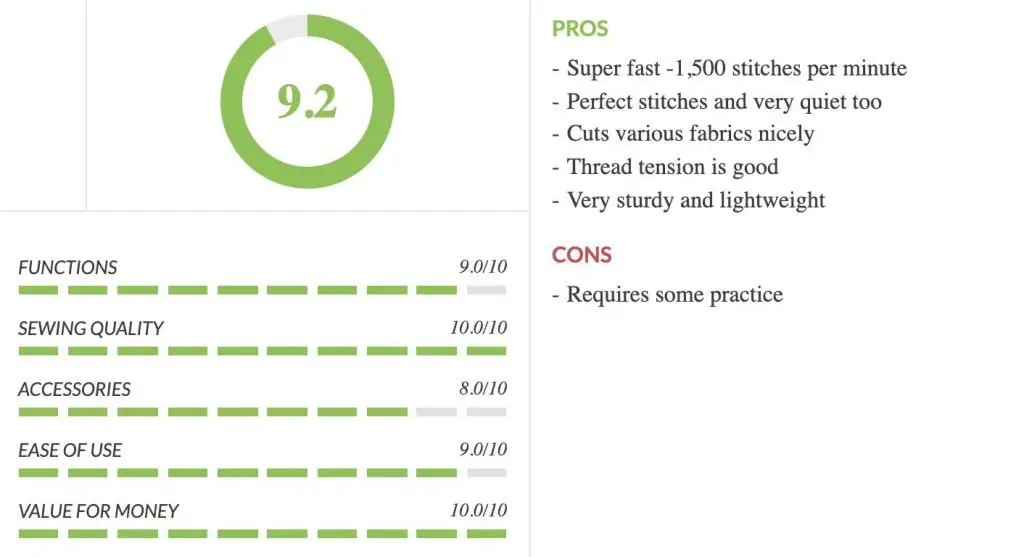 Juki MO644D manual 
You can download the full manual here.

Juki MO644D FAQ and Troubleshooting
Q. How to thread this serger? 
Q. Will this serger sew through leather and denim?
A. It will depend on the thickness of the material. This model will sew through 9 and 12-ounce canvas, so it definitely can sew through most leather and denim. However, you need heavier gauge needles to sew thicker fabrics.
Q. Can the pressure foot on this serger be adjusted?
A. Yes, there is a knob on the top left of the machine that allows you to adjust the pressure foot.
Q. Will this serger be able to handle double layer fleece?
A. Yes, it will sew through double and even triple-layer fleece easily
Juki MO644D accessories
This model will arrive with lots of extras to play with. The standard set includes a foot controller, nets, spool caps, tweezers, cleaning brush, looper threader, extra needles, oiler, instruction manual, and more. 

Is Juki MO644D really a good one? Our verdict
Juki MO644D serger won't cost you a fortune, while it is capable of providing you with many years of reliable service. And the machine's capabilities will easily take your sewing projects to the next level.
The sheer number and usefulness of this serger's features, combined with its ease of use, make this an ideal machine for both beginners and more experienced seamstresses.
You can also purchase additional accessories at a reasonable price that will allow you to do more with this serger. If you ever work with knits, you should seriously consider this model. 

Credits: photos by Canva

Disclosure: at sewingyourstyle.com we only write about the products that we've researched and considered worthy. But it's important to mention that we are a participant of several affiliate programs, including Amazon Services LLC Associates Program, an affiliate advertising program designed to provide a mean for us to earn fees by linking to Amazon.com and affiliated sites. As an Amazon Associate sewingyourstyle.com earns from qualifying purchases.