Singer 14J250 will most likely be a great addition to any sewing room (at least if the seamstress is passionate about the quality of the finished looks of her designs). With this serger's needle threader, wide open and color-coded threading, finishing seams, and hems cannot get easier. 
The 2-3-4 thread capability and adjustable switch length give you the flexibility to explore varied styles based on what works best for your current project. But let's look at this model in more detail so that you can decide for yourself whether or not this model can be a good match for you. 
Do you have a particular question about Singer 14J250? Then use the table of contents below to jump to the most relevant section. And you can always go back by clicking on the arrow in the right bottom corner of the page. Also, please note that some of the links in this article may be affiliate links. For more details, check the Disclosure section at the bottom of the page. 
Singer 14J250 review 
When it comes to speed, Singer 14J250 is top-notch. Sewing at 1,300 stitches per minute, the serger provides professional results promptly. Coupled with the differential feed capability, you don't have to worry about stretching and puckering on all fabric types.
This increased versatility and function makes it possible to get a lightweight stitch for a woven fabric to even an elegant and elaborate hem for your garment. Moreover, switching between regular stitching and hem rolling is seamless. 
Since the front completely opens up, it's very easy to access and thread the lower loops and stitch fingers. This eliminates the constant struggle of trying to fit in the threads. What's more, it comes threaded and can be used out of the box. Well, that's after you set the appropriate tensions.
However, the loopers quickly burn through the thread, so you might want to factor in an overlock thread collection cost before purchasing. 
But overall, based on the price, Singer 14J250 is a great deal. It's an excellent choice if you're looking for a starter serger, or you are just looking for a very efficient machine to polish your home sewing.

Main features
2-3-4 stitch capability provides more stitch variety
Needle threader
Wide-open threading 
Differential feed 
Cutting width gauge for consistency
Sewing speed up to 1,300 stitches per minute 
13.5 pounds

Singer 14J250. SYS rating, pros, and cons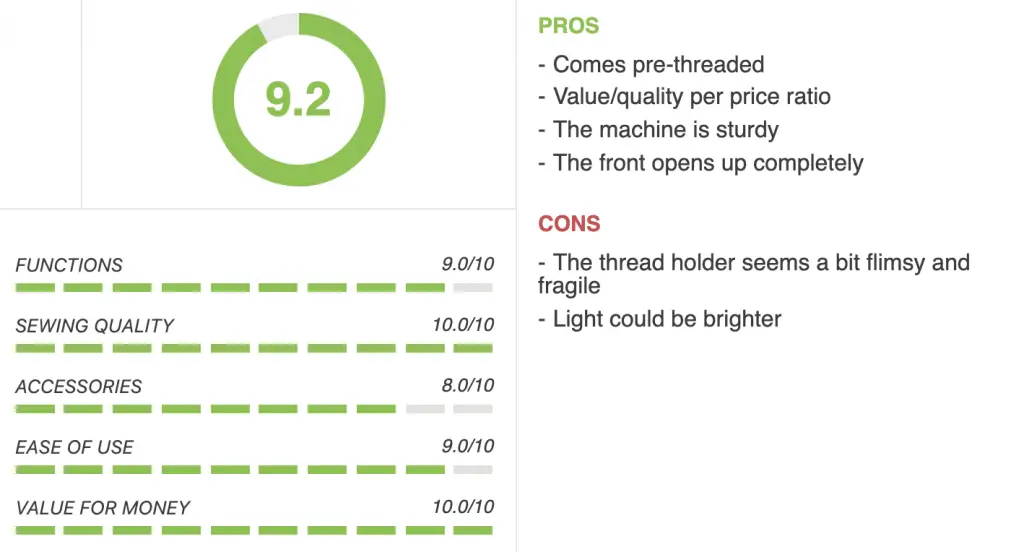 Singer 14J250 manual 
You can download the full manual here.

Video guidelines

Singer 14J250. FAQ and Troubleshooting
How to thread Singer 14J250? 
Does it sew through leather and jeans? 
This machine is very sturdy and sews very well whatever you throw at it, including more challenging fabrics like denim. It can definitely handle a layer or two (just test your settings on the scraps of fabrics first). But treat this serger well, please. This means that you shouldn't don't go too overboard with multiple layered of thick materials if you are not looking forward to a trip to the mechanic. 

Singer 14J250 accessories
As happens with many sergers, the bundle of accessories included with your purchase won't be too extravagant. However, it will definitely come with all the essentials that will help you get started out of the box.
Among the basic accessories that come with Singer 14J250 are all-purpose foot, needle threader, set of needles, tweezers, screwdrivers, spare lower knife, and others. The machine also comes with the accessory bag, soft-sided dust cover, foot control, power cord, and instruction manual with a stitch chart.

Is Singer 14J250 really a good one? Our verdict 
Although it doesn't have lots of features, this machine is practical and user-friendly. This makes it a great option if you're a beginner. Moreover, it works wonderfully on different types of fabrics.
Learning to thread the serger properly might be a bit of a challenge, but you'll get the hang of it with practice. And honestly, 14J250 is not the most complicated model to learn it. It does help that the machine is delivered threaded so you can see how it's done. The instruction manual is good as well, so you'll be able to figure things out.
 Overall, Singer 14J250 is a great bargain!

Credits: photos by Canva

Disclosure: at sewingyourstyle.com we only write about the products that we've researched and considered worthy. But it's important to mention that we are a participant of several affiliate programs, including Amazon Services LLC Associates Program, an affiliate advertising program designed to provide a mean for us to earn fees by linking to Amazon.com and affiliated sites. As an Amazon Associate sewingyourstyle.com earns from qualifying purchases.