If you were looking into getting yourself a serger, you might be eyeing Juki MO-655 as an option. It can be quite complicated for a newbie (particularly in the threading department). Still, at the same time, you'll get Juki's real quality, which is probably one of my favorite sewing devices' manufacturers of all. Nonetheless, let's jump into more pros and cons of this model. 
Do you have a particular question about Juki MO-655? Then use the table of contents below to jump to the most relevant section. And you can always go back by clicking on the arrow in the right bottom corner of the page. Also, please note that some of the links in this article may be affiliate links. For more details, check the Disclosure section at the bottom of the page. 
Juki MO-655 review 
One of the things I've noticed when researching Juki MO-655 is how the built-in rolled hem works – it's super easy, fast, and flawless. Whether you are experimenting with different threads and fabrics and use basic overlock or flatlock for a secured 2/3/4/5 safety, stitch the results always seem to come out as perfect. Juki Pearl makes an excellent hemming, decorative stitching, and embroidering-serger machine for thin linen cloths, stretchy fabrics, and heavy denim materials. 
The stitch length is adjustable. Stitch styles include some variety: you can go with a 2-thread chainstitch, overcast, and rolled hem, 3-thread rolled hem, flatlock, overlock, 4-thread overlock, or 5-thread safety stitch. And this machine is super fast too – up to 1,500 stitches per minute. 
Another plus is that it has an adjustable presser foot pressure and differential feeds. The lower and chain loopers can also be threaded in mere minutes with minimal frustration. Thread tension can be easily adjusted using a single dial. So some functionalities are really a breeze to use with Juki MO-655. 
The instruction manual that comes with the machine is pretty clear too. There's also a little cheat sheet with all the main features explained. And you can pin it somewhere around your sewing station for a quick reference. 
It's true, with this machine, you have to spend time reading the instructions to see how it works. But once you've got the hang of it, everything seems seamless to do.

Main features
Adjustable differential feed
Color-coded threading guides
The 1-rotation thread tension dial
The lower knife adjustment knob
The heavy-duty knife system
Multi-purpose foot
Chain looper threading 
Bright lights 
Automatic rolled hemming 
Easy stitch length adjustments
Up to 1,500 stitches per minute
20.5 pounds 

Juki MO-655. SYS rating, pros, and cons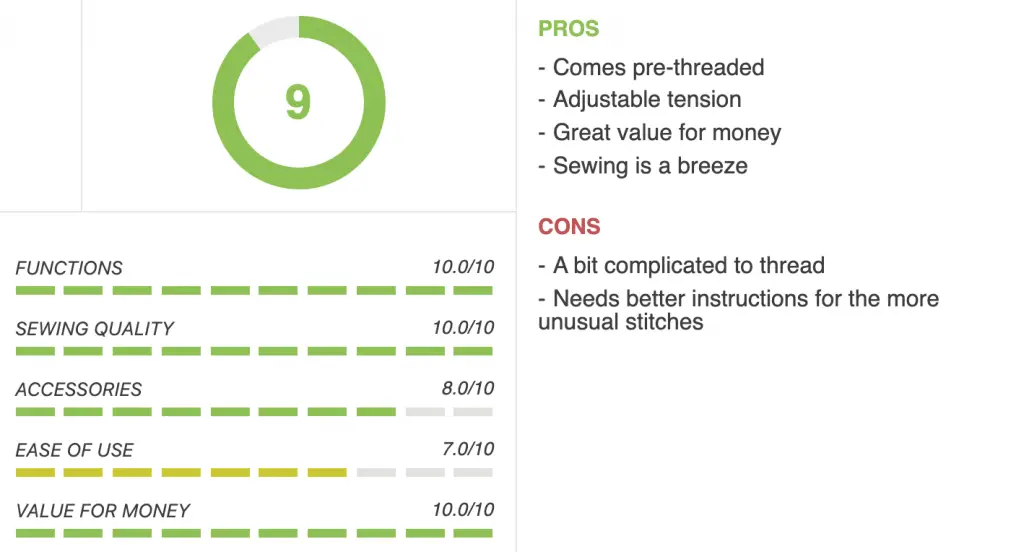 Juki MO-655 manual 
You can download the full manual here.

Video guidelines

Juki MO-655. FAQ and Troubleshooting
How to thread Juki MO-655? 
How to change the needles on Juki MO-655?
Does it sew through leather and jeans? 
Even though household sergers are generally not geared to thicker fabrics, this machine should get through two layers of denim with no problem. Just make sure that you test your settings on a small piece of fabric first. And don't push the machine too hard.

Juki MO-655 accessories
Segers generally come with less fancy extras. Nevertheless, you'll get everything you need to start serging out of the box. This machine comes with a standard presser foot, spare lower knife, two screwdrivers, oiler, spool caps, needles, brush & needle inserter. And a bunch of other small extras. Including, of course, manual, foot control, and power cord.

Is Juki MO-655 really a good one? Our verdict 
Overall, MO-655 is a phenomenal machine. It's relatively affordable, considering the quality of sewing you get and the number of stitching options. It has enough features to impress sewing experts, and it's probably suited best for them.
Or at least it's definitely not for someone who's not willing to read the instructions and practice. If you're new to sergers and serging, this is one of the complicated ones to thread. However, it's a good machine and very well worth the price effort to learn the threading procedure. 

Credits: photos by Canva

Disclosure: at sewingyourstyle.com we only write about the products that we've researched and considered worthy. But it's important to mention that we are a participant of several affiliate programs, including Amazon Services LLC Associates Program, an affiliate advertising program designed to provide a mean for us to earn fees by linking to Amazon.com and affiliated sites. As an Amazon Associate sewingyourstyle.com earns from qualifying purchases.