Janome is a well trusted and established brand committed to creating decent quality sewing machines with price tags that generally won't break the bank. (And I wrote more about this company in my report reviewing the best Janome machines). 
Janome DC2015 is a computerized sewing machine with solid 60 stitches and smoothly running motor. DC series has been around for quite some time. Generally, those models are differentiated by colors (e.g., DC 2013 is blue, and DC2011 is pink). 
But to be fair, there is something more to it than just yet another shade (red is pretty though). 
And I'll try to pay it justice with this review. 
Are you interested in a particular question about Janome DC2015? Then use the table of contents below to jump to the most relevant section. And you can always go back by clicking on the arrow in the right bottom corner of the page. Also, please note that some of the links in this article may be affiliate links. For more details, check the Disclosure section at the bottom of the page. 
Janome DC2015 review 
Janome DC2015 is a reliable working horse and adds value to whatever task you have in mind: whether it's quilting, crafting, or basic sewing needs. It boasts with a solid build of a high-end machine (and that's why it's a bit heavy, but still portable, though).
The model has 60 stitches, including 6 buttonholes (most of us won't ever need even half of that). And you'll get to enjoy some fancy features, like an auto-lock button, precise needle positioning, smooth reverse, and a speed control slider. 
The bobbin has a useful loading diagram built into the cover. So changing it won't be tricky at any time. It is also fairly fast – up to 800 stitches per minute. And comes with a hard protective case for carrying around.
If you compare it with all the previous DCs, Janome DC2015 features some serious upgrades. Along with extra stitches, for example, it has a larger LED screen, which is controlled with the silver touch ring to the right. A major significant difference is that you can adjust the foot pressure on the DC2015. The previous models do not have this capability. And there is also the addition of a super handy start/stop button. 
Overall, maybe it's not the most advanced sewing unit of all, but it's still very functional and sturdy. And will work well for both novice and expert sewists.

Main features
60 built-in stitches
Automatic thread tension control
Locking stitch button
6 One-step buttonholes
Built-in needle threader
Snap-on presser feet
Needle up/down with up as default
Easy set bobbin and bobbin winder
Bright LED screen with easy navigation keys
7-piece feed dog
Drop feed
Speed Control Slider
Free arm
Easy reverse button
Extra high presser foot lift
Auto-declutch bobbin winder

Janome DC2015. SYS rating, pros, and cons
Great and sturdy machine. It will work for beginners because it is intuitive, user-friendly, and easy to learn. But also serve well the experienced seamstresses. Since it has all the basic features, you might need even when you are going to use the sewing machine regularly.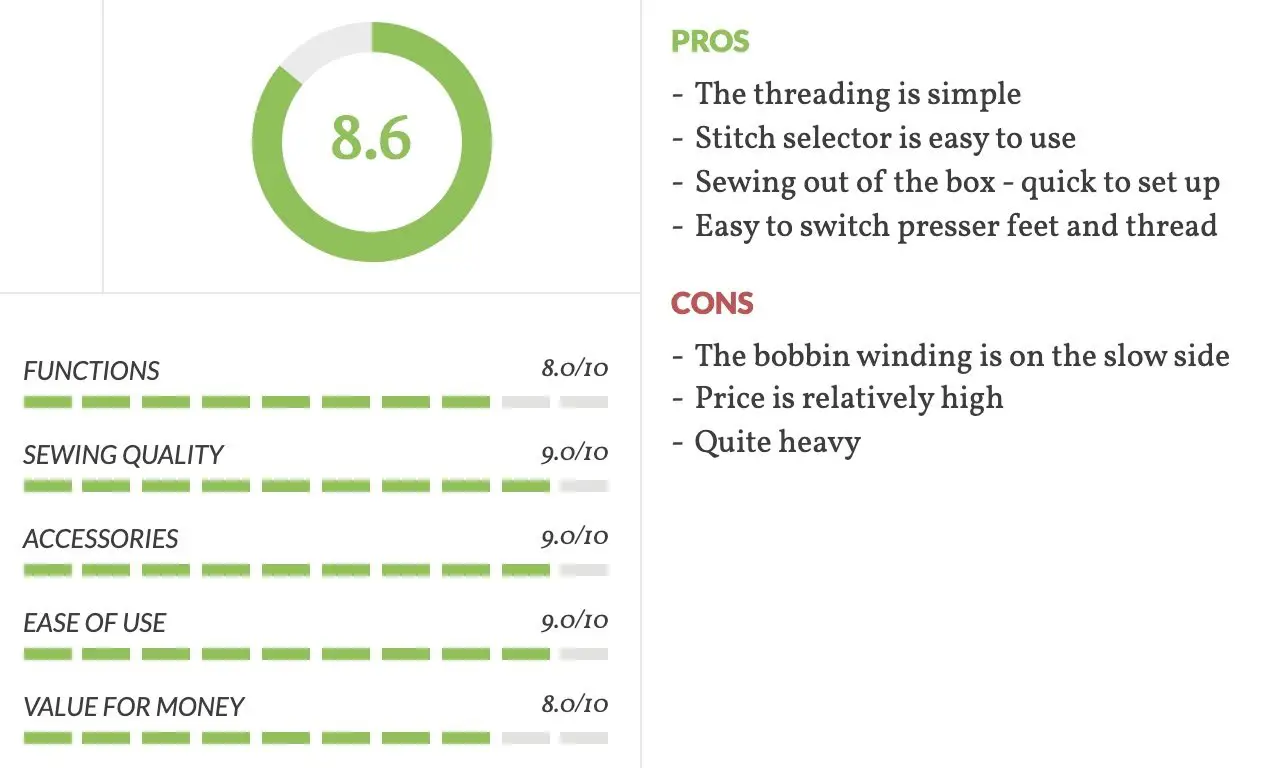 Janome DC2015 manual 
You can download the full manual here.

Janome DC2015 video guidelines

Janome DC2015. FAQ and Troubleshooting
How to thread Janome DC2015?
How to solve the tension issues with Janome DC2015?
If you are experiencing tension problems with this model fist, you want to check between your tension disks on the upper tension. Set it to zero, get your hoover, and use it to clean out all the lint in your machine. Floss your tension discs. Sometimes it only takes a small piece of thread to take tension off the top thread.
You might also want to load the new bobbin. Sometimes a bobbin wont't wound right, and it can throw everything off. And I would suggest changing your bobbin tension back to the original setting. 
Also, check if you are using the correct type of needle for your fabric. Sometimes your material can be too thick, so your needle will end up nicking your bobbin case and the thread feeder. Try different threads and fabric too, and see if it works. 
If none of this works, maybe you should contact the mechanic and see if your machine is OK. 
Does it sew through leather and jeans? 
Janome DC2015 can easily sew through everything you'll throw on it. But please be sensible, though. Use the right needle, foot, and settings. It definitely works for 6+ layers of cotton or denim and 2-3 layers of batting. 

Janome DC2015 accessories
This machine comes with a decent pack of accessories. Apart from your standard needles, bobbins, hard case, etc., it also includes 6 feet (Blind Hem, Overedge, Satin Stitch, Satin Stitch Open Toe, Zig-Zag, and Zipper foot). 
You probably don't need anything to begin your journey when purchasing Janome DC2015 unless you are into quilting. In this case, you might want to get an extra ¼ foot (this one works for this model). 

Is Janome DC2015 really a good one? Our verdict 
Although it doesn't have a truckload of features, nevertheless, it's very functional and easy to learn. 
Lots of stitches will keep you busy for a long time. Buttonholes are a breeze. And the quality of sewing is pretty perfect too. 
Easy needle threader and bobbin winding make this machine easy to get up and running in a second. Larger LCD screen works great, too, even if you are still on the fence about anything "computerized." The up/down button is super useful as well. It's a solid basic machine that will purr through the workload like a kitten.

Credits: photos by Canva

Disclosure: at sewingyourstyle.com we only write about the products that we've researched and considered worthy. But it's important to mention that we are a participant of several affiliate programs, including Amazon Services LLC Associates Program, an affiliate advertising program designed to provide a mean for us to earn fees by linking to Amazon.com and affiliated sites. As an Amazon Associate sewingyourstyle.com earns from qualifying purchases.