Brother XM1010 is the newer version in the series, and I think it is one of the best lightweight machines from this manufacturer. Besides, it has a great price, and it lets you use it daily for both basic mending and sewing. So if you are looking for a machine to get you started, this might be the one. Let me walk you through it, though. 
Do you have a particular question about Brother XM1010? Then use the table of contents below to jump to the most relevant section. And you can always go back by clicking on the arrow in the right bottom corner of the page. Also, please note that some of the links in this article may be affiliate links. For more details, check the Disclosure section at the bottom of the page. 
Brother XM1010 review 
I think the predecessors of this model were bulky and a bit difficult to use. But the Brother XM1010 is an innovation due to its sleek and lightweight design. It is the best selection for a beginner, but if you are an experienced tailor, you will like it. E.g., in the situation when you need a basic back up machine for traveling. 
There is a dial included with which you can select from the 10 decorative and utility stitches for zipper insertion, buttonholes, stretch stitches, and several more. Maybe it's not hundreds, like in fancier machines, but let's be real – 10 is more than enough for most of us.
 I like the tension control dial and reverse sewing lever because it offers great control and reliability. As such, even though you might be a beginner, your fingertips are sage. 
This model from Brother comes with a jam-resistant Quick-set, an useful view of the bobbin cover, and an automatic bobbin winding system. And I say that no matter your sewing experience, you will find the instructional DVD very helpful. 

Main features
10 built-in stitches ( from utility to decorative) 
Needle threading diagram
Jam resistant drop-in top bobbin
Good value accessory package (with 4 feet)
Free arm 
Lightweight – only 10.8 pounds 
Brightly lit LED work area

Brother XM1010. SYS rating, pros, and cons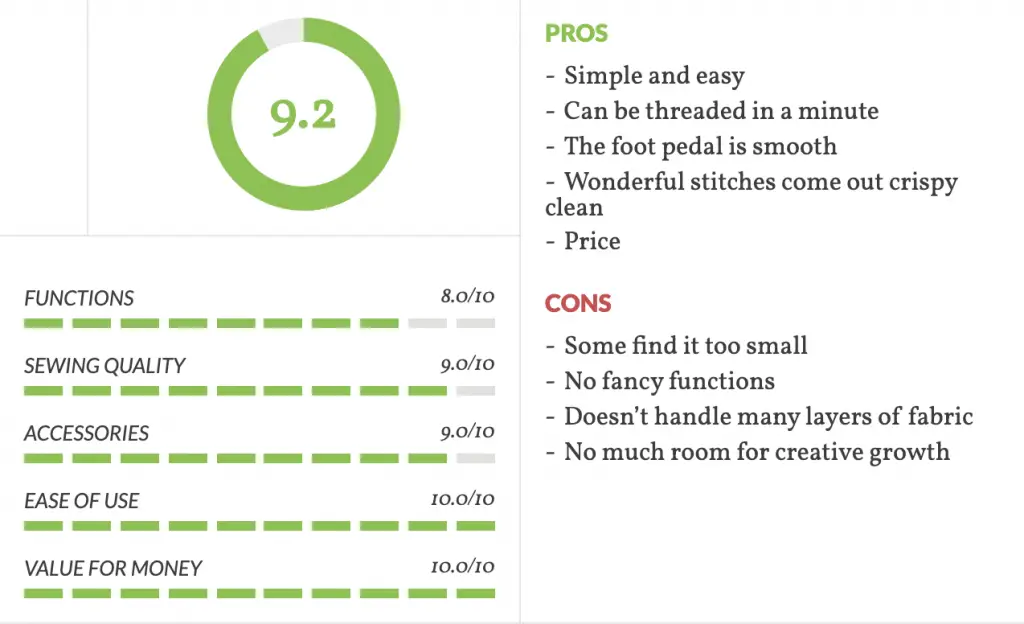 Brother XM1010 manual 
You can download the full manual here.

Video guidelines
Brother XM1010. FAQ and Troubleshooting
How to thread brother XM1010?
Does it sew through leather and jeans? 
It can sew most fabrics. You may have to change the needle for knit fabrics to a ballpoint, or one specified for knits. Heavyweight fabrics like denim will take a little more patience. But with the right settings and slower sewing pace, this machine will handle the task.
Does the Brother XM1010 come with a thread?
No, the sewing thread needs to be purchased separately.
Is there a carrying case included?
No, there is no carrying case included. However, the Brother XM1010 is compatible with this Brother Universal case 5300.
What is the maximum thickness of fabric supported by this machine?
The maximum thickness that can be sewn is 6mm.
Is this machine stable on the table?
Overall, the Brother XM1010 is a compact and stable device, so it will sit solidly on the table when you sew. Make sure you place it on a leveled surface, though, to avoid any problems.

Brother XM1010 accessories
Brother XM1010 sewing machine comes with a pretty great deal of accessories. Especially considering the price. It includes 4 sewing feet (zigzag foot, zipper foot, buttonhole foot, button sewing foot), 3-piece needle set, 4 bobbins, darning plate, foot controller, screwdriver. And of course, a very detailed manual along with an instructional DVD. 
Brother XM1010 bobbins 
The XM1010 uses the SA156 class 15 bobbins, like this one.

Is Brother XM1010 really a good one? Our verdict 
This is a cost-effective solution from Brother, for those in need of a light-duty beginner machine (if you are just starting out also check my guide on the best sewing machines for beginners). It can sew at numerous speeds with a maximum speed of 750 stitches per minute.
And the best part about it is that it can help you complete simple projects and tasks with a lot of creativity. It will fit nicely in any household. You can definitely design most of the things you want with the features this machine provides. 

Credits: photos by Canva

Disclosure: at sewingyourstyle.com we only write about the products that we've researched and considered worthy. But it's important to mention that we are a participant of several affiliate programs, including Amazon Services LLC Associates Program, an affiliate advertising program designed to provide a mean for us to earn fees by linking to Amazon.com and affiliated sites. As an Amazon Associate sewingyourstyle.com earns from qualifying purchases.