When it comes to sewing beginners, it's always hard to tell whether a new hobby will stick. 
So it does not always make sense to invest a lot into a sewing machine that you won't find thrilling to use after all. At the same time, beginner's machine has to be easy to use, give you some room for growth, and be reasonably priced. That's where Singer 1234 can come handy. 
But let's dig into more details to see all the pros and cons before jumping into any conclusions. 

Are you interested in a particular question about Singer 1234? Then use the table of contents below to jump to the most relevant section. And you can always go back by clicking on the arrow in the right bottom corner of the page. Also, please note that some of the links in this article may be affiliate links. For more details, check the Disclosure section at the bottom of the page. 
Singer 1234 review 
This is a small, compact sewing machine that works just like, if not better than the old, heavy machines of the past. Lightweight (only 7 pounds) and easy to tote from one place to other thanks to a built-in handle. 

The machine is quiet, the stitch line is even. The buttonhole function allows you to add buttonholes in four easy steps. So you can play with it on things like children's clothing, pillows, shirts, and whatever else you have in mind.  
Although it does not have all the bells and whistles of the fancier machine, it does everything a beginner would need. So it would be a good machine for someone who wants to work on straightforward sewing projects, hemming, and repairs.
And even though some might find that Singer 1234 looks like a toy compared to most of the other machines,  it does the job. Excellent machine for basic sewing and quilting. 

Main features 
Lightweight (7 pounds) and portable 
6 built-in stitches – including straight, satin, blind hem, zigzag, 4-step buttonhole, and scallop
Stitch length and width can be preset
Free Arm to sew around cuffs and small projects
Sewing speed: up to 750 stitches per minute. 
Limited 25 Year Warranty.

Singer 1234. SYS rating, pros, and cons 
This is a beginner machine and is great for learning, especially for the price.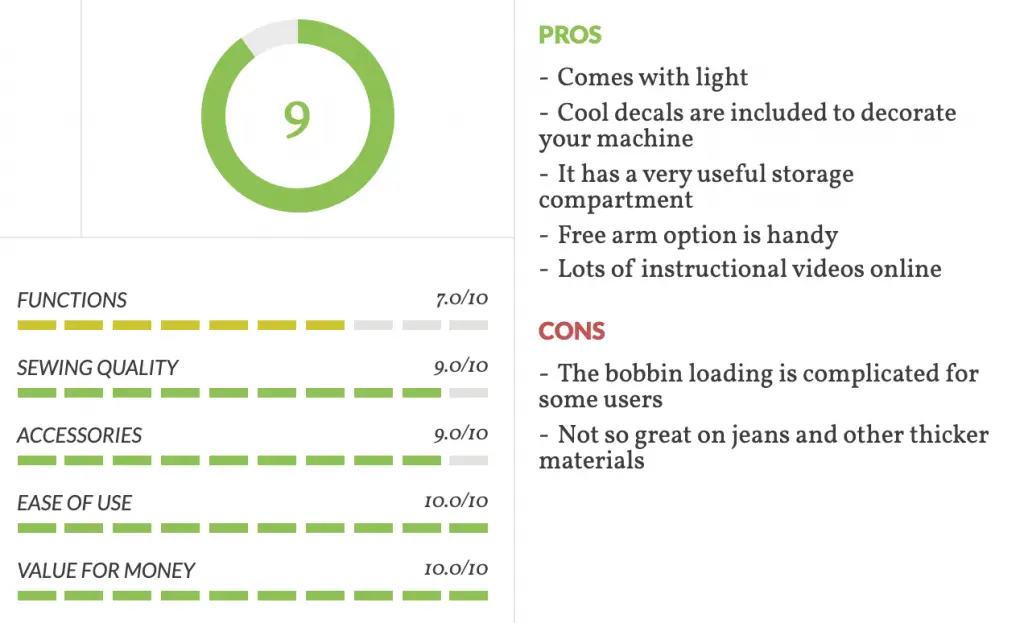 Singer 1234 manual 
You can download the full manual here.

Singer 1234 video guidelines

Singer 1234. FAQ and Troubleshooting
How to thread Singer 1234? 
How to wind a bobbin on this machine?
This machine comes with an automatic bobbin winding feature. So to wind a bobbin follow the numbered diagram on top of the machine. The bobbin will stop turning when it's filled.  
What to do if thread keeps getting caught in the bobbin?
First, you should check if your bobbin loaded correctly. It should turn clockwise when you pull a thread. 
Then make sure that the tension is right, and the bobbin is threaded correctly. 
If yes, then make sure that your presser foot down when you sew
If the answer is affirmative, the next step is to check is there any tension on the top thread when you pull on it, with the presser foot down. 
If everything seems to be right, make sure that you are the correct needle and thread for the material you are currently working with. Most times it can also cause problems with the thread. Changing it will help.  
Does it sew through leather and jeans? 
The Singer model 1234 is capable of sewing light denim/blue jean fabrics, with the proper needles and machine settings.
The manufacturer suggests using an Inspira or Singer Denim needle, type-2026, size 16 or 18 (e.g., this needles) depending on the weight of the denim fabric.  As for other instructions: Use the longest Straight Stitch (to allow for the thickness of the material). 2) Use the appropriate presser foot for your stitch and fabric. 3) Sew at a moderate speed. When sewing over multiple layers/seams, hand turn handwheel (for thickest seams). 
So this machine will absolutely handle leather or jeans, just not to be too hung up on these types of materials. If you are going to work a lot with heavy fabrics, maybe it's worth it to check for a heavy-duty sewing machine.


Singer 1234 accessories
This machine comes with many several feet: All-Purpose, Zipper,  and Buttonhole Foot. Also, it includes a darning plate, pack of needles, seam ripper, bobbins, cool decorative stickers, screwdriver. Along with spool pin felts, lint brush, power cord, foot control, and manuals.

Needles for this model 
The manufacturer's recommendation is to use an Inspira or Singer needles for this machine. Using another brand can cause tension and/or timing issues. 

Singer 1234 bobbins 
You can use Singer or Inspra transparent bobbins class 15 (like these ones) to get the best of your machine. 

Is Singer 1234 really a good one? Our verdict 
Singer 1234 would be a good machine for anyone beginning to sew. It also works well for routine sewing needs. The available stitches should cover most sewing needs, though you won't be able to do anything too fancy. But still, for the price, this is a good value if you are not looking to become a new Coco Chanel and just need something for learning and working on the basics.


Disclosure: at sewingyourstyle.com we only write about the products that we've researched and considered worthy. But it's important to mention that we are a participant of several affiliate programs, including Amazon Services LLC Associates Program, an affiliate advertising program designed to provide a mean for us to earn fees by linking to Amazon.com and affiliated sites. As an Amazon Associate sewingyourstyle.com earns from qualifying purchases.