Singer 5400  is a portable sewing machine with various stitches that makes it perfect for sewing, quilting, heirloom, crafts, and other decorative works. This machine is ideal for beginners due to its easy to use features. Although even experienced sewers might like it too as a back up machine. Anyways, read on if you are seriously considering to purchase this machine. 
Do you have a particular question about Singer 5400? Then use the table of contents below to jump to the most relevant section. And you can always go back by clicking on the arrow in the right bottom corner of the page. Also, please note that some of the links in this article may be affiliate links. For more details, check the Disclosure section at the bottom of the page. 
Singer 5400 review 
Singer 5400 comes with 60 built-in stitches, 4 styles of fully automatic 1-step buttonholes. It makes it easier for you when doing more creative projects.  
You will save a lot of time with its automatic needle threading feature – something that you would not expect in a machine within this price range. Very nice bonus.   It has an adjustable stitch length and width for stitching fabrics properly. It also has options for doing embroidery, quilting stitches, and an easy to use buttonhole attachment. 
The heavy-duty metal frame ensures that the machine is stable while working on it, and you won't need to worry about having skipped stitches. This machine has Push selection buttons that help you set it up.  You can choose the kind of stitch you want, needle position, and the rest. You can also sew in reverse, with its automatic reverse button at the front of the machine.
You don't need to worry about adjusting the tension on this machine; it adjusts automatically.
However, keep an eye on the needle while sewing. You might experience needle jams while sewing, though it's easy to fix. If this happens, simply adjust the knob on the side of the machine. Then move the needle up/down to loosen it.
The machine comes with an instructional DVD that will give you a comprehensive course on how to get the best of it. And those are seriously cool learning materials, if you ask me. Overall, this machine is definitely a keeper for any beginner. 

Main features
60 built-in stitches
Automatic needle threader
1 automatic 1-step buttonholes 
Heavy duty metal frame
Automatic tension
Automating stitching settings
13 pounds 

Singer 5400. SYS rating, pros, and cons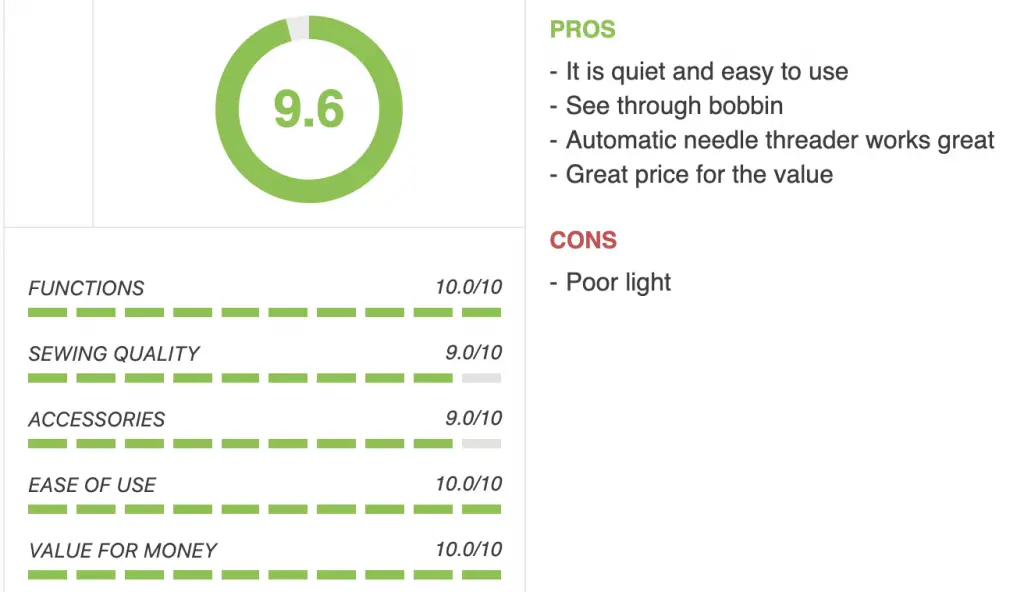 Singer 5400 manual 
You can download the full manual here.

Video guidelines

Singer 5400. FAQ and Troubleshooting
How to thread Singer 5400?
How to install the zipper using Singer 5400? 
Does it sew through leather and jeans? 
It definitely does, if you are using the right settings. To sew through denim and other thick materials with Singer 5400 choose the longest straight stitch and use all-purpose foot. Choose the needle size 16 or 18 (it has to be Singer 2026 otherwise you might experience tension issues). And try to go slowly for the best results. 

Singer 5400 accessories
This machine comes with a decent set of accessories. It includes three extra feet (all-purpose, zipper, buttonhole). Also it comes with extra bobbins and needles. And a bunch of other accessories on top of it: from darning plate and screwdriver and seam ripper to thread spool cap, auxiliary spool pin and spool pin felt. Dust cover, manual, power cord and foot control are also included in the package.  

Is Singer 5400 really a good one? Our verdict 
Unlike many other sewing machines, it is friendly to use despite its plenty of features. Though, you could do well with tutorial courses. For the price, this machine comes out better than many of its competitors.
You will hardly find faults while working with this machine; easy to maintain and simple to set up. This machine is also sturdy and strong enough to handle any sewing project that you want to do. It's portability, versatility in sewing fabrics (Velcro, elastic, denim, and many others) makes the machine a perfect workhorse. 
Overall, Singer 5400 is excellent for beginners and intermediate skill level and primary sewing. 

Credits: photos by Canva

Disclosure: at sewingyourstyle.com we only write about the products that we've researched and considered worthy. But it's important to mention that we are a participant of several affiliate programs, including Amazon Services LLC Associates Program, an affiliate advertising program designed to provide a mean for us to earn fees by linking to Amazon.com and affiliated sites. As an Amazon Associate sewingyourstyle.com earns from qualifying purchases.