Have you ever thought about how it would be to have a professional, all-inclusive embroidery machine at home? If this is your case, I encourage you to take a closer look at Janome MB-4S. It is a full-options machine that will help you with a wide array of projects, no matter how difficult they are. But let's dig deeper.
Do you have a particular question about Janome MB-4S? Then use the table of contents below to jump to the most relevant section. And you can always go back by clicking on the arrow in the right bottom corner of the page. Also, please note that some of the links in this article may be affiliate links. For more details, check the Disclosure section at the bottom of the page. 
Janome MB-4S review 
This is the first home-use four-needle embroidery machine on the globe. And since Janome is known for its reliable products, I can say that this is an excellent addition to any household.
This embroidery machine comes with plenty of pro features, including a Remote Computer Screen to choose and edit with around 65,536 colors. 
Also, what I like most about this versatile device is its automatic thread cutter. It helps you cut it automatically, even when we are talking about the tricky areas between letters.
You should know that the only potential downside about this machine might be that you have to be extra careful with small details. For example, you might stumble upon some issues with needles breaking. But if you watch a tutorial about this topic, you will see that all you have to do is adjust the hook timing. After this, the needles will function smoothly. In my opinion, manual threading is challenging, but if you spend some time exercising it.
It might appear like a challenging machine to master. But you will be surprised by its ease of use once the learning is completed. 
Also, a significant plus to mention – it won't need too much space in your home, despite its multitude of features. 

Main features
Remote Computer Screen (RCS) for full editing control
LED Light
 3 MB of memory which can store up to 100 designs
Automatic thread cutter
Dedicated bobbin winding motor
50 built-in designs
10 fonts for monogramming
Up too 800 stitches per minute
Programmable jump thread trimming
Upper thread and presser foot sensors
Adjustable hoop positioning
Compatible with Tajima hoops
Standard hoops: M1: 9.46″ x 7.88″ (240mm x 200mm) M2: 5″ x 4.3″ (126mm x 110mm) M3: 50mm x 50mm
64 pounds

Janome MB-4S. SYS rating, pros, and cons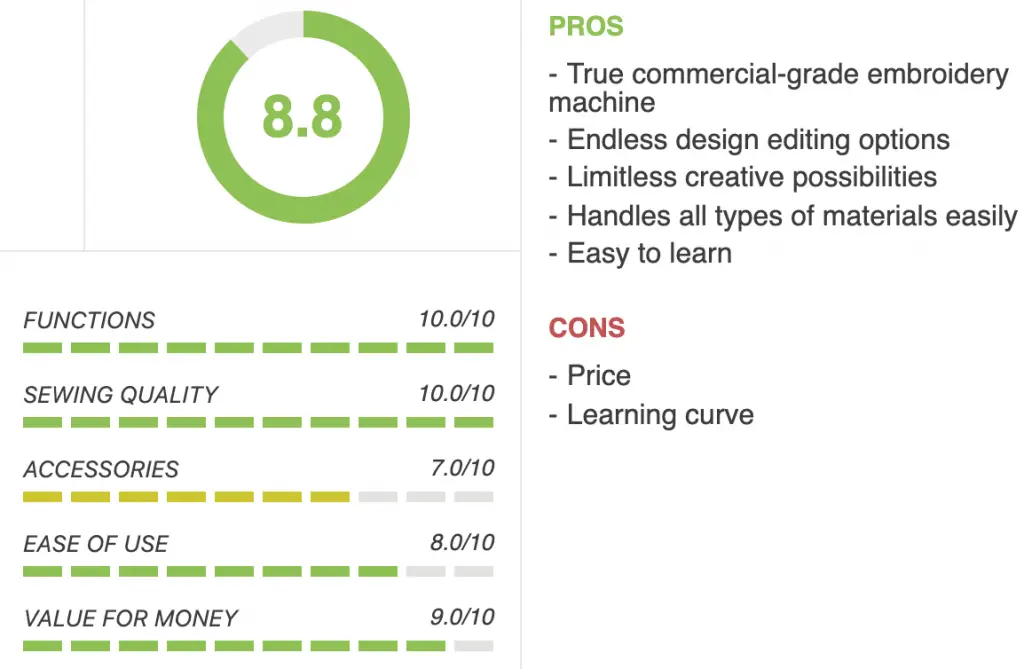 Janome MB-4S manual 
You can download the full manual here.

Video guidelines

Janome MB-4S. FAQ and Troubleshooting
How to thread Janome MB-4S?
This video is explaining how to thread Janome MB-7 but the process is somewhat similar:
How to upload designs to Janome MB-4S?

Janome MB-4S accessories
This machine typically comes with some extras, mainly embroidery hoops: hat hoop (100mm x 60mm), no.7 lettering hoop (25mm x 121mm), no. 9 lettering hoop (66mm x 66mm) and lettering hoop holder unit.

Is Janome MB-4S really a good one? Our verdict 
Janome MB-4S is an excellent machine for learning embroidery and for those who want to take this hobby for the next level. All you have to do is oil and perform regular maintenance on your device, and it will last you for years to come while being a hard-working sewing trooper.
You will discover that MB-4s comes with a competitive price, durability, and lightweight design. And you should know this machine is compatible with six industry-standard Tajima hoops, which drastically expands your capabilities. It's a real commercial-grade embroidery machine. And there is hardly any other embroidery machine that offers the same quality for home use.  

Credits: photos by Canva

Disclosure: at sewingyourstyle.com we only write about the products that we've researched and considered worthy. But it's important to mention that we are a participant of several affiliate programs, including Amazon Services LLC Associates Program, an affiliate advertising program designed to provide a mean for us to earn fees by linking to Amazon.com and affiliated sites. As an Amazon Associate sewingyourstyle.com earns from qualifying purchases.