If you are only looking for a perfect embroidery machine – so-called jack of all trades – Brother PE800 might be right up your alley. Despite having some extraordinary features, this machine is not on the list of the most expensive ones. It's also very easy to use and with a larger (5″ x 7″) embroidery field. It will let you complete more substantial embroidery projects faster, with less headache and consistently better results. It's easily one of the best embroidery machines out there. 
But let's see what else it has to offer. 
Do you have a particular question about Brother PE800? Then use the table of contents below to jump to the most relevant section. And you can always go back by clicking on the arrow in the right bottom corner of the page. Also, please note that some of the links in this article may be affiliate links. For more details, check the Disclosure section at the bottom of the page. 
Brother PE800 review 
This machine will definitely become your best friend if you are a DIYer. It has so many options that you will have loads of fun for at least an hour or so. Fantastic speed, easy to use, affordable… And your embroidery skills will improve to a new level.
It comes with a 5″ x 7″ embroidery field that will let you complete larger embroidery projects.
The built-in embroidery designs make everything simpler. There are a total of 138 built-in designs, including 10 frame designs. It's enough to get you started (especially considering the robust customization functionalities PE800 offers). However, you can also import your own designs from compatible sources. 
The machine also comes with 11 built-in fonts i.e., 7 English, 3 Japanese, and 1 Cyrillic. So, let's say you always wanted to give monogramming a shot. Or you were dreaming about saving a ton on Christmas presents. Or were even considering launching your own crafting side hustle. In all those cases, this Brother can fit all the bills. 
Although there' still one thing I want to mention for those who end up purchasing it. Surely, the machine is easy to use, but don't forget to read the manual. Many people start using it without reading the instructions and end up facing various issues. The manual comes with some do's and don'ts that must be followed for a truly seamless embroidery experience.
Once you get to know everything about the machine, then the possibilities are endless. 

Main features
5″ x7″ embroidery field
Large 3.2″ color touch LCD screen
138 built-in embroidery designs 
11 lettering fonts
Virtually unlimited design editing options
Easy threading
Auto thread cutter, for consistent stitching and thread trimming
30.2 lbs

Brother PE800. SYS rating, pros, and cons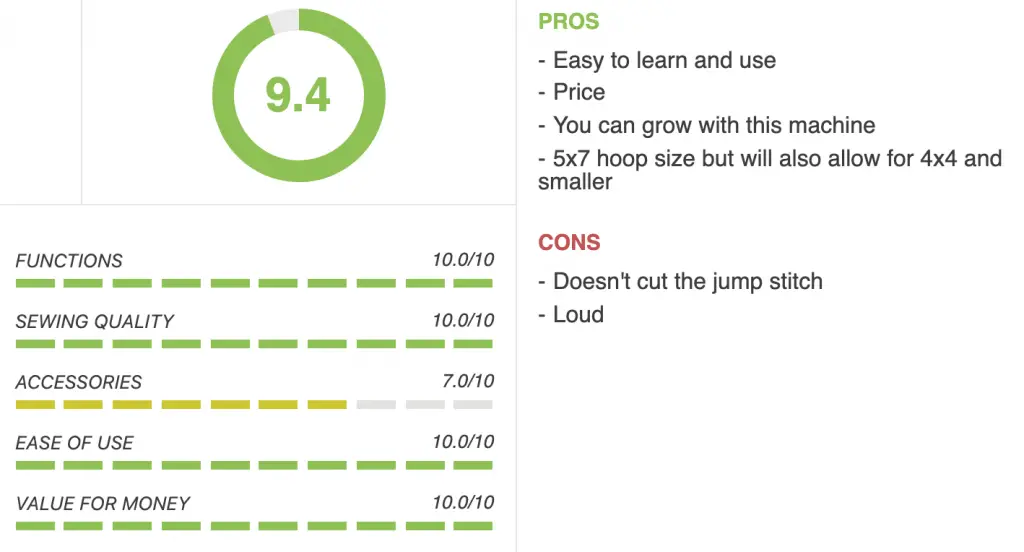 Brother PE800 manual 
You can download the full manual here.

Video guidelines

Brother PE800. FAQ and Troubleshooting
How to thread Brother PE800? 
How to embroider with Brother PE800?
How to applique with this machine? 
Does it sew through leather and jeans? 
You can totally work with thicker materials on Brother PE800. Just use the proper needle and carefully read the manual to learn the right settings. This machine can work with fabric thickness up to 3mm (approx. 1/8 inch). 

Brother PE800 accessories
Brother PE800 comes with most of the essentials that allow you to start the embroidery right away. The box comes with 5″ x 7″ embroidery hoop, embroidery foot, 4 bobbins, a needle set, and even embroidery bobbin thread. Apart from that, you'll get a ton of tools for care and maintenance, including a cleaning brush, seam ripper, bobbin cover, several screwdrivers, spool caps, spool net, scissors, accessory bag, dust cover, and the manual.
You will be able to get started with your project within 10-15 minutes of unboxing. But also, make sure you purchase extra embroidery starters' items. You might need stabilizers (here's a good option) and basting adhesive (e.g., this one). And maybe colored threads (I prefer to go for value sets to save money on maintenance in the long run like this one). All these items are not included in the package.

Is Brother PE800 really a good one? Our verdict 
Brother PE800 is an amazing value embroidery machine. It's perfect for both beginners and avid sewers. However, that doesn't mean you can simply jump into it without any guidance and knowledge. Take your time to learn and educate yourself, and you surely won't be disappointed. 
Larger embroidery space, practically unlimited editing possibilities, a bunch of fonts, and designs included with this machine all at a reasonable price make it a good contender in the competition for being your reliable partner in embroidery crime. 

Credits: photos by Canva

Disclosure: at sewingyourstyle.com we only write about the products that we've researched and considered worthy. But it's important to mention that we are a participant of several affiliate programs, including Amazon Services LLC Associates Program, an affiliate advertising program designed to provide a mean for us to earn fees by linking to Amazon.com and affiliated sites. As an Amazon Associate sewingyourstyle.com earns from qualifying purchases.