Juki DU-1181 sews medium to heavy-weight materials with ease. It won't be wrong if you call it a real work-horse. It does heavy-duty work remarkably, and stitching through many layers is its forte. On the other hand, it's quite bulky, heavy, and pricey too. So, let's have a look at more reasons why it might worth considering getting yourself this Juki. 
Do you have a particular question about Juki DU-1181? Then use the table of contents below to jump to the most relevant section. And you can always go back by clicking on the arrow in the right bottom corner of the page. Also, please note that some of the links in this article may be affiliate links. For more details, check the Disclosure section at the bottom of the page. 
Juki DU-1181 review 
One of the things I'll start of with is the difference between Juki DU-1181 and Juki DU-1181N. 
These two models are very similar and operate practically the same way. However, DU-1181 is powered by an exceedingly mighty servo motor.
You can sew almost everything on it, ranging from vinyl to lace. When switching from heavy to light materials, make sure you adjust the position of the take-up lever screw present on the front of the machine. It is better if you have a flat head screwdriver beside your machine. 
Although there are many notable features in this machine, probably one of my favorites is the motor's speed adjustment dial. You can slow down the speed when sewing heavy materials. And even though you can definitely sew heavy-weight materials with this device, it's more tailored to work with medium weight fabrics. With those, you can have all the sewing fun you want at a grander scale. 
Juki DU-1181 is an industrial sewing machine with a single-needle, straight stitch, and a lot more. 
The top and bottom feed technology adds to the quality of the machine. Not to forget, the presser foot helps in pulling the fabric, hence allowing for medium weight material to be sewn easily. Atop all these qualities, it is perfect for in-home use as it is whisper quiet. But has a factory-like stitching quality, speed (whopping 2,000 stitches per minute), and efficiency (without a professional-grade machines price-tag). 
Most people love it because the item is sold as a complete unit, including the machine head, table, stand, motor, sewing light, drawer, and all necessary components installed and ready to sew. So, yeah, one of Juki DU-1181 downside is the fact that it's heavy, and you most surely will need help to assemble it. But, in many cases, you still can get away with it since it gets delivered all ready to work.

Main features
Up to 2000 stitches/minute
Maximum stitch length: 9mm
Quiet servo motor

Juki DU-1181. SYS rating, pros, and cons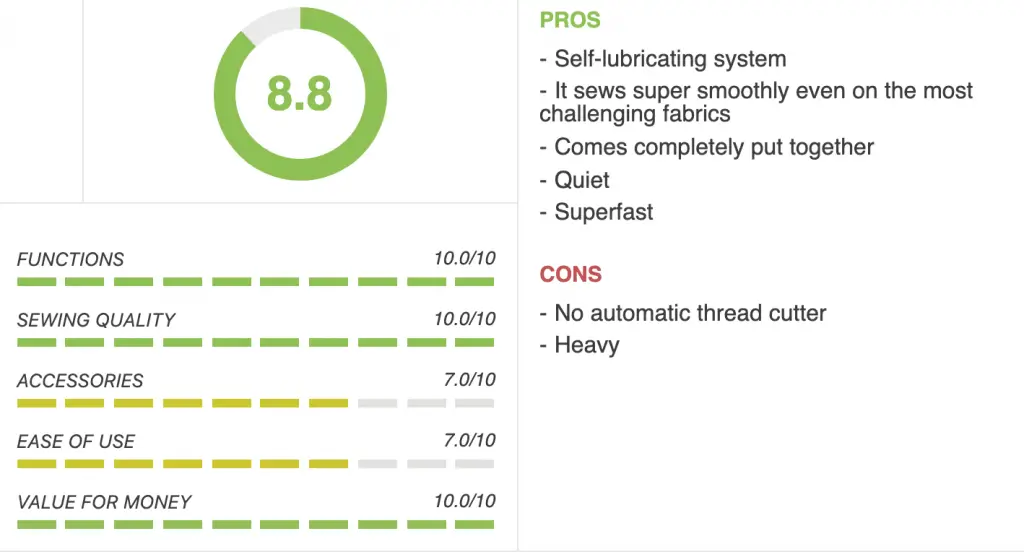 Juki DU-1181 manual 
You can download the full manual here.

Video guidelines
The video below demonstrates how to deal with Juki DU-1181N, but those models are practically identical in maintenance. 

Juki DU-1181. FAQ and Troubleshooting
How to thread Juki DU-1181?
How to replace a needle on Juki DU-1181?
Does it sew through leather and jeans? 
Yes, denim, leather, canvas – you name it. See the video below to get an idea of working with various fabrics on this machine.  

Is Juki DU-1181 really a good one? Our verdict 
Overall, I'd say Juki DU-1181 is a great machine for anyone looking for super fast and consistently high-quality stitches regardless of the material you are using.  
One thing that might disturb a little is that the servo motor on its lowest setting is still too fast for certain sewing conditions. Nevertheless, if you are a pro, you will undoubtedly enjoy the speed. And to be honest, this machine is not that complicated to learn. It just takes a little practice. With proper learning and some efforts to set this thing up, it will all be worth it in the end, considering how much time you'll be saving yourself every day.

Credits: photos by Canva

Disclosure: at sewingyourstyle.com we only write about the products that we've researched and considered worthy. But it's important to mention that we are a participant of several affiliate programs, including Amazon Services LLC Associates Program, an affiliate advertising program designed to provide a mean for us to earn fees by linking to Amazon.com and affiliated sites. As an Amazon Associate sewingyourstyle.com earns from qualifying purchases.