Janome FM-725 is an excellent little needle felting machine. Its only function is needle felting. It is extremely affordable. So you won't break a bank while getting a handy tool for your hobby. Suppose you are an avid needle felter and are working on time-consuming and labor-intensive projects. In that case, you might want to consider giving it a try.
Do you have a particular question about Janome FM-725? Then use the table of contents below to jump to the most relevant section. And you can always go back by clicking on the arrow in the right bottom corner of the page. Also, please note that some of the links in this article may be affiliate links. For more details, check the Disclosure section at the bottom of the page. 
Janome FM-725 review 
Janome FM-725 is a wonderful embellisher machine that can be a great help in producing pain-free felt and textile art. As compared to other needle felting machines, its extension table is a good size. Plus, it also comes with spare needles that are a lifesaver.
Moreover, it is relatively easy to use, which will surely help you save a lot of time. All you need is fabric and imagination, and you are good to go! Once you start using it, you will wonder how you survived without it all this time. The clear guard will help you see the needles' penetration points, which will further allow you to be more precise.
However, a few people complain that they have issues with broken needles. Suppose you want to avoid this broken needle problem. In that case, you must watch the DVD carefully and read the cautions so you can have a hassle-free work experience.
Remember, though, that Janome FM-725 is a needle felting machine, and a felting machine does not sew. It meshes various fabrics with barbed needles. When the fibers mingle together, they create a new color and texture combination that simply cannot be achieved with embroidery, appliqué, or any other kind of needlework. The best thing about this needle felting machine is that it does not require thread, bobbin, or any previous sewing experience.
Furthermore, it is light in weight and easy to use. It is a magical machine that takes away all the strain and creates some interesting and beautiful fabrics.

Main features
5-needle punching unit with fixed needles
5-hole needle plate
Finger guard
Transparent and adjustable eye guard
Single needle unit with the plate as a standard accessory
900 punches per minute
Free arm
Presser foot height adjustment
Transparent presser foot
Bright light
25 pounds

Janome FM-725. SYS rating, pros, and cons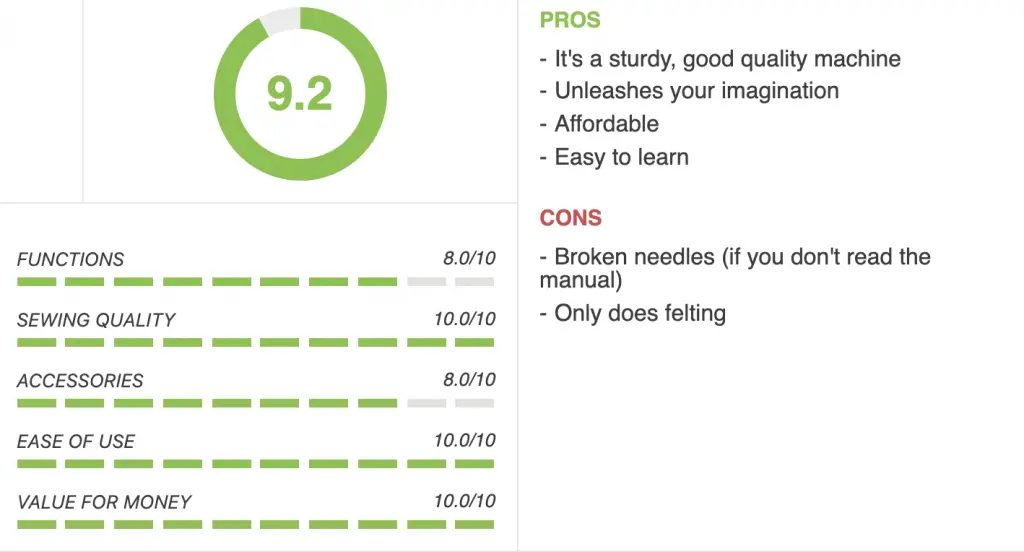 Janome FM-725 manual 
You can download the full manual here.

Video guidelines

Janome FM-725 accessories
This machine comes with everything you might need to get starting with felting. It includes 5 needle unit, 5 hole needle plate, single hold needle plate, single-needle unit, and single replacement needle. Also, it comes with a hexagonal wrench, a lint brush, and a screwdriver too. 

Is Janome FM-725 really a good one? Our verdict 
Without a doubt, Janome FM-725 is a fantastic machine for creating some fantastic textile art. It is very easy to use, utilizes all the scraps of fabrics that you thought were useless, and produces something stunning from it. 
The only thing I'd suggest is getting an extra needle holder so you can replace single needles rather than the whole thing. And that can get quite handy. 
Apart from that, not much to warn you about with this machine. There's practically no learning curve, and you can be as creative as you want to be. You can felt a variety of fabrics with stunning effects. If you want your projects to stand out and reflect your creativity, you ought to get your hands on it! 

Credits: photos by Canva

Disclosure: at sewingyourstyle.com we only write about the products that we've researched and considered worthy. But it's important to mention that we are a participant of several affiliate programs, including Amazon Services LLC Associates Program, an affiliate advertising program designed to provide a mean for us to earn fees by linking to Amazon.com and affiliated sites. As an Amazon Associate sewingyourstyle.com earns from qualifying purchases.