Juki MO-50E is a multiple thread serging machine with good lay-in tensions that allows you to perform professional and neat serging on the most popular (and challenging) fabrics. It is one of the most generously priced sergers you can get out there to perform at the same level. (Juki is practically a synonym of quality). But let's go ahead and look into all the pros and cons of this machine. 
Do you have a particular question about Juki MO-50E? Then use the table of contents below to jump to the most relevant section. And you can always go back by clicking on the arrow in the right bottom corner of the page. Also, please note that some of the links in this article may be affiliate links. For more details, check the Disclosure section at the bottom of the page. 
Juki MO-50E review 
Juki MO-50E is a sturdy machine when you consider that its 16pounds weight has a metal body rather than the commoner plastic body. It is generally easy to operate this machine except for a few tweaks with the tension settings on this machine (which only needs some adjusting).  
The easy threading on this machine will make sewing smoother and faster than other sewing machines of the same grade. It also has an adjustable differential feed that allows you to sew both heavy and lightweight fabrics. 
The sewing speed is satisfactory (for a basic serging), and it handles the sewing without making creaks or whistles.
 It also has some top features like calibrated knife adjustments and differential feed to correct fabrics' thickness.
With a built-in rolled hem, Juki MO-50E machine helps you make light work of adding hems to your garments/fabrics. You can easily switch between overlocks and roll hems with this machine. All these make finishing/sewing on this machine quick and stress-free. 
However, the thread you use on this machine matters a lot; avoid cheap cotton threads to prevent damage to your fabrics through thread breakages and re-threading. Maxi-lock, Gutterman, and Sulky threads will work just fine on the machine.

Main features
Lay-in tension
Adjustable differential feed
Automatic lower looper threader
Adjustable calibrated knife
Built-in rolled hem
16 pounds

Juki MO-50E. SYS rating, pros, and cons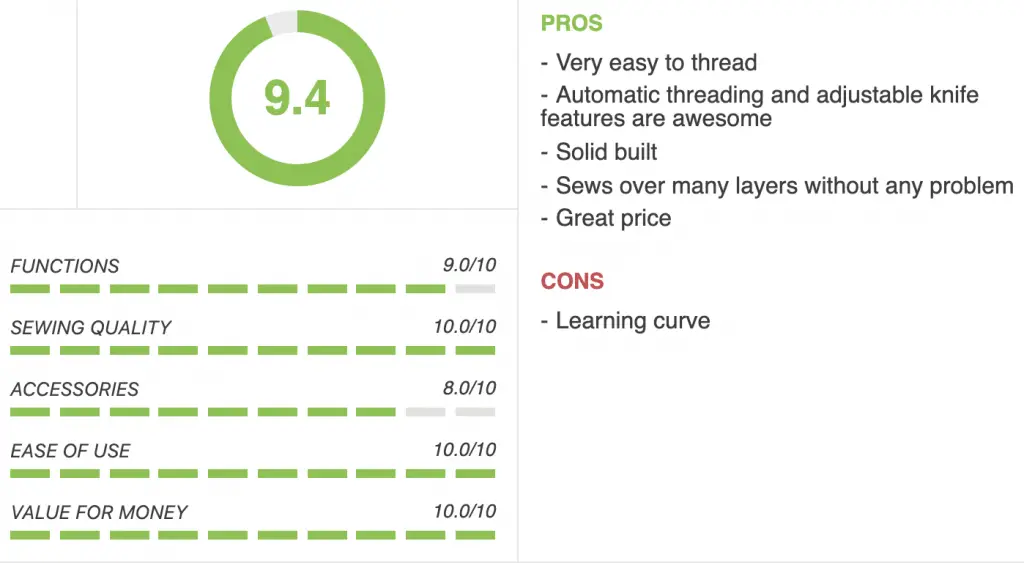 Juki MO-50E manual 
You can download the full manual here.

Video guidelines

Juki MO-50E. FAQ and Troubleshooting
How to thread Juki MO-50E?
How to adjust the stitches on this serger?
Does it sew through leather and jeans? 
Yes, you can definitely use this model when working with thicker fabrics. Just don't forget to adjust the tension and go slowly. And if you have any doubts, refer to the manual to clarify the right settings. When followed, this machine can easily handle seam intersections and even go through up to six denim layers.    

Is Juki MO-50E really a good one? Our verdict 
Overall, I'd say Juki MO-50E is a good serger. it works quietly and does a professional job on your designs. You save a lot of time in threading this machine, hemming, plus it runs at an average speed.
This machine is every beginner's dream (for serging). It will improve their overall sewing experience with its user-friendly features like the trimmings waste container, adjustable stitch length, built-in accessory tray.
It is also easy to maintain because its part is mainly mechanical, means less technical faults, and more durable. 
The machine is also sturdy for a serger, it sews neatly and comes at a great price (you'll hardly find as good of an option at that price).

Credits: photos by Canva

Disclosure: at sewingyourstyle.com we only write about the products that we've researched and considered worthy. But it's important to mention that we are a participant of several affiliate programs, including Amazon Services LLC Associates Program, an affiliate advertising program designed to provide a mean for us to earn fees by linking to Amazon.com and affiliated sites. As an Amazon Associate sewingyourstyle.com earns from qualifying purchases.