Brother 1034DX sewing machine is an affordable and high-performing machine (quite different from the famous Brother 1034D). This 3/4 serger will perform admirably with three to four threads to create customized designs and details. It can do all your serging and is perfect for fabric finishing, home décor, and creative fashion sewing. But let's jump into the specs, so you can see for yourself whether this model is worth considering. 
Do you have a particular question about Brother 1034DX? Then use the table of contents below to jump to the most relevant section. And you can always go back by clicking on the arrow in the right bottom corner of the page. Also, please note that some of the links in this article may be affiliate links. For more details, check the Disclosure section at the bottom of the page. 
Brother 1034DX review 
If you want a quick job, Brother 1034DX can perform an average of 1,300 stitches in a minute, with optimal speed control on the foot pedal. This machine can work with your multiple threads and can penetrate through the varying thickness of fabrics.
Though this machine might sound similar to the 1034D, they are quite distinct. For example, the 1034DX (uses pressure foot lever) has no tension release buttons above each tension discs, unlike the 1034D machine. Also, the 1034DX has LED lighting, which you will find better than the bulb lighting of the 1034D. Lastly, the controls for the 1034DX are on the right side of the machine. Control buttons are on the left side of the 1034D machine.
With Brother 1034DX, you will do a professional job of finishing edges and hems on different garments types. You can use this machine to easily create decorative edges and make creative custom designs with decorative threads because color-coded guides on the machine will help you thread this machine properly.   
Other features that make this machine friendly for you are. It comes with a foot controller, a softcover, extra needles for the sewing, four mini spools of serger thread, and an instructional DVD in English and Spanish. However, using this machine for the first time might require you to be patient and attentive to the details in the manuals and trials.

Main features
Durable metal frame
Up to 1,300 stitches per minute 
Easy color-coded threading
Stitch width control 
16.4 pounds 

Brother 1034DX. SYS rating, pros, and cons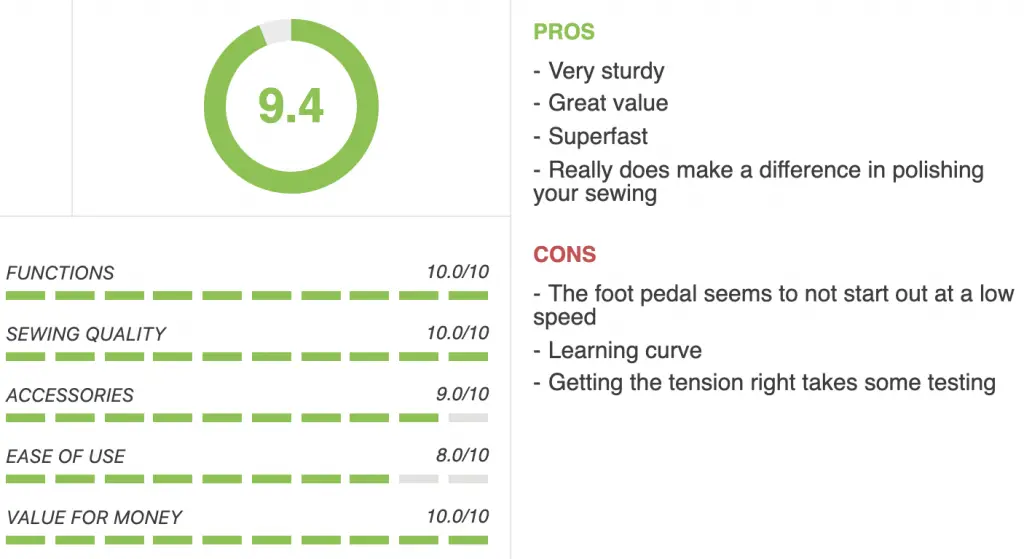 Brother 1034DX manual 
You can download the full manual here.

Video guidelines

Brother 1034DX. FAQ and Troubleshooting
How to thread Brother 1034DX? 
Does it sew through leather and jeans? 
This machine can handle multiple layers of denim and other thick materials (keep in mind the differential feed ratio of 0.7 to 2.0). Just use the right settings for a particular fabric and follow the manual, and you are good to go. 

Brother 1034DX accessories
Brother 1034DX Serger comes with everything you need to get started right in the box, including 3 snap-on feet – standard, blind hem, and gathering. It also has a foot controller, a softcover, four mini spools, needles, an instructional DVD, and a manual.

Is Brother 1034DX really a good one? Our verdict 
It is a good serger for beginners and intermediate skill levels due to its smooth operation and ease of handling. The good thing about Brother 1034DX is that you don't have to break the bank to own one of these. Besides, the machine has simple maintenance procedures/tasks; you won't need the serviceman much.
The simple features, smooth operations, high and diverse performance makes this machine worth every bill you paid for it.
It is easy to operate. You only have to be willing to learn once you get this machine. Once it's done – the work can't get any easier!

Credits: photos by Canva

Disclosure: at sewingyourstyle.com we only write about the products that we've researched and considered worthy. But it's important to mention that we are a participant of several affiliate programs, including Amazon Services LLC Associates Program, an affiliate advertising program designed to provide a mean for us to earn fees by linking to Amazon.com and affiliated sites. As an Amazon Associate sewingyourstyle.com earns from qualifying purchases.