Yamata FY810 is a needle post-bed lockstitch machine that comes with both a table and a motor (you have to assemble these parts). It is a heavy-duty sewing machine, which means it can sew almost any fabric not thicker than 1/8′ at a speed you could have only dreamt of (up to 3,000 stitches per minute). But let's dive deeper into details and try to figure out if this model worth the hassle. 
Do you have a particular question about Yamata FY810? Then use the table of contents below to jump to the most relevant section. And you can always go back by clicking on the arrow in the right bottom corner of the page. Also, please note that some of the links in this article may be affiliate links. For more details, check the Disclosure section at the bottom of the page. 
Yamata FY810 review 
Yamate FY810 machine has a 'special' spring-loaded reverse feature that allows you to sew fabrics both in forward and reverse areas. It can make accurate and consistent stitches on your garments due to its adjustable stitch feature (a minimum and maximum stitch thickness of 1 and 5mm that translates to about 6-16 stitches to an inch). However, the default #14 needle that comes with this machine is inappropriate for heavy fabrics. You will need #18 or #69 needles for nylon and vinyl.
The 1 phase, 0.5 H.P, 110 volts servo motor runs at an ultra-high rotational speed of 3 300 RPM, allowing you to make an insane 3 000 stitches in one minute. It has an easy press foot 'Lift by hand' of 1/4″ (7mm) and a lift by knee 1/2″ (10mm) functions that make sewing with the machine smooth and light. This machine also comes with the complete accessories of a drawer, belt, and LED lamp (all brand new and shipped in separate boxes.)
The downside of this machine is that you will need a lot of patience and time when assembling this machine, so it comes with explanatory manuals in the delivery. You will also need a little help with the weight of the device. You also need to oil this machine properly before use.

Main features
Comes with table and motor Electronic DC Servo Motor 1/2 H.P, 1 PHASE, 110 VOLT, 0 ~3300 RPM
Press foot lift by hand:1/4″ (7 mm) by knee:1/2″ (10 mm)
Up to 3,000 stitches per minute 

Yamata FY810. SYS rating, pros, and cons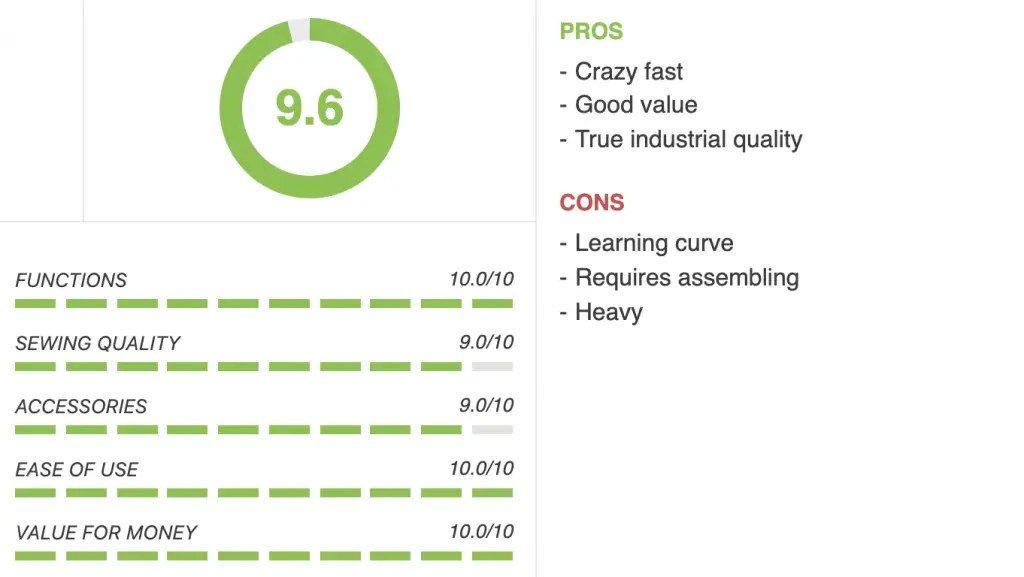 Yamata FY810. FAQ and Troubleshooting
How to thread Yamata FY810? 
Does it sew through leather and jeans? 
Machine's knee-lifter mechanism will allow you to lift the foot of about 1/2″, so and will be able to comfortably sew just about anything up to 1/8″ thick, including the denim or leather. Just follow the guidelines and go slowly for starters and maybe test the stitches on the small scrap of fabric first. 

Is Yamata FY810 really a good one? Our verdict 
This machine is a great sewing machine for its price, and you will hardly find one that beats it at this price. It has an open bobbin, which helps it to perform smoothly, quietly, and efficiently on your fabrics, plus a little on embroideries.
The machine comes pre-adjusted from the factory, which reduces the risk of getting a faulty device (from production). This machine is fun to work with, though you could do with a little help online on how to set up this machine (it should not be too difficult).
Overall, this machine is perfect for seamstresses with prior experience in sewing machines and knows what they want from their use. If you are one of those – Yamata FY810 is pure gold when it comes to sewing efficiency.

Credits: photos by Canva

Disclosure: at sewingyourstyle.com we only write about the products that we've researched and considered worthy. But it's important to mention that we are a participant of several affiliate programs, including Amazon Services LLC Associates Program, an affiliate advertising program designed to provide a mean for us to earn fees by linking to Amazon.com and affiliated sites. As an Amazon Associate sewingyourstyle.com earns from qualifying purchases.