Singer 14CG754 serger will make a great addition to any sewing room. It features a wide selection of stitch options, including 4 built-in rolled hems, that help you achieve beautiful edge finishes every time. So if you are looking into options to up your sewing game, this machine might be an excellent option to consider. Let's talk about what else it can bring to the table. 
Do you have a particular question about Singer 14CG754? Then use the table of contents below to jump to the most relevant section. And you can always go back by clicking on the arrow in the right bottom corner of the page. Also, please note that some of the links in this article may be affiliate links. For more details, check the Disclosure section at the bottom of the page. 
Singer 14CG754 review 
Singer 14CG754 has that 2-3-4 thread capability that saves time with hems, seams, and seam finishing. It doesn't matter which fabric you are dealing with (even when we are talking about stubborn knits). It also features an adjustable stitch length and width, differential feeds, and a color-coded lay-in threading that makes it easy to use. 
This serger's cool feature is the optional free arm that lets you easily sew sleeves and cuffs and other small items. Sewing a child's sleeve/leg cuff is simply a breeze with Singer 14CG754. Furthermore, its decorative flat-locking and easy rolled hems offer even more creative options. This machine is also capable of a single straight stitch using 1 thread or using up-to four threads.
 At 1,300 stitches per minute with automatic fabric trimming, this machine will have you zipping through projects.
However, the machine comes with a series of drawbacks. First, threading the machine, especially the lower looper, can be a little challenging. Moreover, figuring out the right tension requires experimentation – well, sergers are not known for being intuitive. Reading the paper manual guidelines for sewing tensions per thread/spool is a great way to start learning. Watching tutorial videos will also be helpful. The machine is a bit noisy, but that's also true of every serger.
Once you figure out how 14CG754 works in terms of threading and tension, the rest is a piece of cake.

Main features
2-3-4 thread capability with tons of stitch options
Up to 1,300 stitches per minute
Differential feed 
4 built-in rolled hems
Color-coded lay-in easy threading 
Heavy-duty metal frame 
13.23 lbs

Singer 14CG754. SYS rating, pros, and cons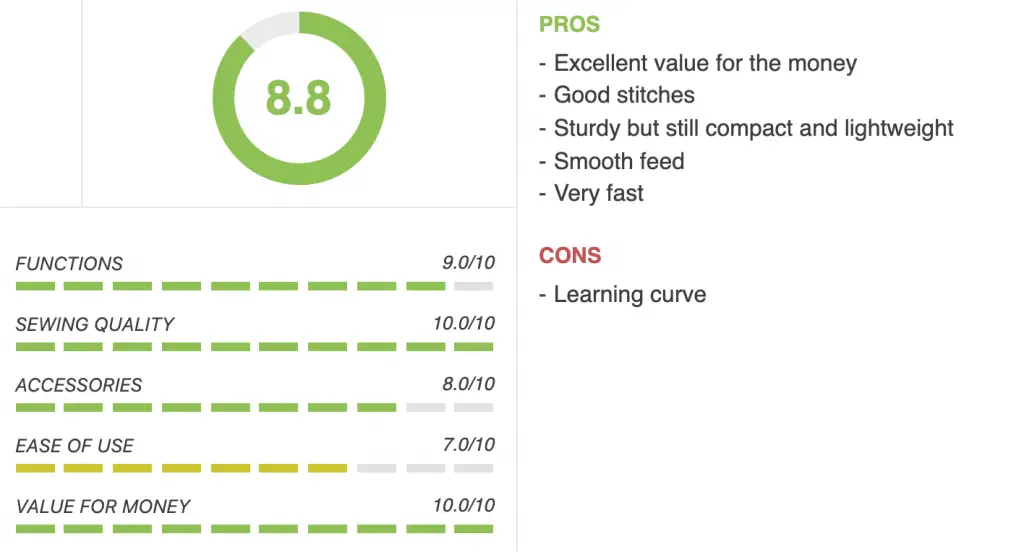 Singer 14CG754 manual 
You can download the full manual here.

Video guidelines

Singer 14CG754. FAQ and Troubleshooting
How to thread Singer 14CG754?
How to remove overlock stitches after using Singer 14CG754? 

Singer 14CG754 accessories
This serger comes with a removable free arm, carry handle, all-purpose presser foot, a needle set. Plus, some other essential extras like tweezers, screwdriver, foot control, power cord, and manuals. It may be not the fanciest set of accessories, but pretty comparable to what you get when purchasing a serger. And, after all, it has everything you might need for the task. 

Is Singer 14CG754 really a good one? Our verdict 
Suppose you're concerned about getting the perfect seams or hems on even difficult-to-handle fabrics. In that case, Singer 14CG754 is an excellent choice for you, either you're a sewing hobbyist or professional.
While it's easy to change the thread, it's quite hard to thread the loopers. Moreover, diagnosing the problem when it doesn't sew properly can be challenging. That's why patience is key in using this serger.
But once you get the hang of it, the clean, beautiful, and uniform stitches you'll get will give your garment that perfect professional look. To sum it up, the minor discomfort is worth it, especially considering the value you are getting and the price you are paying for it. 

Credits: photos by Canva

Disclosure: at sewingyourstyle.com we only write about the products that we've researched and considered worthy. But it's important to mention that we are a participant of several affiliate programs, including Amazon Services LLC Associates Program, an affiliate advertising program designed to provide a mean for us to earn fees by linking to Amazon.com and affiliated sites. As an Amazon Associate sewingyourstyle.com earns from qualifying purchases.