If you are taking your sewing seriously and care about the look of your garments and cost-efficiency, you need a fabric cutting machine. This guide will save you time and money. However, most importantly, it will help you choose the best fabric cutting machine that meets your expectations and fits your budget. 
Are you interested in a particular question about the subject of this article? Then use the table of contents below to jump to the most relevant section. And you can always go back by clicking on the arrow in the right bottom corner of the page. Also, please note that some of the links in this article may be affiliate links. For more details, check the Disclosure section at the bottom of the page. 
Best fabric cutters comparison
$44.99
$47.99
in stock
2 new from $44.99
as of March 18, 2023 1:34 am
$359.99
$389.99
in stock
as of March 18, 2023 1:34 am
$399.99
in stock
16 new from $399.99
4 used from $338.55
as of March 18, 2023 1:34 am
$629.99
in stock
3 new from $629.99
as of March 18, 2023 1:34 am
$647.00
in stock
as of March 18, 2023 1:34 am

Best fabric cutting machine: our top choice
AccuQuilt Ready. Set. GO! Review
If you are into quilting, this piece is a fantastic investment. And not only because it cuts brilliantly. But also because it won't cause you the same discomfort as scissors or rotary cutter.
After using AccuQuilt Ready for just a few minutes, you'll be able to figure out how to minimize fabric waste as well as time waste too.
If you are up to, for example, a queen quilt, it will take you 30-60 minutes or so to cut all the pieces. The handle won't hurt your hands, so you won't need to take some time to relax.
Not to mention that all the pieces would be uniform and fit together perfectly. The set also comes with the book with so many more ideas (over 70 free patterns included). So it will keep you busy for a long time.
Main features
Type: manual
Display: none
Cutting mat area: Cutting Mat-10″ x24″
Dimensions: 26.7 x 19.4 x 8.3 inches
Weight: 15 lb

90% faster than rotary cutters or scissors
Unlimited design options with a wide range of quilting shapes
Safe design helps to reduce hand and arm strain
Over 70 free patterns included
Cuts up to 6 layers of fabric at a time
One-year limited warranty
Video instructions
SYS Rating with Pros and Cons
A great beginner-friendly kit of terrific value. Super fast, precise, and safe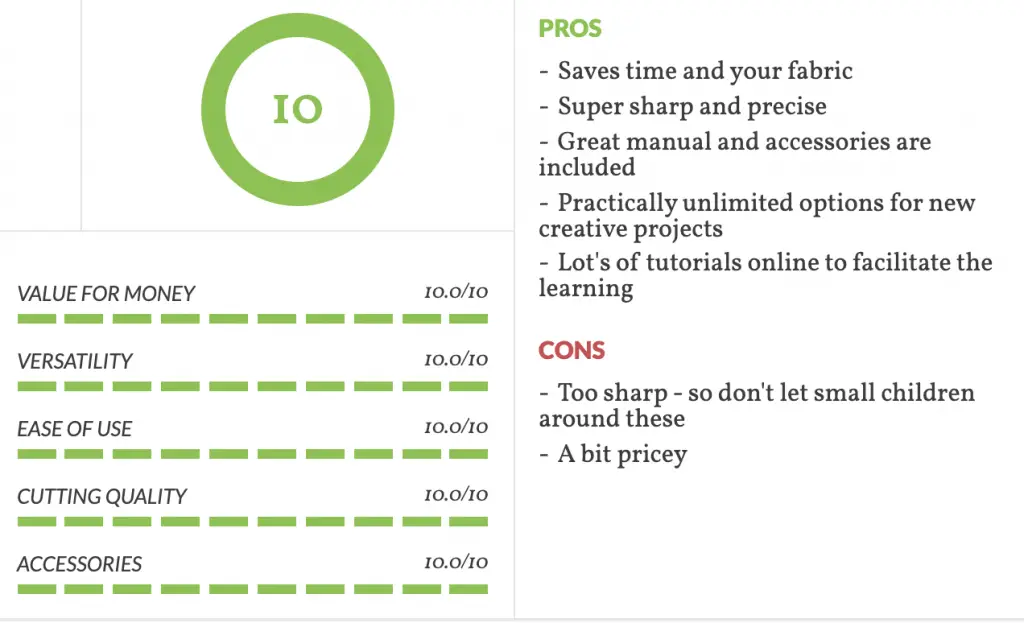 Best fabric cutting machine for quilting
AccuQuilt GO review 
This fabric cutting machine is one of the best investments you might ever make to shift your quilting to the next level.

This starter pack has an Accuquilt "Qube" included. It's a bundle of various dies to make many different blocks all of the same size (9″, 12″, etc.). And depending on the fabric, each die can be used for 100-200 cuts. The Accuquilt machine itself has no sharp edges and doesn't get dull.  

You won't believe the difference this makes in time and quality of your cutting. There would be barely any scrap left over. And you would be able to finish cutting the pieces for your future quilt spending 30 minutes instead of 3-4 hours by a rotary cutter. And your back won't be aching afterward.
Main features
Type: manual
Display: no
Cutting mat area: GO! Cutting Mat-6″ x 12″
Dimensions: 17.8 x 7.8 x 17 inches
Weight: 15 pounds
20 Page Pattern Book: GO! Mix & Match Quilt Blocks
Product Registration Card & Quick Start Guide
 90-percent faster than scissors or rotary cutting
Video instructions
SYS Rating with Pros and Cons
This machine is portable, VERY easy to use, and requires hardly any efforts.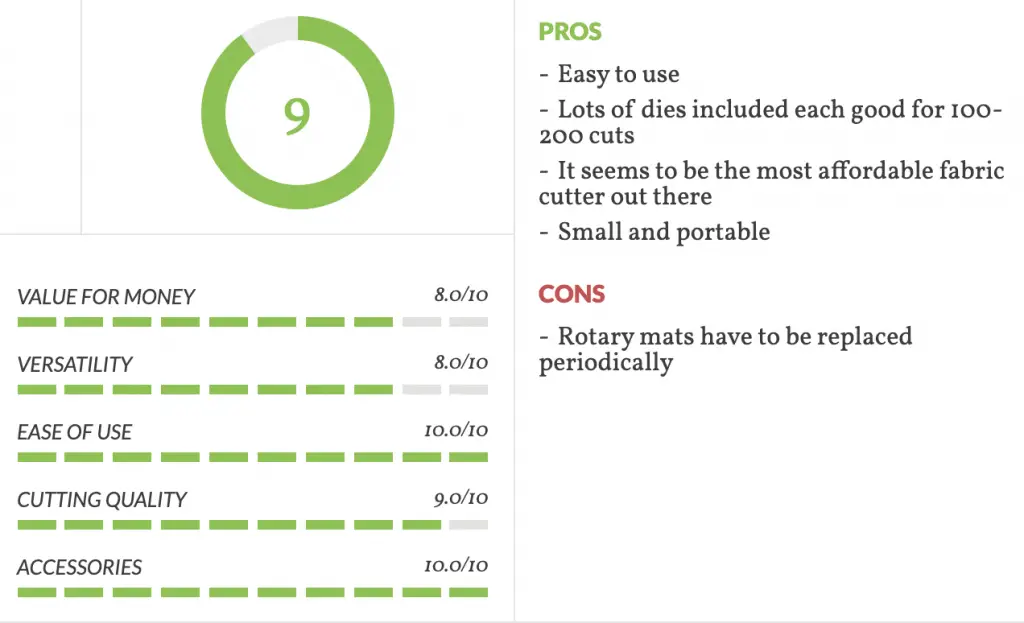 Best manual fabric cutting machine
AccuQuilt Studio 2 Review 
This premier fabric cutter is foldable for easier storage. It is designed to be tough enough to handle the unprecedented amount of quilting done – up to 10 layers. Imagine you'll need a long thin strip of fabric. You can cut 2 1/2″ strips, fold the long piece of fabric lengthwise and get 2 strips, 80″ long each, all in one go. How great is that? 

One of the best advantages of Studio 2 is the option to purchase an adapter that allows one to use ANY of the GO! cutting dies with the Studio 2 cutter. That one adapter opens up the choices of cutting dies exponentially. If you are considering Studio 2, don't hesitate any longer. You won't be disappointed!
Main features
Type: manual
Display: no
Cutting mat area: 15 1/4″ x 19 5/8″
Dimensions: 26 x 17 x 14 inches
Weight: 32 lbs
Can cut through up to 10 layers of fabric 
Foldable design for easy storage 
Comes with One One Giant Cutting Plastic 14 1/2″ x 18″ and One Studio Die Tray – 15 1/4″ x 19 5/8″.
Three-year limited warranty 
Video instructions
SYS Rating with Pros and Cons
Quickly cuts through layers and layers of cotton, batiks, flannel, fleece, wool, denim, and even leather.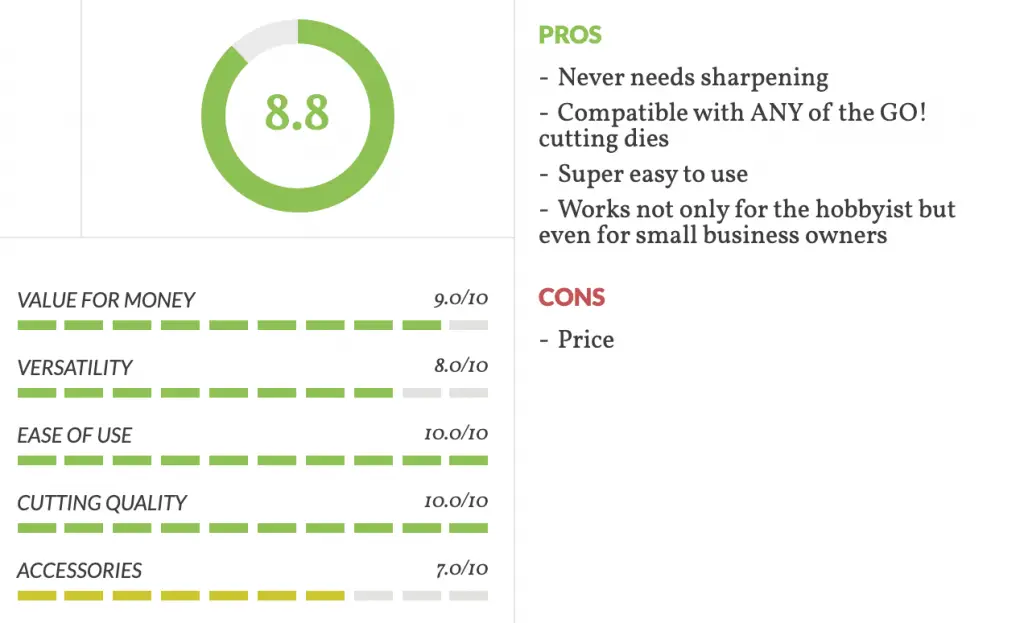 Best machine for cutting patterns and appliques
Brother SDX125E. Review 
The scan n cut machine can cut paper, plastic, fabric, leather, vinyl, and even thin wood. The precision of the cuts is very good. And there are tons of project ideas on the internet. And also step by step instructions on how to use the machine. There is a learning curve, but there are many tutorials available.
With your standard fabric cutting machines, you still have to buy dies from time to time, and those are pricey. So this machine will pay for itself over time. Not to mention that the patterns and appliques you'll be able to create will only be limited by your imagination. 
Main features 
Type: electronic
Display: yes
Cutting mat area: up to 12″ x 24″.
Product dimensions: 9.1 x 9.1 x 9.1 inches
Weight: 17.55 pounds
The only cutting machine series with a built-in scanner
The blade detects the thickness of the material automatically, so no blade adjustment or material selection required
Cuts materials up to 0.1 inches thick 
Comes with a 5″ LCD touchscreen display for shape editing 
682 builtin designs, 100 quilt patterns, and 9 letter fonts clear for commercial use
Video instructions
SYS Rating with Pros and Cons
 If you are a crafter, or quilter, or thinking of launching your own handmade manufacturing business, you will be very impressed with what this machine can do for you.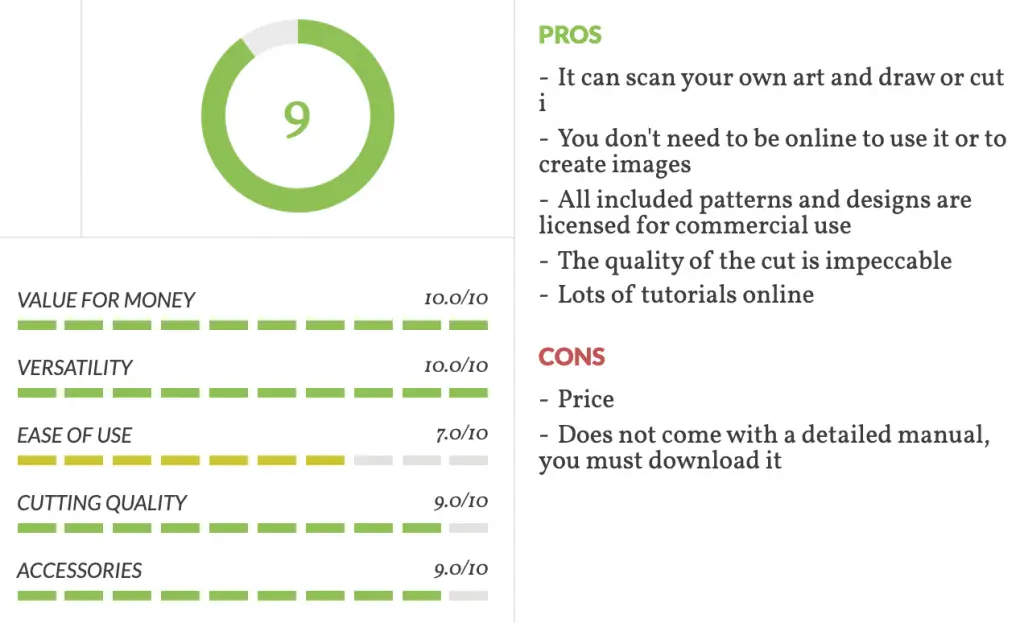 Best electric fabric cutter
Pink Power electric cutter. Review
This will easily cut through multiple layers at hems and side seams (including denim). The process is very smooth and quick. Although it can be a bit challenging to master the hand control required to get a nice, straight cut. And the accuracy of smaller pieces of fabric is even trickier.
But overall it's a good option if you want to speed up your cutting game, but don't want to spend much on a more efficient fabric cutting machine. 
Electric cutter main features
Type: electric
Display: none
Cutting mat area: none
Dimensions: 11.5 x 7.4 x 2.3 inches
Weight:1lb
Each purchase of our power scissors comes with 2 blades, a charger, and a rechargeable lithium-ion battery.
Quickly cut through fabric, leather, carpet, metal, paper, corrugated cardboard, plastic, wrapping paper, and more.
Lightweight and compact
 1-2 hours of continuous usage
doesn't require additional batteries
A three-year warranty is included
Video instructions
SYS Rating with Pros and Cons
Small, affordable, and very fast. Perfect for low-intricacy projects.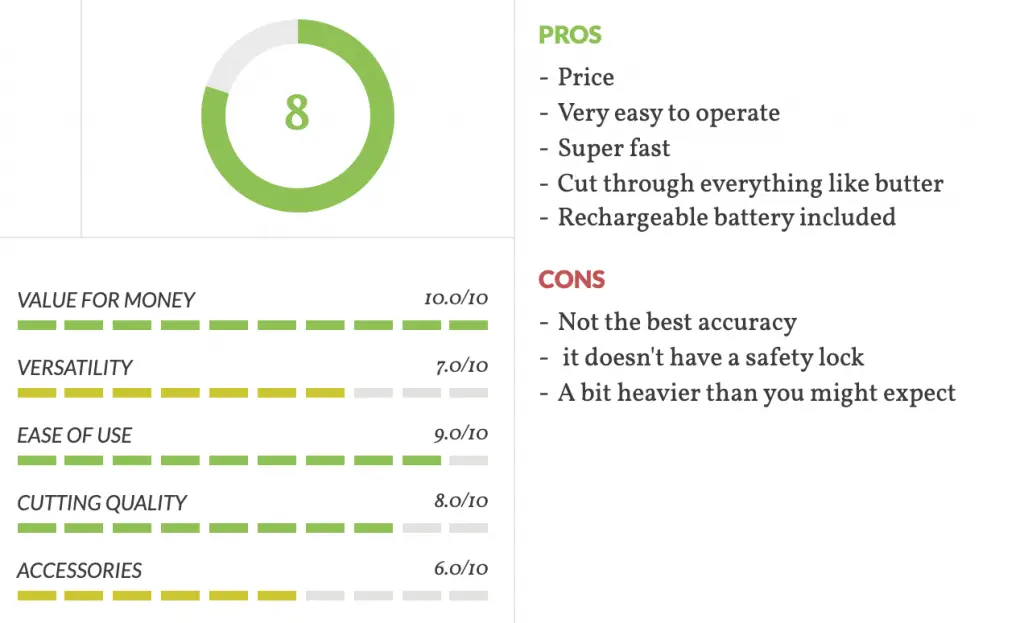 Fabric cutting machines. FAQ and buying guide  
How do you make sure your fabric is cut straight?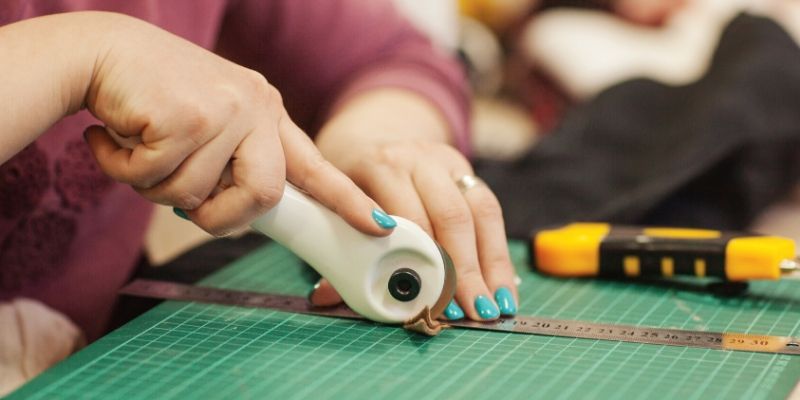 Fabric is not cheap, and if you do not know how to cut fabric properly, it can do some serious damage. 
If you don't feel you can cut accurately around pins, using scissors or rotary cutter using a fabric cutting machine would be the quickest and most efficient method to achieve the best accuracy. (And reduce the wastes and help you avoid back pain and hand pain from all the cutting). 
How much does a good fabric cutter cost?
Keep in mind that you will always get what you pay for when it comes to fabric cutting tools.
If you are going for a basic manual die cutting machine, you can probably get something around $40-$80. If you are looking more versatile and accurate option then you will need to pay around $300-$500.
Which Fabric Cutting Machine Should You Buy?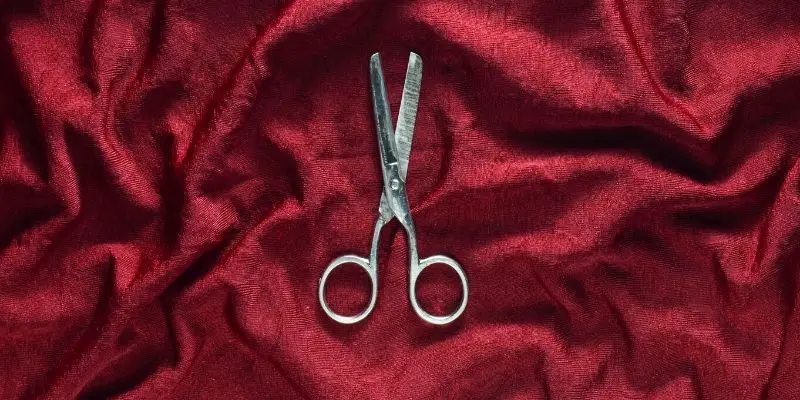 It does not matter if you are a fashion designer, a quilter, or involved in any other occupation that works with fabric, a good and reliable fabric machine can work wonders for you.

But when making your choice on which machine to buy, you have to identify your personal preferences:
Do you have some physical limitation when it comes to cutting fabric, maybe you are suffering from arthritis or back pain?
What is the space allowance in your craft room?
Would you like to go for a smaller or larger machine?
How about the cutting size? A cheap fabric cutter machine might only cut up to 2.5″ in width, which is okay for those who wish to create fabric strips, but still pretty limiting. Invest more money, and you can buy a machine that can cut up to 14″ in size.
What is your primary purpose for your crafting efforts? Is it a business or a hobby? 
What are your budget limitations?
Answer all of those questions, and you'll be able to come up with the list of features that your perfect cutting machine should possess to meet all your requirements. 


Disclosure: at sewingyourstyle.com we only write about the products that we've researched and considered worthy. But it's important to mention that we are a participant of several affiliate programs, including Amazon Services LLC Associates Program, an affiliate advertising program designed to provide a mean for us to earn fees by linking to Amazon.com and affiliated sites. As an Amazon Associate sewingyourstyle.com earns from qualifying purchases.