Janome 400E is an 'embroidery only' machine. Like many other Janome models, 400E does not fail to deliver on its promises. It comes with some unusual perks (compared to other embroidery machines within a similar price range). It has a relatively large number of built-in designs and monogramming options. So it's definitely a machine to consider if you are seriously looking into embroidery. But let's learn more. 
Do you have a particular question about Janome 400E? Then use the table of contents below to jump to the most relevant section. And you can always go back by clicking on the arrow in the right bottom corner of the page. Also, please note that some of the links in this article may be affiliate links. For more details, check the Disclosure section at the bottom of the page. 
Janome 400E review 
One of the biggest perks of Janome 400E is its large embroidery field. Sized at 7.9″ x 7.9″, it gives you the utmost flexibility to stitch larger designs on your jackets, garment, and home decor items.
Moreover, Janome 400E comes with 160 high-quality in-built designs, 6 fonts for monogramming, as well as 2 and 3 letter monogram built-in. This gives you thousands of design combinations to explore. Even better is the fact that you can import designs through the in-built USB port, essentially giving you limitless design options.
Janome 400E is fairly easy to figure out; whether you want to do arts and crafts on garments or wall hangings. With an embroidery speed of up to 860 stitches per minute, you can work through your projects with lightning speed.
Furthermore, this model features programmable jump thread trimming, adjustable speed while embroidering, flexible stitch traveling units of 1, 10, and 100. And also, direct jump to the desired stitch point, auto-return post thread break, and adjustable hoop positioning. There's little wonder this machine is insanely precise and accurate when it comes to embroidering.
Janome 400E also boasts with time-saving features like its in-built advanced needle threader, automatic cutter, easy set bobbin, bobbin winding plate with a cutter, and a bobbin thread sense.
Although the manual may not be sufficient to get started, especially if you lack experience with embroidery machines, several YouTube tutorials can set you on the right track. So, all in all, this model is an excellent investment if you are planning to dedicate some time to embroidery and serious about it. 

Main features
7.9″ x 7.9″ embroidery field
160 built-in designs
6 fonts for monogramming
USB port to import designs from your computer
Robust on-screen editing
Built-in advanced needle threader
Automatic thread cutter
Easy set bobbin
LED light lit working area

Janome 400E. SYS rating, pros, and cons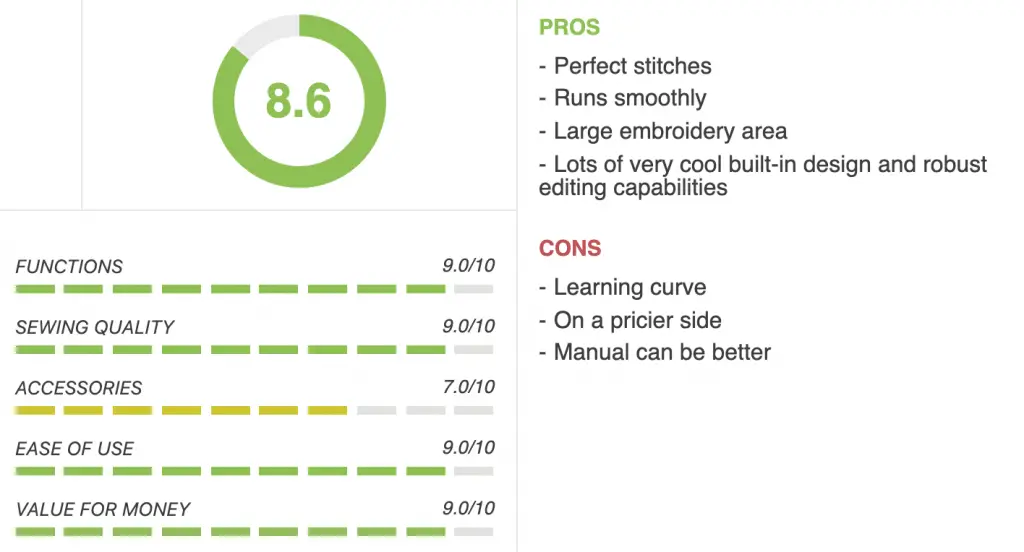 Janome 400E manual 
You can download the full manual here.

Video guidelines

Janome 400E. FAQ and Troubleshooting
How to thread Janome 400E?
Janome 400E accessories
This machine doesn't come with plenty of fancy accessories (it's enough that it's powered by an amazing software). But you'll get all the basics: 7.9″ x 7.9″ embroidery hoop, manual and all the instructions, some needles, and bobbins. Plus some extras like scissors, spool caps, and a screwdriver.  

Is Janome 400E really a good one? Our verdict 
What's not to love about Janome MC 400E? The large embroidery field accommodates larger designs. The machine is fast, precise, and accurate. Its stitches are beautiful, with a plethora of design options. When it comes to quality and sturdiness, Janome 400E is top-notch. Coupled with its ease of use, as well as great design editing options, Janome 400E is a great product.
It's certainly not the most sophisticated embroidery machine in the market (even though requires some learning effort still), but at its price point, it surely over-delivers on its promises.

Credits: photos by Canva

Disclosure: at sewingyourstyle.com we only write about the products that we've researched and considered worthy. But it's important to mention that we are a participant of several affiliate programs, including Amazon Services LLC Associates Program, an affiliate advertising program designed to provide a mean for us to earn fees by linking to Amazon.com and affiliated sites. As an Amazon Associate sewingyourstyle.com earns from qualifying purchases.