Juki DU-1181N is a true industrial sewing warrior that comes with a very attractive price tag. It's a straight stitch, single-needle, top, and bottom feed machine that can efficiently work with a wide array of materials, ranging from delicate lace to vinyl. So if you are an experienced seamstress looking for a trooper that will bring your working efficiency to the new level, keep reading. You might have found a winner here. 
Do you have a particular question about Juki DU-1181N? Then use the table of contents below to jump to the most relevant section. And you can always go back by clicking on the arrow in the right bottom corner of the page. Also, please note that some of the links in this article may be affiliate links. For more details, check the Disclosure section at the bottom of the page. 
Juki DU-1181N review 
Mostly, Juki DU-1181N is a reliable, cost-effective, and heavy-duty sewing device great for professionals.
It can work practically with anything you throw at it with an astonishing speed of up to 2,000 stitches per minute. There is just a simple trick you need to keep in mind when switching from lighter to heavier materials: always remember to modify the position of the take-up lever screw on the front of the machine. In this way, you will prevent material damage and achieve the most impressive results. 
What is even more interesting about this Juki model is its speed-adjustment dial on the motor. You will find it useful since it is one of the most reliable servo features in this product range. And to tell you my secret, I opt for slowing it down when I use heavy fabrics.
The downside is that it is a bit heavier. This model weighs 250 pounds, meaning that you can't set it up without help. You should know that the machine comes disassembled, so you will have to spend some time putting everything together.
Still, if you are ready for this and also willing to spend some time learning how to operate it, the unit can be a perfect match even for beginners. It is a versatile device designed to last for years to come. So, you can look at it as a solid long-term investment.

Main features
Sewing speed up to 2,000 stitches per minute
Stitch length up to 9mm
It measures 48 inches by 20 inches by 48 inches 
110v with industrial clutch motor
Weights 250 pounds

Juki DU-1181N. SYS rating, pros, and cons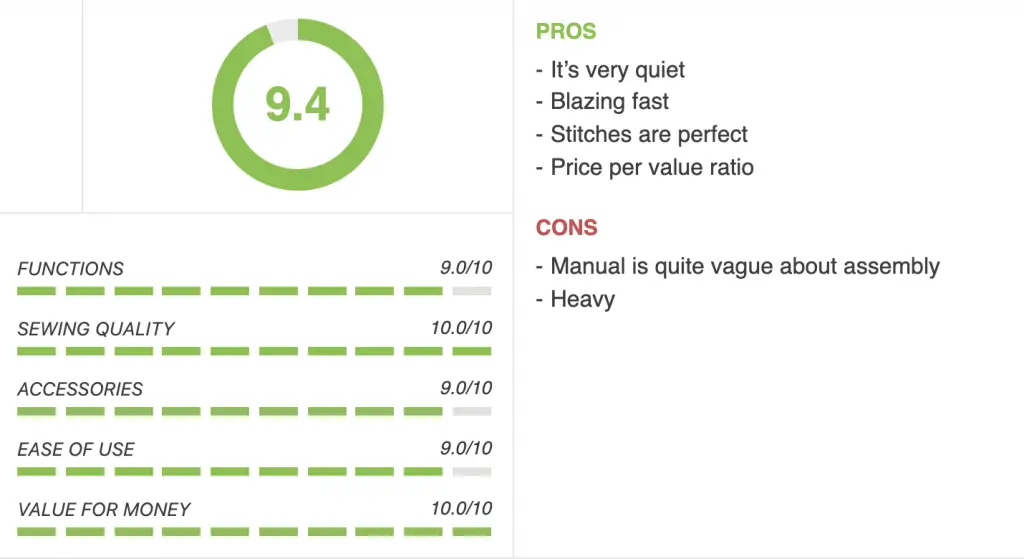 Juki DU-1181N manual 
You can download the full manual here.

Video guidelines

Juki DU-1181N. FAQ and Troubleshooting
How to thread Juki DU-1181N?
How to adjust the pressure on Juki DU-1181N?
How to oil this machine?
How to sew fabrics of different thicknesses on Juki DU-1181N?

Juki DU-1181N accessories
This model comes as a complete unit. It's sold with the machine head, motor, stand, table, sewing light, drawer, and anything else necessary to get you started.  

Is Juki DU-1181N really a good one? Our verdict 
Even though it's a bit bulky, it is an excellent addition to any proud seamstress household. And you will see that it offers plenty of settings you can use, along with professional results. I admit the learning curve can be a downside for many. Still, if you love sewing, you will most likely enjoy spending some time learning about this Juki model anyways.
 It is an excellent machine for leather products, upholstery, light fabrics, belts, or anything else you might have in mind. 
And the best part about it is that you can use the included energy-saving speed with the silent motor. The manufacturer says it can save you up to 230% electricity when compared with other sewing machines. And along with the lower electricity bills, you get stellar stitches and crazy high sewing efficiency. What else might you ask for? 

Credits: photos by Canva

Disclosure: at sewingyourstyle.com we only write about the products that we've researched and considered worthy. But it's important to mention that we are a participant of several affiliate programs, including Amazon Services LLC Associates Program, an affiliate advertising program designed to provide a mean for us to earn fees by linking to Amazon.com and affiliated sites. As an Amazon Associate sewingyourstyle.com earns from qualifying purchases.