Singer 2250 is one of the staple models of the brand. It follows the traditional design and features all classical settings the Singer typically has to offer. But I'd say that this particular model provides you even more than that. So if you are in search of a GOOD basic machine and love pleasant surprises, read on. Maybe Singer 2250 can be the right option for you. 
Do you have a particular question about Singer 2250? Then use the table of contents below to jump to the most relevant section. And you can always go back by clicking on the arrow in the right bottom corner of the page. Also, please note that some of the links in this article may be affiliate links. For more details, check the Disclosure section at the bottom of the page. 
Singer 2250 review 
With Singer 2250, you get access to standard impeccable Singer quality and support and the choice of basic stitches for any at-home project. But at the same time, this Singer can help you mend and hem too. 
It is a traditional device with ten stitches included. But even though it doesn't sound like a lot, it still has some fancy options, such as the automatic 4-step buttonhole. 
I also love it that it comes with an adjustable presser foot pressure so that your sewing experience will be significantly improved. Another perk is that it comes with a free arm. So you can use it for some tricky projects e.g., mend trousers or even tiny kid's clothing.
You might face some issues with this Singer, but with a bit of research, you will solve those fast. For example, you might experience a lot of jamming. But in most cases, it will only happen when you don't thread the bobbin correctly. 
But if you go through some online tutorials and machine's manual, the issue would be practically non-existent.
Overall, Singer 2250 is straightforward, suitable for both inexperienced and experienced sewers. It is quiet, and the stitching is pretty much perfect (and you have enough choices too). 
You will get all the instructions manual and all the accessories you might need to use the machine right out of the box. And all of these come at a very competitive price. Love!

Main features
10 stitches with 70 stitch applications for practically any kind of sewing project
Free arm 
Heavy-duty metal frame 
Adjustable stitch length and width
Easy threading
Automatic bobbin winder
Stitch selector 
Easy stitch selection–change stitches in one easy step
12.4 pounds

Singer 2250. SYS rating, pros, and cons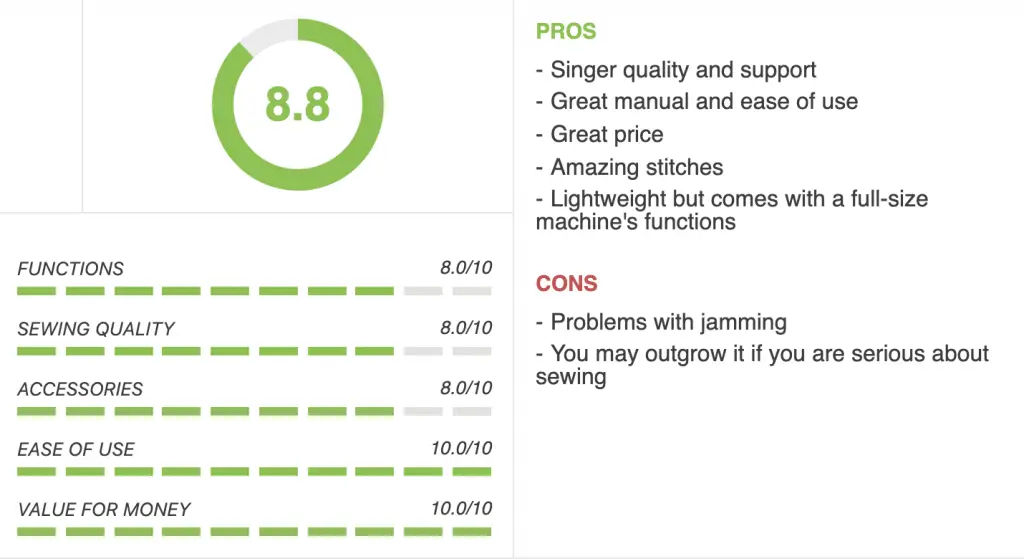 Singer 2250 manual 
You can download the full manual here.

Video guidelines
Singer 2250. FAQ and Troubleshooting
What to do about the jamming with this machine?
Some of the common mistakes and fixes might be the following: 
Check that you are using the right thread, needly, bobbin, and settings for a specific fabric. 
Experiment with tension on fabric scraps and keep adjusting until you find the settings that pull the material the least.
If the needle jams, try slightly turning the wheel backward and then pull on the top thread to get it out. 
There might be various reasons why Singer 2250 is getting jammed. But it all comes down to following (or not following) the manual. Don't forget to read it carefully and address it from time to time when you experiment with new projects. 

Singer 2250 accessories
This model comes with a solid set of accessories, including 4 feet (general-purpose, zipper, buttonhole, blind hem). It also includes a pack of needles, bobbins (class 15 transparent), thread spool caps, darning plate, screwdriver, and soft dust cover. That's a good bundle, considering the machine's price. 

Is Singer 2250 really a good one? Our verdict 
In my personal opinion, you rarely come across such a great deal at this price point, especially if you are a Singer's devotee. It's loaded with all the basic features for numerous applications. 
Besides, it was designed with sturdier exterior materials for extended usage with little to no wear and tear. 
You will find this machine simple to install, as it will let you sew immediately. No matter if you're a complete beginner or have some experience, Singer 2250 can help you experiment and improve your skills in little to no time. 
Just make sure you read the instructions to avoid issues such as thread jamming, and you are good to go. 
This is a solid option to consider. And if you are looking for more ideas, check my guide on best sewing machines for beginners. 

Credits: photos by Canva

Disclosure: at sewingyourstyle.com we only write about the products that we've researched and considered worthy. But it's important to mention that we are a participant of several affiliate programs, including Amazon Services LLC Associates Program, an affiliate advertising program designed to provide a mean for us to earn fees by linking to Amazon.com and affiliated sites. As an Amazon Associate sewingyourstyle.com earns from qualifying purchases.