Singer Company has been making quality sewing machines for almost 170 years. And throughout all those years, the company keeps innovating sewing on all levels. Singer Quantum Stylist 9960 computerized sewing machine is a quality unit designed for sewers with at least some sewing experience.
It's loaded with all sorts of features (from 600 stitches to autopilot mode). This is a relatively expensive machine designed for those who are looking to take their sewing projects to the very next level. And that's why it makes sense to look at all its pros and cons in more in-depth details. 
Are you interested in a particular question about Singer 9960? Then use the table of contents below to jump to the most relevant section. And you can always go back by clicking on the arrow in the right bottom corner of the page. Also, please note that some of the links in this article may be affiliate links. For more details, check the Disclosure section at the bottom of the page. 
Singer 9960 Quantum Stylist review 
This is a sturdily built machine with a solid metal frame that prevents this machine from "walking around" when used.
This machine comes with 13 sewing feet to go along with its 600 different stitches.
 It is incredibly user friendly, and everything works beautifully. The machine runs quietly and smoothly.  
This computerized sewing machine has a large LCD screen for easy selection of the various stitch functions. It includes stitch length, stitches width, tension settings, recommended presser foot, needle position, and more.
This model also includes an extension table, which provides a larger working area essential for quilting or when working with larger projects.
It also has two bright LED lights for optimal lighting.
Also, this machine comes with a ton of other features like electronic twin needle settings, built-in reverse, horizontal threading, automatic tension settings.
And all of the additional functions that make sewing a breeze. Including a drop-in bobbin, auto cut, start/stop light indicator, and a ton of useful accessories. While the Singer 9960 is heavier than most portable sewing machines, it is still portable. So all those robust features can be brought along to classes or a trip. All in all, a fantastic sewing unit packed with features. 

Main features: 
600 stitches including 5 built-in fonts 
Buttonholes with 13 one-step buttonhole styles
Stitch selector with stitch style/width/length preview
Built-in needle threader and thread cutter
Top drop-in bobbin 
Self-adjusting tension system
Drop feed (must-have for quilters!)
Reverse stitching 
Blazing fast – 850 stitches per minute
Programmable needle up/down
Free arm 
Extension table 
Tween-needle function, and more. 

Singer 9960. SYS rating, pros, and cons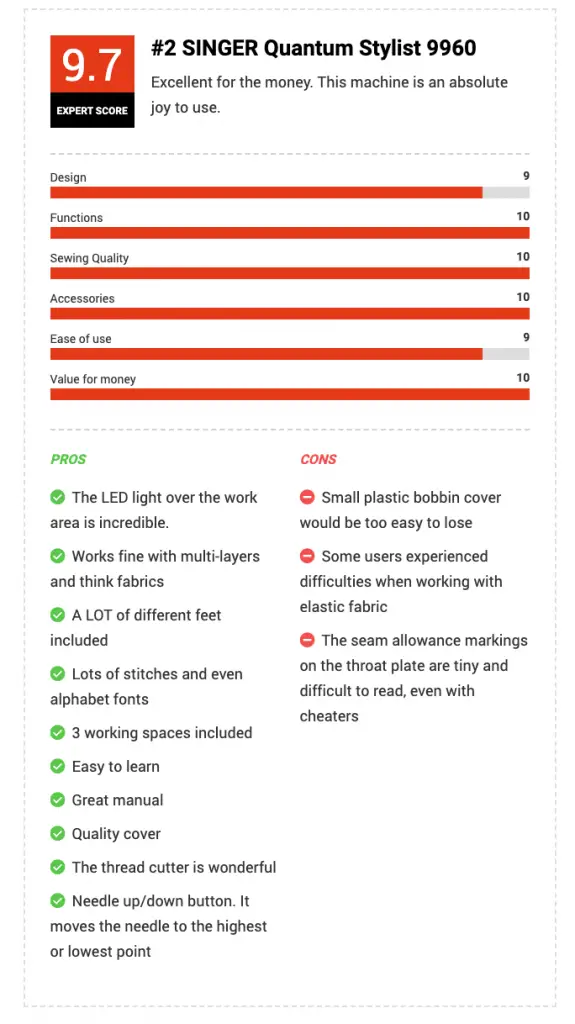 Singer 9960 manual
You can download the full manual here.

Singer 9960 video guidelines

Singer 9960. FAQ and Troubleshooting 
Feeder feet won't move the fabric along. What can be wrong?
You might try experimenting with different stitches and feet. Try using a walking foot, for instance. Your problem could also be due to mechanical failure. If the machine has sat in a warehouse for some time, the machine oil could thicken and cause the jam.
The first few stitches seem to tangle, creating a bird's nest. Why is this happening?
You might be using the wrong needles or thread. If that doesn't seem to work, try holding onto the top thread for the first 3 or 4 stitches, and that should solve the problem. After those first few stitches, the thread is usually anchored well enough that it can't be pulled underneath to form a bird's nest.
Does it sew through leather and jeans? 
Yes, this machine can sew through 6 or 7 layers quite easily, but you shouldn't try to do much more than that. Use a standard sewing foot and a heavy-duty needle. Use an Inspira or Singer brand denim needle to avoid tension and timing issues.

Singer Quantum Stylist 9960 accessories
This machine comes with lots of accessories: 13 feet (general-purpose, zipper, buttonhole, blind, darning/embroidery, overcasting, quarter-inch foot, etc.), quilting bar, needles. And, of course, bobbins, seam ripper, auxiliary spool pin, lint brush, spool pin felt, screwdriver, thread spool caps, large extension table, and dust cover. So even though it's not the cheapest sewing machine, you get quite a few bangs for your buck back. 
Singer 9960 bobbins 
Singer recommends using SINGER or INSPIRA branded bobbins for best sewing results. It has to be Bobbins Class 15. But make sure it's class 15 bobbins, not 15J as some might claim. 15J will cause the thread to jam. And you probably won't enjoy that. 

Is the Singer Quantum Stylist 9960 a good machine? Our Verdict
This machine is a real workhorse. You can do whatever your heart desires, and the possibilities are endless. 
It's also easy to use the unit, especially with its numbered threading. You just drop in the bobbin and pick up the thread.
It might be expensive, but worth every penny when you consider the accessories and tools that this machine comes with.
Quantum Stylist 9960 is perfect for sewing clothes, quilting, monogramming, and so much more. It handles all types of projects with ease. But you better be someone experienced if you are looking into purchasing this particular model.
Other than that, this machine most likely has everything a seamstress might want or dream of.
Sewing perfection itself. 

Credits: photos by Canva

Disclosure: at sewingyourstyle.com we only write about the products that we've researched and considered worthy. But it's important to mention that we are a participant of several affiliate programs, including Amazon Services LLC Associates Program, an affiliate advertising program designed to provide a mean for us to earn fees by linking to Amazon.com and affiliated sites. As an Amazon Associate sewingyourstyle.com earns from qualifying purchases.