Singer sewing machines are top-rated for both beginning and experienced sewers. Since they make a range of sewing machines that range from the most basic to professional-level machines. Singer 1304 Start makes sewing easy and fun. This machine comes with 6 built-in stitches including straight, satin, zigzag, blind hem, scallop, and a 4-step buttonhole.
This machine also has several other user-friendly features. These include easy stitch selection, automatic tension, a preset stitch length width, and more. The Singer 1304 is great for novice sewers since it comes with easy threading diagrams right on the machine. (And if you love Singer you should definitely check out my guide on Best Singer sewing machines).
Do you have a particular question about Singer 1304? Then use the table of contents below to jump to the most relevant section. And you can always go back by clicking on the arrow in the right bottom corner of the page. Also, please note that some of the links in this article may be affiliate links. For more details, check the Disclosure section at the bottom of the page. 
Singer 1304 Review
It is extremely easy to get your creativity off the ground with the Singer 1304 sewing machine. This machine features 6 built-in stitches, automatic tension, and preset stitch length and width. This compact portable sewing machine also has 2 vertical spool pins, a removable free arm, LED sewing space light, 3 presser feet, (all-purpose, buttonhole and zipper foot) a darning plate, needles, and bobbins.
It's built with beginners in mind. Overall, Singer 1304, with its automatic tension, is a good option for both novices and more advanced users looking for a lightweight, portable machine that is easy to travel with.
It's a great little machine for beginner sewers since it has simple to follow threading diagrams right on the machine. In fact, this unit is so easy to use that many parents purchase this machine as the first sewing machine for their young children.
The Singer 1304 is an excellent sewing unit for the price. It is lightweight, meets most if not all-basic sewing needs, and has a handy to reach a reverse lever. It sews at 350 to 400 stitches per minute. You can slide off the removable extension table and use the free arm for hemming pants and shirt sleeves.
While this little sewing machine lacks in bells and whistles, it makes up for in reliability and ease of use. 

Main features
Threading made easy with diagrams
6 Built-In Stitches—Straight, Satin, Zig Zag, Blind Hem, Scallop, 4-Step Buttonhole
Heavy Duty Metal Frame
Automatic Tension
Easy Stitch Selection 
Preset Stitch Length and Width 
Automatic Bobbin Winding System
Offers more clearance when sewing multiple layers of bulky fabric
Dual Spool Pins for Twin Needle Sewing
Free Arm Convertible
LED Sewing Space Light
Extra-High Presser Foot Lifter
Comes with great accessories bundle

Singer 1304. SYS rating, pros, and cons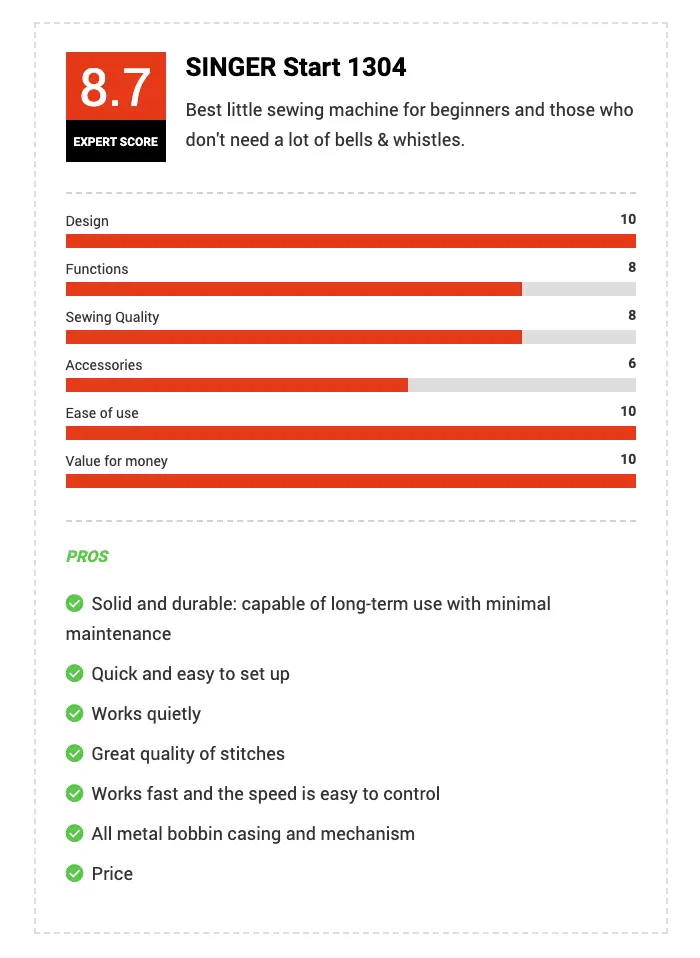 Singer 1304 manual 
You can download the full manual here.

Singer 1304 video guidelines

Singer 1304 FAQ and Troubleshooting
How to thread Singer 1304?
What can I do to make this machine run slow?
There are many different things you can try. Check to see if the machine is well oiled. You can also loosen the thread tension as well as try easing the pressure on the bobbin case. If those don't resolve the problem, try making sure that the machine is threaded correctly. You can also check the electrical connections. If all else fails, then check with a sewing machine service.
How Do I Keep My Needle From Unthreading? 
There could be many different reasons why your thread keeps coming out of the needle. Here is a look at some of the most common problems and their solutions. Maybe you don't have the presser foot all the way when you are threading the needle or adjusting the tension. You may also be threading the needle wrong. You should do it from the front to back. The problem could also be that you are not leaving a long enough thread when starting sewing. Ensure that your thread is long enough and that you hold it for the first several stitches when beginning to sew. If all else fails, then check with a sewing machine service.
Is Singer 1304 capable of sewing through denim or leather?
Yes, it's possible with the proper needle and settings. It is best to select the Singer 2026 needle in a size 16 or 18. (Using any other brand may cause problems with the tension on your machine.) Set it for the longest straight stitch and use the all-purpose metal foot. Try sewing at moderate speed.

Singer 1304 accessories
This machine comes with plenty of accessories. It typically arrives with an all-purpose foot, buttonhole foot, and zipper foot. There are also darning plate, bobbins, pack of needles, needle plate screwdriver, seam ripper/lint brush, spool pin felts, quick start guide and manual, foot control, and power cord. So it's basically everything you might need to get started. 
Singer 1304 bobbins 
Singer suggests using INSPIRA or SINGER bobbins for best sewing results. It has to be Bobbins Class 15 to avoid jamming. 

Is the Singer 1304 really a good one? Our verdict 
Singer 1304 is a good machine, especially for beginners. The unit comes with a helpful and clear operator manual. This model does not have all the features of those high-end machines. But it does have all of the basic features you need to complete essential projects such as making curtains, or simple clothing and similar items.

Credits: photos by Canva

Disclosure: at sewingyourstyle.com we only write about the products that we've researched and considered worthy. But it's important to mention that we are a participant of several affiliate programs, including Amazon Services LLC Associates Program, an affiliate advertising program designed to provide a mean for us to earn fees by linking to Amazon.com and affiliated sites. As an Amazon Associate sewingyourstyle.com earns from qualifying purchases.