Juki is a Japanese manufacturing company known for producing quality sewing machines for both home and commercial use. This company uses the latest technology and features in the production of their sewing machines.
Their products sell in over 100 countries and 6 continents. Juki TL2010Q, I am about to review, falls somewhere between a home and commercial sewing machine. This machine is lightweight and portable. It has a large working area, bright LED lighting, and a speed controller. TL2010Q allows you to sew at slow speeds (while blazing fast too – from 200 to 1500 stitches per minute). But let's get right into the full review. 
Do you have a particular question about Juki TL2010Q? Then use the table of contents below to jump to the most relevant section. And you can always go back by clicking on the arrow in the right bottom corner of the page. Also, please note that some of the links in this article may be affiliate links. For more details, check the Disclosure section at the bottom of the page. 
Juki TL2010Q Review
Juki TL2010Q is often referred to as a "semi-industrial" sewing machine. This machine's inner working is more like a commercial sewing machine, and it's built to run for several years. With a 1.4 amp motor, this machine is 2 or 3 times more powerful than most home machines.
TL2010Q comes with advanced features such as an industrial sub-tension system, variable speed control slider, and bright LED lighting. This is a machine that is built for precision sewing.
This sewing machine has a large 23-inch work area with an auxiliary table attached. Making it possible to handle large sewing projects like quilts and home décor designs with ease.
This model is a single-needle lockstitch, high-performance sewing machine. Although this model only sews straight stitches, they are excellent straight stitches that don't tangle or get bird nests on your fabric's underside.
Another huge difference in this machine is the way the needle and bobbin sits. Again this machine is designed like a commercial sewing machine with the bobbin placed on the left. The needle on this machine threads from left to right rather than front the front to the back. This machine is known for its secure, even stitching.
If you are into quilting, you'll love this model too. TL2010Q is known by many as an exceptional quilting machine offering the space, control, and visibility needed when working on quilts to improve your free motion quilting experience.

Main features
Automatic thread trimmer
Maximum speed control (from 200 to 1500 stitches per minute)
Thread tension scale
Needle up and down control
Presser foot pressure adjustment
Knee lifter lever
Automatic needle threader
Large throat area: 8.5(l)x 5.9 (h) inches
Easy bobbin replacement
Sliding speed control + one pedal foot control
Huge table included: dimensions 590 mm x 277 mm (12 x 23)
LED light
38 pounds

Juki TL2010Q. SYS rating, pros, and cons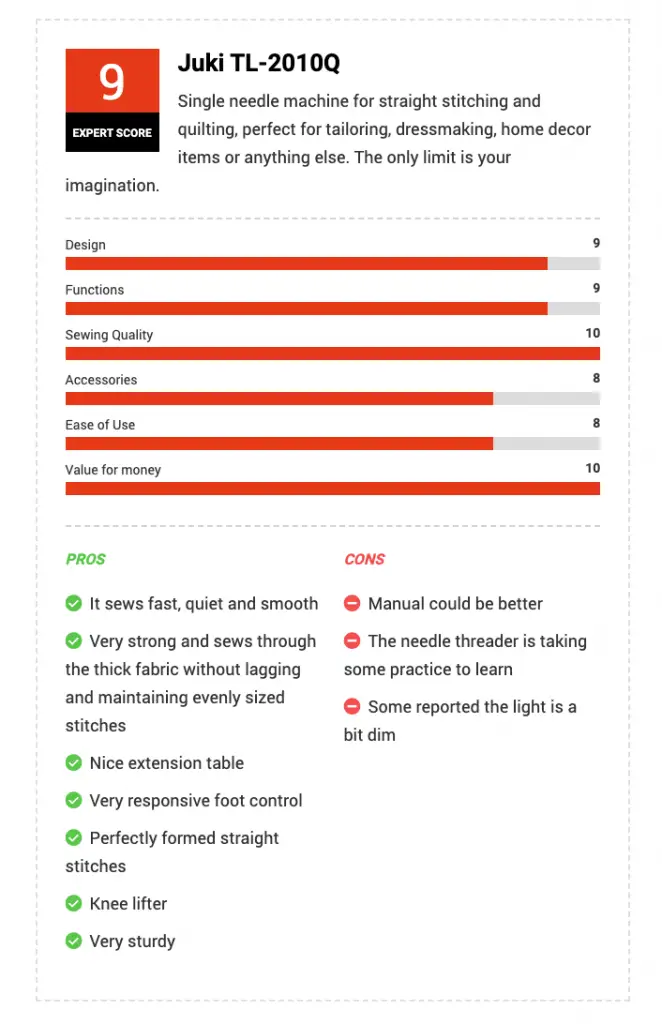 Juki TL2010Q manual
You can download the full manual here.

Video guidelines

Juki TL2010Q. FAQ and Troubleshooting
Q. How to thread Juki TL2010Q?
Q. How to wind a bobbin on Juki TL2010Q? 
Q. Can you sew nylon, denim, or other heavy and challenging fabrics on this machine?
A. It is possible to sew leather, denim, and several layers of fabric without much of a problem as long as you remember to use the right size needle. This machine glides over several layers of thick fabric smoothly.
Q. Juki's website doesn't list TL2010Q. Has it been discontinued?
A. No, the machine is still being made by Juki.
Q. My bobbin thread keeps breaking any suggestions?
A. You may be putting the bobbin in the wrong way, or your bobbin thread could be too short.

Juki TL2010Q accessories 
This model comes with plenty of accessories that will enable sewing out of the box. The standard packaging includes a foot controller, 4 bobbins, needles, machine cover and table, knee lifter lever, several feet (hemming, zipper, upper feed and compensating presser feet, ¼ and ⅕ quilting feet) and more. 
The one extra you might need if you prefer your lighting to be as bright as possible is an additional LED light. For instance, this strip, equipped with 30 LED mini bulbs, is super affordable and might be just what you need, it's practically as bright as natural light. 

Is Juki TL2010Q a good choice? Our verdict 
This sewing machine performs like a powerhouse and is highly durable. It's perfect for making quilts and any other type of straight stitch sewing. If you are looking for a reliable machine that won't cost you an arm and a leg then TL2010Q may be a good choice.
This machine is super easy to operate and sews a beautiful straight stitch quickly. 
Threading the needle takes a bit of getting used to, but once you are there, the machine performs flawlessly. It sews incredibly even stitches like butter. And can take over practically any task you have in mind. Alternatively, you can check my guide on other heavy duty sewing machines for more ideas.

Credits: photos by Canva

Disclosure: at sewingyourstyle.com we only write about the products that we've researched and considered worthy. But it's important to mention that we are a participant of several affiliate programs, including Amazon Services LLC Associates Program, an affiliate advertising program designed to provide a mean for us to earn fees by linking to Amazon.com and affiliated sites. As an Amazon Associate sewingyourstyle.com earns from qualifying purchases.