Juki DDL-5550 is a single needle industrial machine for straight stitching. It has a clean and simple look and measures 48″ X 20″ X 48″. It is mostly designed to work with lightweight to medium weight fabrics. And its speed is something beyond comprehension – 5500 stitches per minute. If you like what you've read so far, let's get into some more specifics about this sewing dreamboat. 
Do you have a particular question about  Juki DDL-5550? Then use the table of contents below to jump to the most relevant section. And you can always go back by clicking on the arrow in the right bottom corner of the page. Also, please note that some of the links in this article may be affiliate links. For more details, check the Disclosure section at the bottom of the page. 
Juki DDL-5550 review
Japanese Juki has long been known for manufacturing one of the most powerful sewing machines in the world. And Juki DBL-5550 is not an exception. 
This machine is ideal for sewing lightweight and medium weight fabrics. (It is not intended for leather or other heavy materials.) This model is engineered for reduced noise and vibration and made for comfortable operation.
The Servomotor used by DDL-5550 is that this machine uses 90% less energy than other motors. It is also a 1/3 lighter than clutch motors, and all you need to do is flip a switch to get the machine to sew in reverse. The motor's adjusted speed remains the same no matter how hard you push down on the pedal.
And it's also quiet. The stitches made by this machine are of high quality. While this machine only goes forward and in reverse, it does so quickly and smoothly.
If you are a quilter, this won't be the only machine you will need, but it's perfect for piecing, binding, and straight-line quilting. 
This machine is sold as a complete unit. It includes the machine head, table, stand, motor, sewing light, drawer, and all necessary components for successful sewing. But keep in mind that Juki DDL-5550 is heavy weighing (around 250 pounds in total), so you will need some help to set it up. But other than that, this machine works well and is low maintenance. 

Main features
Sewing speed: up to 5500 stitches/minute
Max. stitch length: 5mm
110V with industrial clutch motor
Needle: DB X 1, sizes 9-18
Automatic lubrication
Weights 250 pounds 

Juki DDL-5550. SYS rating, pros, and cons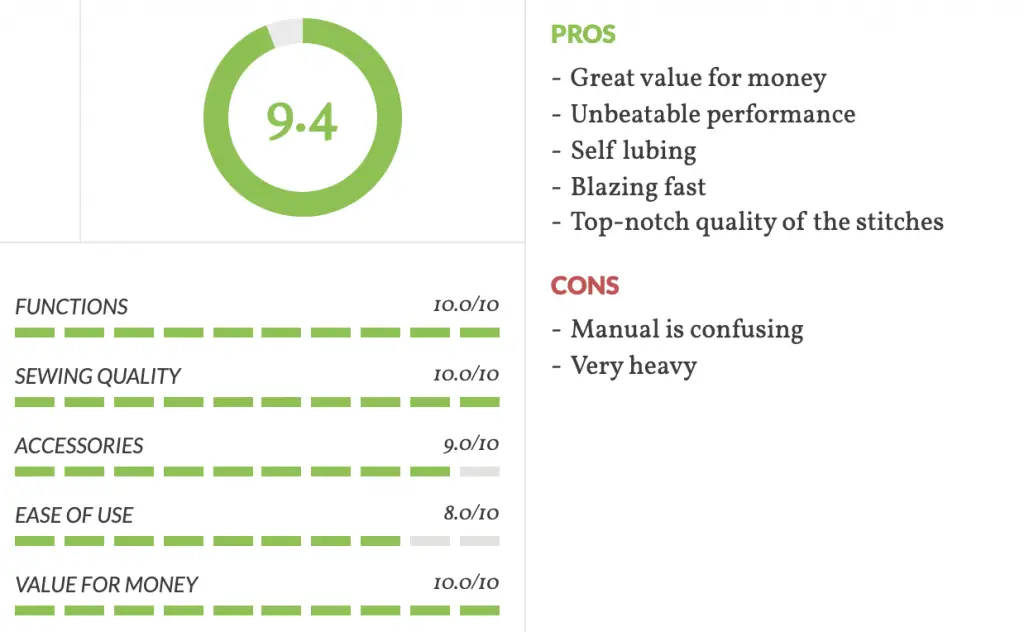 Juki DDL-5550 manual 
You can download the full manual here.

Video guidelines

Juki DDL-5550. FAQ and Troubleshooting
How to thread Juki DDL-5550? 
How to assemble Juki DDL-5550?
Does it sew through leather and jeans? 
Though it's not designed for heavy fabrics, the machine is still powerful enough to easily sew through up to 16 layers of canvas. So you won't have any issue with hemming jeans except you have to remember to raise the presser foot as you go through the thickest part. And don't forget to go slowly all the way. 
I keep breaking needles. What should I do?
There are several things you should check out. First, take the bobbin out and clean the area. You should also open the faceplate and clean any lint from that area.
You can also check and make sure you are using the right-sized thread for your needle and make sure you are using the right needle for your fabric.
You need to make sure that you placed the bobbin in the right direction in the bobbin case and that the bobbin is locked in place. Ensure that the needle is set in the needle bar correctly and that the threading is correct too.

Is Juki DDL-5550 a good machine? Our Verdict
With its ability to sew 5500 stitches per minute, DDL-5550 lets you finish jobs faster than you may have thought possible. This lockstitch machine has a great distance between the arm and the needle that makes handling the fabric more convenient. 
This machine is user friendly, and its performance is hard to beat. It will sew through several layers of fabric quite easily. 
While this machine only sews a straight stitch, it still satisfies most sewing needs. This is a must-have machine for anyone serious about sewing. So if you are, Juki DDL-5550 is definitely worth your consideration.  And if you want some more options you might want to check my guide on the best sewing machine here.

Credits: photos by Canva

Disclosure: at sewingyourstyle.com we only write about the products that we've researched and considered worthy. But it's important to mention that we are a participant of several affiliate programs, including Amazon Services LLC Associates Program, an affiliate advertising program designed to provide a mean for us to earn fees by linking to Amazon.com and affiliated sites. As an Amazon Associate sewingyourstyle.com earns from qualifying purchases.