Brother GX37 is a feature-rich portable sewing machine that comes with an easy to follow DVD and user manual. This model includes an automatic needle threader drop-in top bobbin, and versatile free arm to provide you with the ability to tackle a range of sewing projects.
But what else will you get by choosing this one? Let's get right into it!
(And if you love Brother you might want to check my guide on best Brother sewing machines for more options).
Do you have a particular question about Brother GX37? Then use the table of contents below to jump to the most relevant section. And you can always go back by clicking on the arrow in the right bottom corner of the page. Also, please note that some of the links in this article may be affiliate links. For more details, check the Disclosure section at the bottom of the page. 
Brother GX37 Review
Brother GX37 offers some improvement over older models of Brother machines. These improvements include a self-threading bobbin and automatic one-step buttonhole maker.  
The decorative stitches produced by this machine adds a lovely touch to linens and quilts.
The various types of stitches are printed right from the side of the machine, selecting the right stitch as simple as turning a dial. 
You can also make perfect buttonholes. The free arm capabilities allow you to sew sleeves and cuffs simply and easily.
GX37 is easy to learn and use. Threading this machine is very straightforward, just as is bobbin spooling. This model also comes with a horizontal bobbin load with a clear case making it easy to see when you are nearing the end of the thread.
Brother GX37 is a lightweight full-size machine, which produces 37 different stitches, including decorative stitches. And some would admit that this number is more than beginner or hobbyist sewer will use anyways.
All in all, it's a very solid machine with all the basic sewing needs covered. 

Main features
37 unique built-in stitches
Automatic needle threader
Drop-in top bobbin
Free arm
Brightly lit led work area
Adjustable stitch width and length
Great accessories pack 
Lightweight and portable (only 15.4 pounds)

Brother GX37. SYS rating, pros, and cons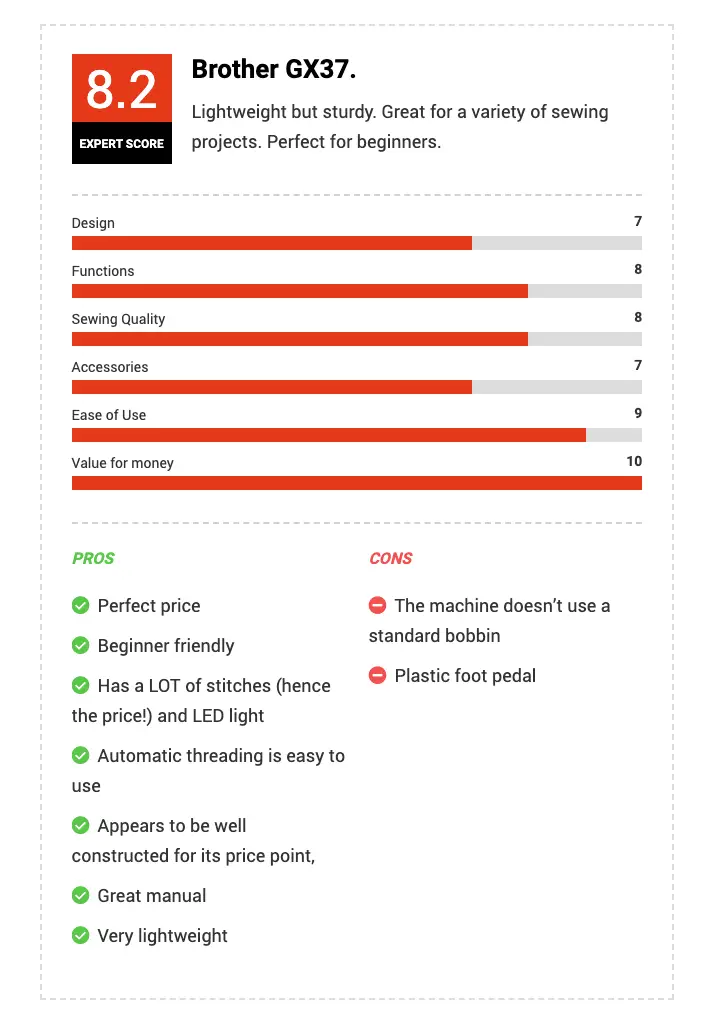 Brother GX37 manual 
You can download the full manual here.

Video guidelines

Brother GX37. FAQ and Troubleshooting
Q. How do I solve a needle/bobbin timing problem on GX37? 
A. A hook rotates typically more than once per needled stroke. The hook should be at the 12 o'clock position while the needle is up. The hook then has to make a complete rotation and return to the 12 O'clock position by the time the needle is down.
To check the timing, keep the needle plate off, remove the bobbin case, and make sure the machine's power is off. Turn the handwheel and watch the needle's position and hook as you go through a complete cycle. The needle should reach its lowest point and then rise a couple of millimeters before the hook intersects with the scarf of the needle.
If it's out of timing, it may be due to either a set screw on the lower shaft has slipped or gear is cracked or broken. For more timing problem guidelines you might want to check this article.
Q. Does it sew through leather and jeans? 
A. Yes, it does! Just use a larger needle to sew denim. Size 16 needle should work when working with thick fabric like denim.

Brother GX37 accessories
Another huge selling point of this model is its accessories pack. Typically you'll get 6 accessory feet (zigzag, blind stitch, zipper, button sewing, buttonhole, narrow hem). Also 3 piece needle set, oval screwdriver, bobbins, twin needle, dust cover, spool pin, and darning plate. And, of course, manual and DVD, power cord, and foot controller. 

Is Brother GX37 a good machine? Our Verdict 
Brother GX37 isn't a fancy sewing machine, but it has several high-end options. And I think it can be a fantastic sewing help for a beginner or someone who sews just for a hobby.
It is more durable than most portable machines, it is simple to use and very affordable. 
The cherry on the top, GX37 comes with a DVD, which will help you set up the machine in about 30 minutes even if you haven't ever used it before.

Credits: photos by Canva

Disclosure: at sewingyourstyle.com we only write about the products that we've researched and considered worthy. But it's important to mention that we are a participant of several affiliate programs, including Amazon Services LLC Associates Program, an affiliate advertising program designed to provide a mean for us to earn fees by linking to Amazon.com and affiliated sites. As an Amazon Associate sewingyourstyle.com earns from qualifying purchases.