Brother SE625 is a combination of computerized sewing and 4 X 4 embroidery machine. It features a 3.2 Sew Smart color LCD touch screen display that actually allows you to check your designs in full color before you start stitching.
It comes with 80 built-in embroidery designs, and an additional 200 designs are on the accompanying CD. And it also has 103 built-in stitches for sewing. This helicopter view almost makes me fall in love with this machine. But let's dig deeper. Is it really as good as it seems? 
Are you interested in a particular question about Brother SE625? Then use the table of contents below to jump to the most relevant section. And you can always go back by clicking on the arrow in the right bottom corner of the page. Also, please note that some of the links in this article may be affiliate links. For more details, check the Disclosure section at the bottom of the page. 
Brother SE625 Review
Brother SE625 combination sewing and embroidery machine is an excellent machine for those who enjoy the hobby of both sewing and machine embroidery.
The sewing side of this model powered by 103 built-in stitches with 8 styles of auto-sized buttonholes. It is very easy to use this machine. And you can also sew heavier fabrics with it. And enjoy responsive speed controls and a drop feed for free-motion sewing. This machine has 7 quick-change sewing feet, and the owner's manual is very helpful.
The embroidery part of the machine comes with built-in embroidery designs. There is also a CD from which you can upload designs to a flash stick to use in this machine.
The manual is nicely broken down into sections. And SE625 itself actually has diagrams and numbers on it that match up with the manual. You can also get LED readout instructions right from the unit. 
This sewing machine doesn't require any oil. You just need to keep it clean, and it will likely provide you with years of reliable service. Overall this Brother sewing machine is a powerful tool for sewing and embroidery enthusiasts alike.

Main features
103 built-in sewing stitches, including 8 styles of one-step buttonholes
6 embroidery lettering fonts 
Large, 3.2″ LCD touch screen display
280 embroidery designs total, with 80 built-in and 200 on the included CD
Embroidery editor tool that includes resize, move, mirror image and rotate functions
4 "x4" embroidery field
You can Import your own .pes embroidery design files using the built-in USB port
Expanded 6.4″ w x 4.1″ h needle-to-arm workspace for larger projects
Good accessories set included 
Doesn't weigh too much: only 26.68 pounds.

Brother SE625. SYS rating, pros, and cons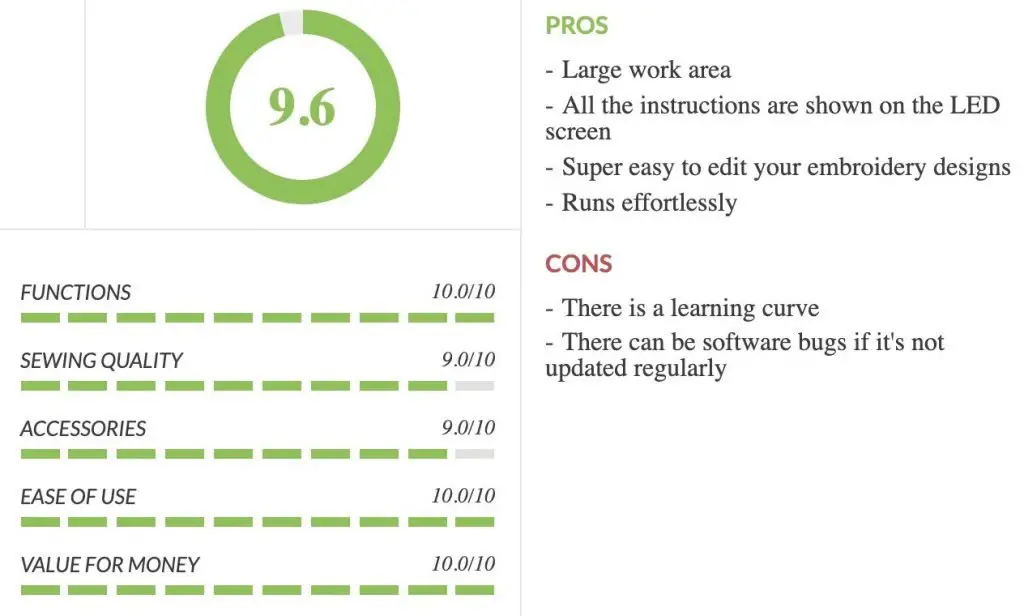 Brother SE625 manual
You can download the full manual here.

Video guidelines

Brother SE625. FAQ and Troubleshooting
Q. How to thread Brother SE625?
Q. Why won't the embroidery portion of my machine recognize the USB?
A. The design files you use for this machine need to be in Brother format, which is .PES. The designs also have to be formatted to fit the right hoop size.
Q. Why do I keep getting the "Check and rethread upper thread" error?
A. Try switching out your thread for 30 weight all-purpose 100% polyester thread
Q. Does SE625 sew through denim and other challenging fabrics?
A. Yes, SE625 does an excellent job of sewing through heavier materials as long as you use the correct needle and thread for each fabric. For denim weighing 12 ounces or more or canvas etc. You should use a polyester thread of wt.30. Needles should be 90/14-100/16. You will also set the machine to coarse stitches 3/32-3/16 inch length.

Brother SE 625 accessories
This model comes with a pretty impressive set of accessories that Includes 8 versatile sewing and embroidery feet (buttonhole, overcasting, monogramming, blind stitch, zipper, and more). It also comes with 4 "x4" embroidery hoop, bobbins, needles, darning plate, foot controller, Embroidery CD, 25-year limited warranty, manuals, and more. 

Is Brother SE625 a good machine to buy? Our verdict
Brother SE625 sewing and embroidery machine is quite a versatile sewing machine that is a joy to use. The digital touch screen is very helpful, and the embroidery functionality of this machine is fun and simple to use.
The manual for this unit comes with lots of helpful diagrams that show you how to perform different tasks on SE625. Overall this model works like a dream for most people. And is ideal for those who are new to sewing and machine embroidery and don't look forward to spending a fortune (but still expect good quality from a purchase). 

Credits: photos by Canva

Disclosure: at sewingyourstyle.com we only write about the products that we've researched and considered worthy. But it's important to mention that we are a participant of several affiliate programs, including Amazon Services LLC Associates Program, an affiliate advertising program designed to provide a mean for us to earn fees by linking to Amazon.com and affiliated sites. As an Amazon Associate sewingyourstyle.com earns from qualifying purchases.