Singer 2263 sewing machine sews like a dream for many seamstresses; it comes with a stylish design that masks the high-quality mechanical build. 
Like many other superior Singer machines, it has an automatic threader, which makes threading easy and breezy. Other functions like Creating buttonholes on dress, gowns, and the rest is as easy as it gets. The machine guides you through 4 easy steps, as long as you just set the dial. 
And that's just a few cool features to start from. Let's look into specifics if you considering buying this model. 
Do you have a particular question about Singer 2263? Then use the table of contents below to jump to the most relevant section. And you can always go back by clicking on the arrow in the right bottom corner of the page. Also, please note that some of the links in this article may be affiliate links. For more details, check the Disclosure section at the bottom of the page. 
Singer 2263 review 
Singer 2263 comes with 23 built-in stitches with 97 stitch applications. You can choose options like Basic, stretch, and decorative stitching. You can customize the machine's adjustable stitch length features; applique, sewing seams, and more.
Is the speed too fast or too slow? No problem; the foot pedal is designed to help you manage the rate of your sewing. The machine is also sturdy while you are working on it and eliminates skipped stitches. If you are a person who works 'heavy' on a sewing machine, this machine is a perfect horse for your sewing projects.
While working on the machine, you might experience some issues with the bobbin (bird-nesting). It can arise if there is uneven pressure in the foot pedal, causing the bobbin thread to 'skip'. The best way to solve the issue is to wind up another bobbin and use the previous one as your top thread. Fighting it will cause you a lot of threads.
After every use of the machine, try to clean out the bobbin casing under the throat place. It prevents dust/particles from affecting the needle movements. 
Besides that, this electric machine works just fine, even for a beginner. It is lightweight, has a comprehensive instructional DVD, a stitching guide, and a tireless worker. Overall, great choice whether you are a beginner or an experienced seamstress looking for an affordable and portable backup. 

Main features
1 automatic 4-step buttonhole 
23 stitches 
Automatic needle threader 
Easy stitch selection
Extra-high presser foot lifter
12.8 pounds 

Singer 2263. SYS rating, pros, and cons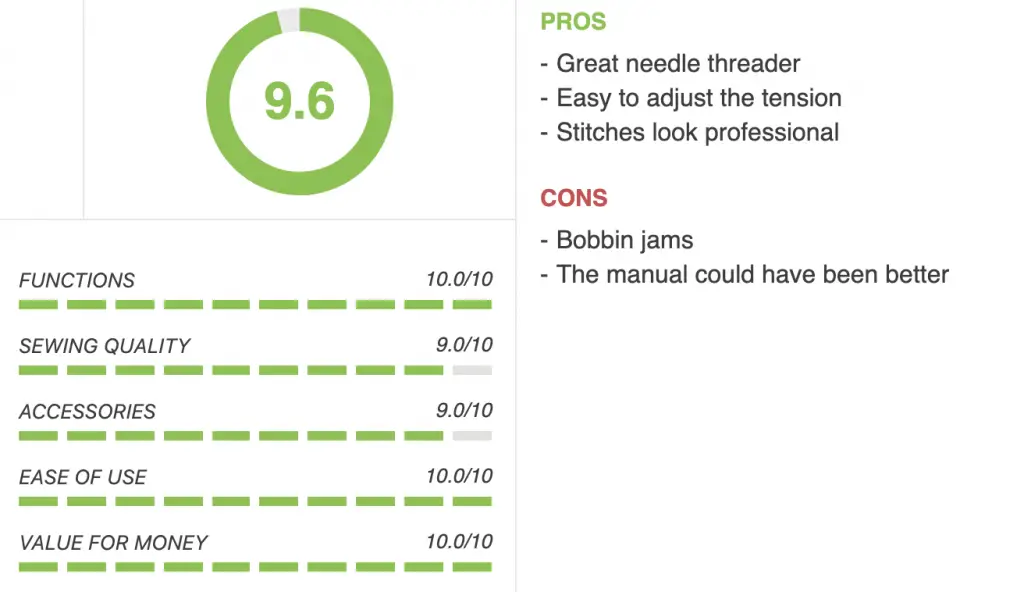 Singer 2263 manual 
You can download the full manual here.

Video guidelines

Singer 2263. FAQ and Troubleshooting
How to thread Singer 2263?
Does it sew through leather and jeans? 
This machine will work with multiple layers of fabric even the ones that are more challenging, e.g. stretchy or thick. Although it could be hard to work through it. But if you are using the right setting you are going to be just fine. Using walking foot for these purposes will make your life easier. And, of course, make sure you use the appropriate needle and tension for your fabric. 

Singer 2263 accessories
Singer 2263 comes with a variety of presser feet and accessories for basic sewing. It includes 3 feet – all-purpose buttonhole and button sewing. It also comes with a set of other accessories from darning plate and extra needles and bobbins to screwdriver, lint brush, seam ripper and thread spool cap. Also this model comes with instructional DVD, manual, power cord and foot controller.

Is Singer 2263 really a good one? Our verdict 
This machine is excellent for any seamstress, irrespective of skill levels. The DVD will clear any doubts you have about the use of this machine.
The machine is also suitable for quilting once you get your darning and working foot. It can move smoothly through high layers of fabrics (I tested with 6 and it worked!).
The machine can do just about anything with the right attachments; buttonholes, stitching, quilting, etc. If you are looking for a sewing powerhouse on a budget, Singer 2263 sewing machine should be top of your list.

Credits: photos by Canva

Disclosure: at sewingyourstyle.com we only write about the products that we've researched and considered worthy. But it's important to mention that we are a participant of several affiliate programs, including Amazon Services LLC Associates Program, an affiliate advertising program designed to provide a mean for us to earn fees by linking to Amazon.com and affiliated sites. As an Amazon Associate sewingyourstyle.com earns from qualifying purchases.