Singer XL 420 sewing and embroidery machine is an interesting device with some modern settings and functionalities. It lets you do so much, whether you are a beginner or looking into learning embroidery or more experience in both. It comes with an endless hoop, an extra-large sewing area for quilting, and even 200 premium-quality embroidery designs included (and those alone can be quite costly). 
But let's look into its features in more in-depth details. 
Do you have a particular question about Singer XL 420? Then use the table of contents below to jump to the most relevant section. And you can always go back by clicking on the arrow in the right bottom corner of the page. Also, please note that some of the links in this article may be affiliate links. For more details, check the Disclosure section at the bottom of the page. 
Singer XL 420 review 
I found that the Singer XL 420 is a user-friendly and capable device if you don't mind putting effort into learning all of its capabilities. It lets you use three hoops sizes for different embroidering and sewing styles. And the best part about it is that the stitches that this machine produces are just excellent. 
As I mentioned previously, this machine features quite a number (200) of embroidery designs. And it also comes with 5 fonts for monogramming and customization projects (so you are all set for making gifts for birthdays and holidays for years to come). 
This sewing and embroidery machine comes with the Futura software on a CD. You can use it on your laptop to select from the 200 embroideries available, ranging from flowers to frames and many more. But what I like most about this model is that it includes the sizable 8×12 hoop alongside the smaller one. And it's quite a rare feature for most embroidery machines. Especially if we are talking about the units with sewing functionality. 

Main features
200 embroidery designs with basic editing
3 embroidery hoops are included
30 built-in sewing stitches
5 Fonts for monogramming
23.8 pounds
Speed control lever
13 needle positions
7mm stitch width
Automatic twin needle mode
Knee lifter included
LED lights
Automatic presser foot pressure control
Dual accessory storage trays

Singer XL 420. SYS rating, pros, and cons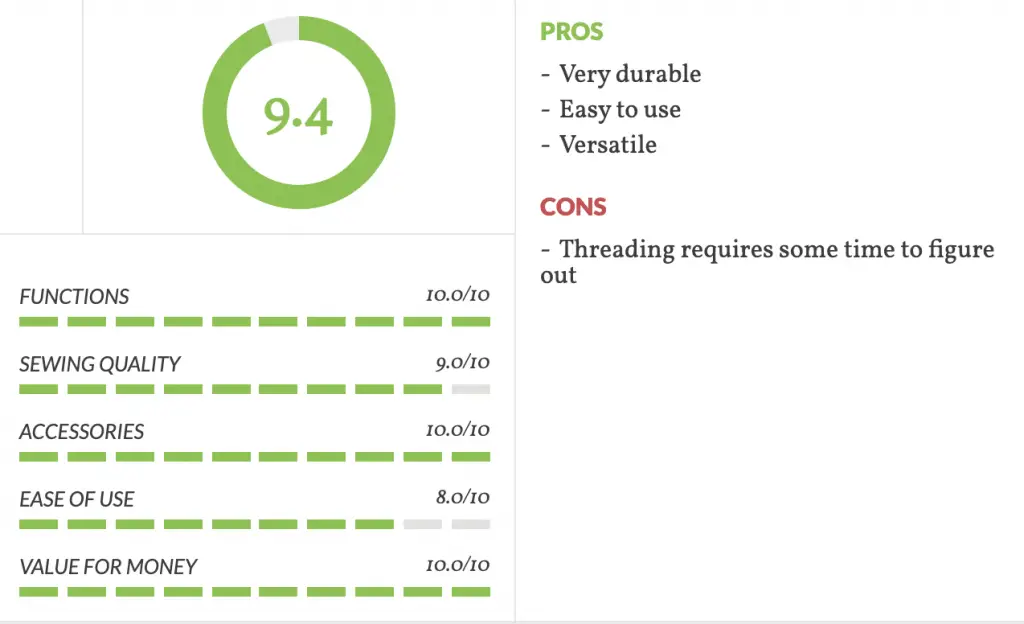 Singer XL 420 manual 
You can download the full manual here.

Video guidelines

Singer XL 420. FAQ and Troubleshooting
How to thread Singer XL 420?
My thread keeps breaking on Singer XL 420. How to fix it? 
One of the common reasons for thread breaking with this model is the wrong threading. So make sure you checked the manual and watch the video above. Also, the quality of the thread and using the right type of needle and bobbins are important too. Make sure that you get it right. 
You might also be going too fast (especially if you are embroidering), so you might want to slow down and see if that helps. .

Singer XL 420 accessories
This model comes with an impressive set of accessories, including 3 embroidery hoops (6.75" X 4", 10" X 6", 4" X 4" ) and 7 feet (all-purpose, embroidery, zipper, buttonhole, blind hem, satin stitch, button). It also includes a pack of needles, bobbins, thread spool nets and caps, knee lifter, USB cable, seam ripper, scissors, knee lifter, manual and more. 

Is Singer XL 420 really a good one? Our verdict 
I believe with Singer XL 420 you'll get a good quality/value for the price. There are quite a few tools included with your purchase (tons of feet and hoops). Overall, if you're searching for a reliable sewing machine with robust embroidery capabilities, this one can be a good fit for you.
However, complete beginners might find it tricky to use. Still, the user manual offers proper guidance on how to use it. And overall, Singer's support and online tutorials are known to be the best in the industry. So as long as you are serious with your sewing, it won't be a problem.  
If you love Singer but looking for more options, consider also checking my guide on best Singer sewing machines. I am sure you find your perfect match upon reading.

Credits: photos by Canva

Disclosure: at sewingyourstyle.com we only write about the products that we've researched and considered worthy. But it's important to mention that we are a participant of several affiliate programs, including Amazon Services LLC Associates Program, an affiliate advertising program designed to provide a mean for us to earn fees by linking to Amazon.com and affiliated sites. As an Amazon Associate sewingyourstyle.com earns from qualifying purchases.