Juki DDL-8100 is an economy straight stitch industrial sewing machine. This full-size machine produces 4500 stitches per minute and 6 stitches per inch. This machine comes with a sewing table and electronic DV servo motor and may require some assembly. But apart from that, this machine demonstrates outstanding responsiveness to any materials to be sewn. 
Let's learn more about all its nitty-gritty. 
Do you have a particular question about Juki DDL-8100? Then use the table of contents below to jump to the most relevant section. And you can always go back by clicking on the arrow in the right bottom corner of the page. Also, please note that some of the links in this article may be affiliate links. For more details, check the Disclosure section at the bottom of the page. 
Juki DDL-8100 Review
Juki DDL-8100 has been introduced by Juki as an industrial economy machine. And was quite a hit in emerging markets like Asia and Russia. 
But nowadays, when any technology is evolving rapidly, the model became more of a universal machine that is ideal for personal and professional use.
It runs super fast (up to 4500 stitches per minute). So experienced sewer will find it a joy to use. However, it also goes slower for those with less experience. 
This sewing machine is reliable and durable. It provides low tension sewing and is versatile enough to respond to various materials producing consistently beautiful seams.
The frame of this machine is designed for balance and strength. It runs with minimal vibrations and noise. DDL-8100 can handle light and medium materials with ease.
It has an easy to operate functions with a light-touch stick dial and comfortable balance wheel. The pressure foot lifts up to 13mm to enable the material to move easily. 
Overall, this Juki is a high-quality tabletop machine. You'll get the factory sewing speed and quality for a fraction of the cost.
The downside? This machine does come unassembled, and you may want some help with it since it comes with reportedly confusing instructions.

Main features
Most often comes unassembled, with a table, energy saver, and DC Servo Motor.
Up to 4500 stitches per minute 
Maximum stitch length: 5 mm 
Maximum stitches: 6 stitches per inch. 
Maximum presser foot lift by hand: 5.5 mm
Auto-lubricating full rotary hook

Juki DDL-8100. SYS rating, pros, and cons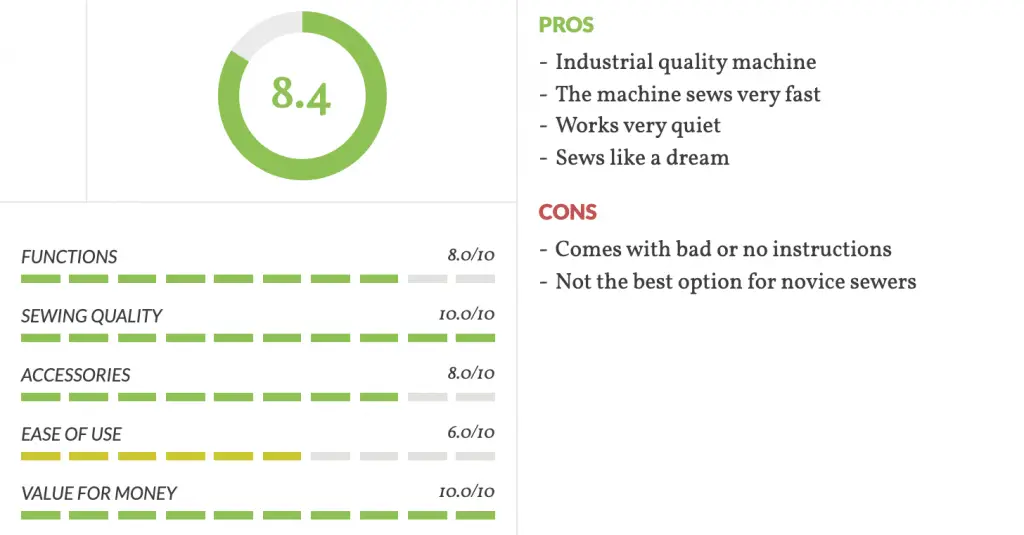 Juki DDL-8100 manual 
You can download the full manual here.

Video guidelines: 

Juki DDL-8100. FAQ and Troubleshooting
How to assemble Juki DDL-8100? 
Does it sew through leather and jeans? 
Yes, it does! Go with a larger needle, at least a size 14. And also, use a heavy plate and feeder for better results and loosen up the foot tension first. 
What needles do I need for this machine?
DDL 8100e manual says that this machine is compatible with DBx1 needles, sizes #9 to #18. And those needles come in many options. So you have to consider both point type and size. Use the smaller needles for delicate fabrics, like silk (something like 65/9). And larger for leather and denim. Groz-Beckert and Organ seem to work fine.  

Is Juki DDL-8100 a good machine? Our Verdict
This sewing machine is a good value considering the table, motor, and thread stand coming with the head. Not to mention the speed and quality. This machine has a robust engine and should handle anything you need or want to sew. 
While this machine is best suited to the more experienced sewer, those with less sewing experience still can use it after investing some time into the learning process.  
Because this is a tabletop machine, you will need to have enough space to set up this machine and keep it like that (it's not quite portable). And don't forget that you might need help with the initial assembly. 
But other than that, this Juki is quite brilliant.
If you'd like some more good, but smaller options you might check my report covering the best sewing machines here.

Credits: photos by Canva

Disclosure: at sewingyourstyle.com we only write about the products that we've researched and considered worthy. But it's important to mention that we are a participant of several affiliate programs, including Amazon Services LLC Associates Program, an affiliate advertising program designed to provide a mean for us to earn fees by linking to Amazon.com and affiliated sites. As an Amazon Associate sewingyourstyle.com earns from qualifying purchases.