Juki MCS-1500 coverstitch machine can quickly work on hems, cuffs, sleeves, and necklines and is ideal for stretch fabrics. This machine also makes a strong chain stitch perfect for the tricky waist and side seams. But let's have a look at what else this reliable sewing partner has to offer. 
Are you interested in a particular question about Juki MCS-1500? Then use the table of contents below to jump to the most relevant section. And you can always go back by clicking on the arrow in the right bottom corner of the page. Also, please note that some of the links in this article may be affiliate links. For more details, check the Disclosure section at the bottom of the page. 
Juki MCS-1500 review 
Juki MCS-1500 is a specialized cover stitch and chain stitch machine that allows you to take your sewing to another level.  
This machine offers the choice of 4 threads, 3 threads wide, and 3 narrow thread stitches. The motor of this machine is fast, and the extension plate and pressure foot come with guides making the device easier to use. 
The chain stitch feature uses the lower thread to form a chain on the reverse side of the fabric. That makes the stitch extremely strong, which is ideal for stitching the waist and side seams of pants. The chain stitch also makes it an excellent option for making decorative neckline stitches too. 
MCS-1500 also features an external thread cutter, adjustable differential feed, and a simple single-dial for serving all kinds of fabrics. 
And on top of this, the machine is pretty easy to thread, quiet in operation, and sews very professional looking stitches.

Main features
Cover stitch ideal for stretch fabrics and tricky projects 
Chain Stitch ideal for stitching the waist and side seams of pants
Adjustable presser foot pressure with guide
Extension plate with seam guidelines
Differential feed and stitch length/width control
Simple looper threading
Exterior thread cutter
Lightweight – only 19.71 pounds

Juki MCS 1500. SYS rating, pros, and cons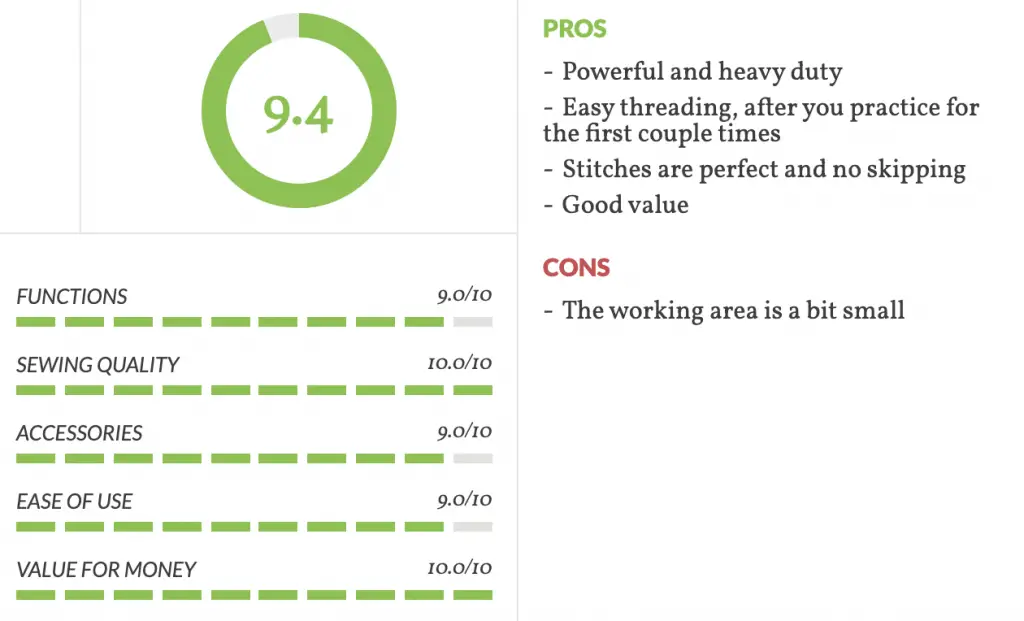 Juki MCS 1500 manual 
You can download the full manual here.

Video guidelines

Juki MCS 1500. FAQ and Troubleshooting
How to thread Juki MCS 1500? 
Does it sew through leather and jeans? 
This machine is a trooper. It can go through four layers of 12oz denim without a problem. Just make sure you use the right needles and thread following the guidelines in the manual. 
What can be done with skipped stitches issue? 
A. The problem could be caused by many different things. When you rethread, set your tension at 0. And make sure that the thread goes through the disk smoothly without any pulling at all. 
Your problem may be that your threads are not all the same quality or weight. Try using a different cone all together and make sure that your thread is all the same weight.
You may want to check your needles. Double-check the manual for the recommended size and type of needle you should be using. 
You can also try loosening the screw next to the yellow tension and make sure that the thread guide is all the way up. 
If all above fails, you may need to take the machine to a mechanic for check-in.  

Is Juki MCS-1500 a good machine? Our verdict
Juki MCS-1500 is reliable and easy to maintain. It operates smoothly, and the stitches are of professional quality. This machine is a breath to set up and use, and it should give you years of trouble-free sewing for more than a reasonable price. All in all, MCS-1500 is well worth the investment for anyone who makes a good deal of clothing. 

Credits: photos by Canva

Disclosure: at sewingyourstyle.com we only write about the products that we've researched and considered worthy. But it's important to mention that we are a participant of several affiliate programs, including Amazon Services LLC Associates Program, an affiliate advertising program designed to provide a mean for us to earn fees by linking to Amazon.com and affiliated sites. As an Amazon Associate sewingyourstyle.com earns from qualifying purchases.