Singer 7258 is a computerized, heavy-duty machine that comes with 100 built-in stitches. You can use this machine to perform fashion sewing, quilting, crafting, decorative sewing, and others. Although it sounds like a good (and pretty versatile) deal, there are still things you should learn about this machine before seriously considering buying it. 
Do you have a particular question about Singer 7258? Then use the table of contents below to jump to the most relevant section. And you can always go back by clicking on the arrow in the right bottom corner of the page. Also, please note that some of the links in this article may be affiliate links. For more details, check the Disclosure section at the bottom of the page. 
Singer 7258 review 
Let's start with the advantages and obvious pros of Singer 7258 (and there's a lot to mention). This computerized sewing machine can sew smoothly on almost any thickness of fabrics. It also has a large LCD screen that provides you with a perfect visual representation of the stitch length and width you should use. It also has one-step fully automatic button sewing functions that make it easy for you to sew buttonholes of different styles. E.g., the round end, basic bartack, or the keyhole.
This model allows you to program your needle to either the up/down position when sewing appliques, quilting, or top-stitching. This will be most helpful in your work. Also, Singer 7258 machine can determine the optimum stitch length for any stitch you want to perform on the fabrics, thereby saving you time. You can also control the speed this machine gives with the speed control ever; make it go slower or faster.
Threading this machine is very straightforward; you can run the thread from the spool to the needle's eye in seconds with the automatic needle threader. It is easy to load this machine's bobbin since it loads from the top with a clear cover. And it has 100 000 hours of LED illuminating bulbs makes it easier to notice when you are out of threads. It comes with a lot of documentation on how to start working on this machine. 
However, dealing with the bobbin thread when it is an awkward place before any sewing can be very tricky. You have to put your hand in to lift the pressure foot manually. You might also encounter some struggles with thick layers like pant seams.

Main features
Easy stitch selection
Automatic bobbin winding clutch
Automatic reverse
Easy threading
Snap-on presser feet
Onboard storage
Top loading bobbin with jam-proof system
14.6 pounds

Singer 7258. SYS rating, pros, and cons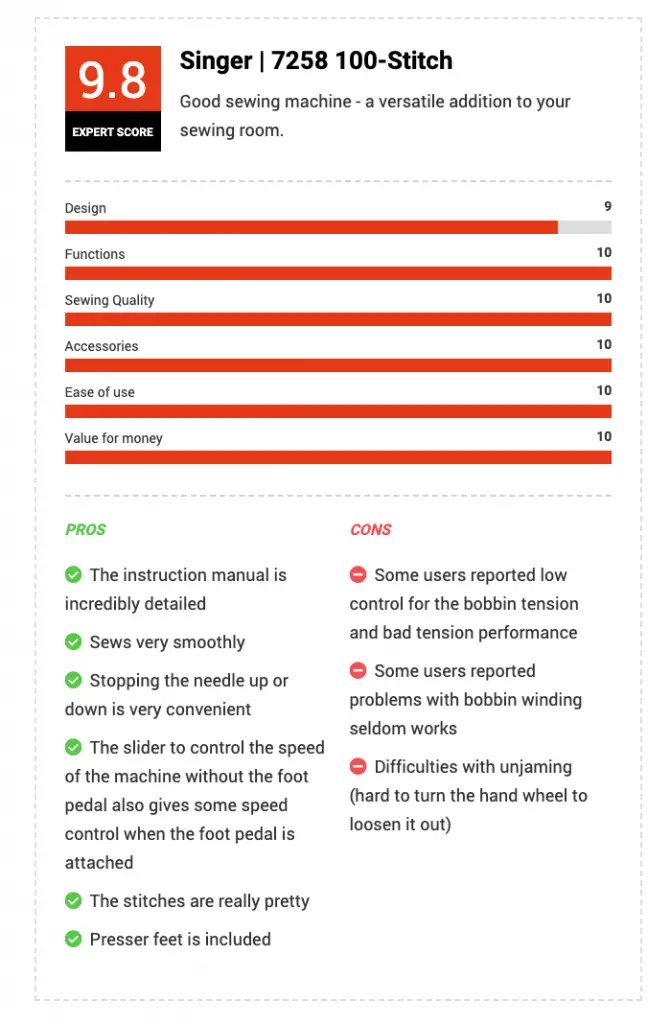 Singer 7258 manual 
You can download the full manual here.

Video guidelines

Singer 7258. FAQ and Troubleshooting
How to thread and wind a bobbin on Singer 7258? 
How to clean Singer 7258?
Does it sew through leather and jeans? 
This machine can definitely be used for leather and denim. Just be cautious and make sure you are using appropriate needles. Ideally, it has to be Singer or Inspram, as other brands might lead to problems with the tension. And at least size 16. Follow the manual, go slow, and you'll be able to glide through multiply layers of thicker fabrics. 

Singer 7258 accessories
Another perk of this model is that it comes with a pretty solid bundle of accessories. It includes 5 feet: zipper, buttonhole, all-purpose blind hem, and satin stitch. It also comes with extra needles and bobbins, a soft cover, video and paper manuals, and many other extras. E.g., thread spool caps, spool pin felt, auxiliary spool pin, darning plate, seam ripper and lint brush, power cord, screwdriver, and foot pedal. 

Is Singer 7258 really a good one? Our verdict 
I can't come up with anything you CAN'T do with this machine: it is both simple and advanced. It is simple to use such that a beginner can follow through while performing complicated sewing. In addition to this, the machine gives perfect results.  
At the price you get it for, this machine is a great bargain compared with the advanced sewing you can do with it.
Its smooth, less-complex, and efficient sewing makes it an all-around suitable machine for just any sewing skill level.

Credits: photos by Canva

Disclosure: at sewingyourstyle.com we only write about the products that we've researched and considered worthy. But it's important to mention that we are a participant of several affiliate programs, including Amazon Services LLC Associates Program, an affiliate advertising program designed to provide a mean for us to earn fees by linking to Amazon.com and affiliated sites. As an Amazon Associate sewingyourstyle.com earns from qualifying purchases.