While Janome Hello Kitty might have the "Barbie look," it is no less a reliable machine for your basic stitching and quilting projects. The built-in 15 stitches, including the four-step adjustable buttonhole, adjustable stitch length, zigzag, can help you create all the unique designs and projects you want. But let's see what else you'd get with this model. 
Do you have a particular question about Janome Hello Kitty sewing machine? Then use the table of contents below to jump to the most relevant section. And you can always go back by clicking on the arrow in the right bottom corner of the page. Also, please note that some of the links in this article may be affiliate links. For more details, check the Disclosure section at the bottom of the page. 
Janome Hello Kitty Sewing Machine review 
If you are a beginner, then you have nothing to worry about using Janome Hello Kitty sewing machine. It is easy to operate and has an easier setup even for 9-year olds. This machine has a smooth action, sews straight, lightweight, and easy to carry about but very sturdy during sewing. 
This machine gives you a lot of workroom from the head to the sewing machine's left side. Threading is such a breeze compared to many other sewing machines. The bobbin on the sewing machine works fine; it uses a vertical oscillating hook bobbin system. Also, it works well with generic bobbins, which makes procuring bobbins easier and cheaper. 
For a machine that looks "cute," it is very sturdy. Its internal Aluminum frames allow for heavy-duty sewing. Maintenance for this machine is easy, even for a mechanical sewing machine, making it a breeze to own for beginners.
Many people might find the "Hello Kitty" written on it a little bashful, plus the fact that the storage case might be tricky to open at times. Other than these, the machine works as you will expect any basic sewing machine to work. A few tries and perusal of the manual can teach you how to operate the front bobbin (many people don't read manuals, I wonder why?).
Adding more customized functions to the machine is very possible, though it might cost you a bit. If you ever want a sewing machine that works well, durable, and can carry around, go for this simple machine.

Main features
Sturdy frame
Free arm 
Adjustable stitch width and length 
15 unique stitches
4-step buttonhole
Left and center needle position
17 pounds

Janome Hello Kitty Sewing Machine. SYS rating, pros, and cons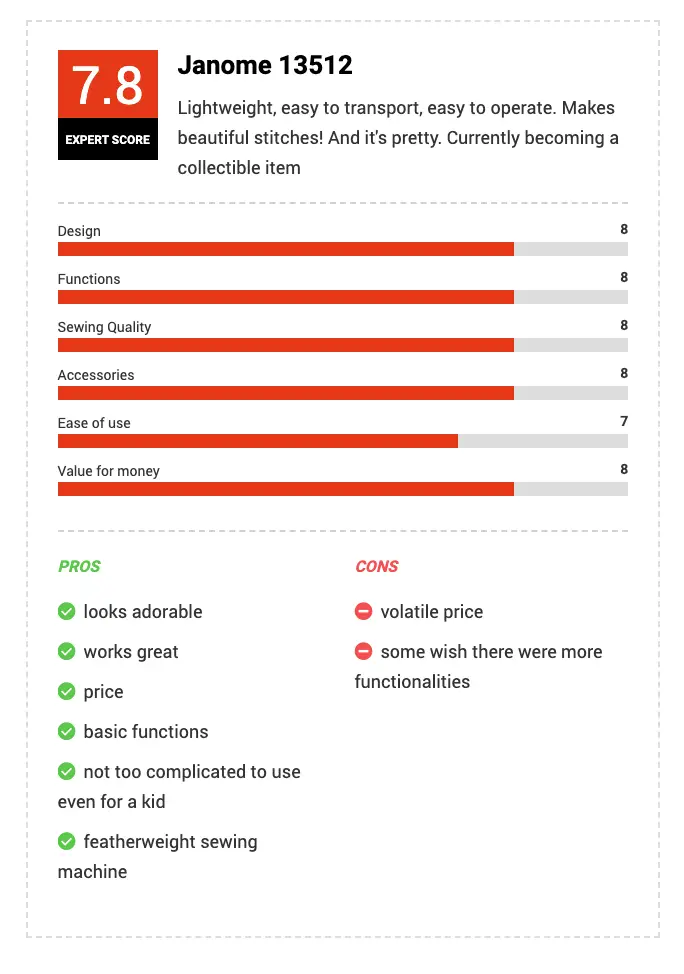 Janome Hello Kitty Sewing Machine manual 
You can download the full manual here.

Janome Hello Kitty Sewing Machine accessories
This model comes with an impressive package of extras. You'll get 4 extra feet to start with (zipper, buttonhole, blind hem, and zigzag). 
And you will get a bunch of other little extras, e.g dating plate, seam ripper, needles and bobbins, etc. It basically has anything to get you started right out of the box. Just get your fabric and threads and you are ready to go.

Is Janome Hello Kitty Sewing Machine really a good one? Our verdict 
Most people might find the design of Janome Hello Kitty sewing maching a bit toy-ish, but I find it funky. It can be a perfect gift to your niece, nephew, grandkids, or cousins. The machine is so simple that even a kid can rip it out and a couple back.
The machine works smooth, tackles basic projects admirably, and threads well. It comes with a carrying case, simple-to-read manuals, and quiet efficiency.
It is a machine that is hard not to like and great for a beginner or someone curious about sewing. It looks good and it works just fine. 

Credits: photos by Canva

Disclosure: at sewingyourstyle.com we only write about the products that we've researched and considered worthy. But it's important to mention that we are a participant of several affiliate programs, including Amazon Services LLC Associates Program, an affiliate advertising program designed to provide a mean for us to earn fees by linking to Amazon.com and affiliated sites. As an Amazon Associate sewingyourstyle.com earns from qualifying purchases.