This machine was once trendy and cheap. Nowadays, you still can find it on some marketplaces, but price points may vary. So does it still make sense to purchase it even now when it's been discontinued and not priced consistently? Let's see. 
Are you interested in a particular question about Brother LS2126i? Then use the table of contents below to jump to the most relevant section. And you can always go back by clicking on the arrow in the right bottom corner of the page. Also, please note that some of the links in this article may be affiliate links. For more details, check the Disclosure section at the bottom of the page. 
Brother LS2126i review 
Brother LS2126i is a little workhorse that can be a great help for basic sewing, mending, crafts, and scrapbooking projects. It's very easy to use and beginners-friendly. The sewing surface can be turned from flatbed to free arm for sewing cuffs and sleeves.
A reverse lever helps to lock completed stitches in place. It's lightweight and portable. And has some basic stitches, including zigzag, blind hem, and stretch. It also comes with 3 presser feet, built-in storage, extra needles (includes a double-needle for fancy stitches), screwdriver, and bobbins. 

Several years ago, at the time, it was freely available on the market. It used to be priced very low. 
And that was an excellent time to purchase it if you would be looking for a basic easy sewing machine for occasional projects. Nowadays the price is fluctuating, so if you'd be able to purchase it on sale and get yourself a good deal, then the unit would worth it. 

Main features
10 built-in stitches, each with multiple stitch functions
Three feet: Buttonhole foot, zipper foot, and button sewing foot
Automatic 4-Step buttonholer
Auto-set stitch length and width adjustment
Maximum Sewing Speed: 900 stitches per minute
Flatbed/free-arm convertible sewing surface
Electronic speed control
Forward and reverse sewing
Adjustable thread tension control
Quick bobbin winding system
Built-in accessory storage
Lightweight and compact with built-in handle for portability

Brother LS2126i. SYS rating,  pros, and cons
Somewhat cheaply built, but does a decent job of basic sewing. It is lightweight, easy to move around, and easy to use too.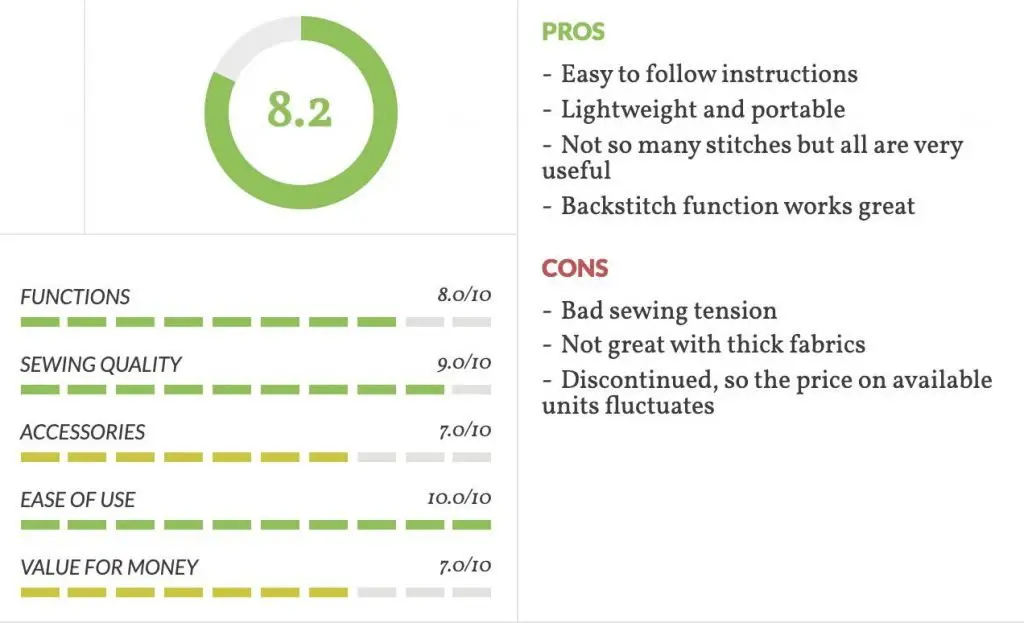 Brother LS2126i manual 
You can download the full manual here. 

Brother LS2126i video guidelines

Brother LS2126i. FAQ and Troubleshooting
How to thread Brother LS2126i? 

Can you quilt with Brother LS2126i? And what would be the best set up? 
You can't do some basic quilting projects with Brother LS2126i. 
If you aren't doing free-motion quilting, don't cover or lower your feed dogs. You might want a walking foot for that (e.g., this one). Thus your fabric is more evenly fed through your machine, both from the bottom and the top.
It can help your quilt stitches look more even, and help prevent creeping and wrinkles in your top. When doing this, your stitch length is also set to the actual length you want your stitches. Whereas in free-motion, your stitch length is set to zero, and you move the fabric at different speeds to determine the stitch length).

If your quilt is getting stuck or is hard to move, try buying a brand new pair of soft gardening gloves with rubberized fingertips (this one will do the trick). These will help you grip your quilt and move it with ease. If your stitches are making loops or little bumps on either the top or bottom of your quilt, you may have tension issues.
The first thing you might want to try when your quilting stitches doesn't look right is to take out the bobbin case and give the whole machine a thorough clean.
It that's not helping, get a new needle. Good top-stitch needles will be the best choice for most quilting. It has to be sized to your thread too. 
In this case, it's worth trying out different needles to see what happens. Another thing to test is to adjust the tension on your thread. 

What to do if you don't seem to wind the bobbin correctly?
One of the most workable solutions is to check that the thread direction is correct. In the bottom or sideloading bobbin carriages, the bobbin goes in with thread going in one direction. In the top drop loading bobbin carriage, it goes in the opposite direction. 
Does it sew through leather and jeans? 
Yes, this machine can handle lightweight denim or two layers of leather with the right settings and needles. The trick with thick material is to hand-sew when approaching thick seams (especially the inner seams for jeans). Or you might risk a few needles on those extra thick areas. 


Brother LS2126i accessories
Here's what typically included when purchasing this model:  
An accessory pouch containing: 3 bobbins, twin needle, needle set, screwdriver, extra spool pin, and darning plate

Brother LS2126i bobbins 
You should use bobbins class SA156, as it's common for Brother sewing machines 


Is Brother LS2126i worth buying? Our verdict
If you are planning to use your machine daily and on more sophisticated than quick fixes and buttonholes tasks, you might want to look for more advanced options.
However, if you are looking for something basic and easy and manage to catch Brother LS2126i on sale, that might be a viable choice. 

Disclosure: at sewingyourstyle.com we only write about the products that we've researched and considered worthy. But it's important to mention that we are a participant of several affiliate programs, including Amazon Services LLC Associates Program, an affiliate advertising program designed to provide a mean for us to earn fees by linking to Amazon.com and affiliated sites. As an Amazon Associate sewingyourstyle.com earns from qualifying purchases.