Brother 2340CV Coverstich is not your regular serger as you cannot sew off the fabric. But with this machine, you'll be able to produce a perfect finish for all of your designs. Let's try to figure out whether or not it's worth the investment in this review. 
Do you have a particular question about Brother 2340CV? Then use the table of contents below to jump to the most relevant section. And you can always go back by clicking on the arrow in the right bottom corner of the page. Also, please note that some of the links in this article may be affiliate links. For more details, check the Disclosure section at the bottom of the page. 
Brother 2340CV review 
Brother 2340CV is an advanced machine that will allow you to create various cover stitches on multiple weights and fabric types for both decorative and constructive applications. However, 
This sophisticated sewing unit features both narrow and wide cover stitch, tri-cover stitch, and a color-coded threading system. Together with its cover stitch capability of 3 to 6mm for thicker materials, Brother 2340CV assures high performance. 
When it comes to speed, this machine runs up to 1,100 stitches per minute. (That's quite impressive if you ask me). Combined with its 3 needles and one looper thread setup, creating a professional hem, chain stitch, or decorative stitching cannot get faster.
If you're familiar with serger machines, then Brother 2340CV will be easy to use. Even if you're not, it's pretty easy to figure out. Moreover, the instructional guide is easy to follow.
However, using this machine poses some challenges. Since there's no backstitch, so you'll need to learn techniques to secure your thread tail. Furthermore, getting the fabric out when you're done stitching is tricky. But luckily, several YouTube tutorials can show you how to do that.
Overall, it is easy to remove or replace the needles, adjust the tension, and thread it. It will make hemming and sewing a breeze for you.

Main features
Tri-cover stitch
Wide and narrow cover stitches 3mm and 6mm
Color-coded threading
Up to 1,100 stitches per minute
Sturdy metal frame
Two needles 2-3-4 thread cover stitch only
Presser foot pressure adjustment
Slide lever adjustment for differential feed
12.35 pounds

Brother 2340CV. SYS rating, pros, and cons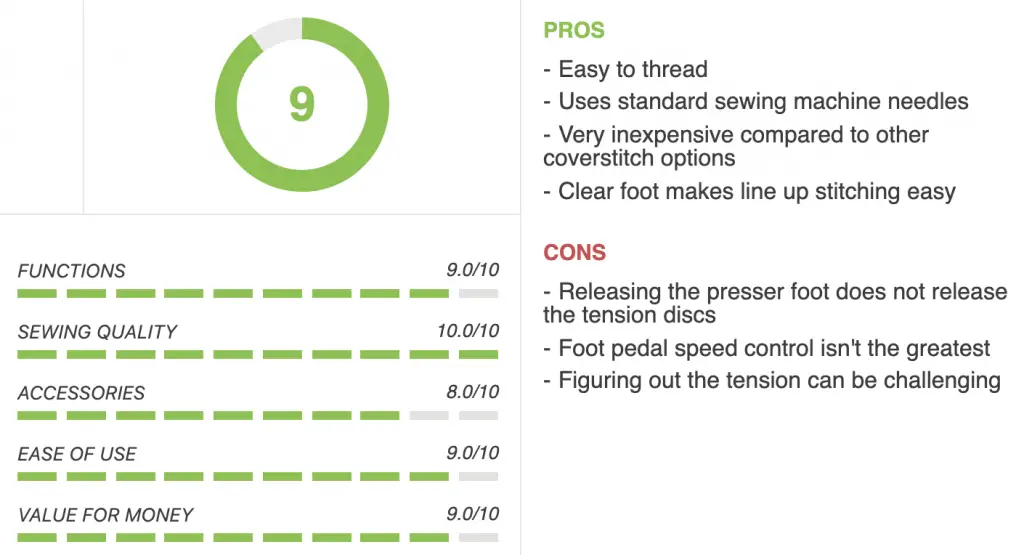 Brother 2340CV manual 
You can download the full manual here.

Video guidelines

Brother 2340CV. FAQ and Troubleshooting 
How to thread Brother 2340CV?
How to sew through thicker fabrics and seams? 
How to cover raw edges with hemming using this machine? 

Brother 2340CV accessories
Coverstitching machines generally don't come with a surplus of accessories. But at the very least, Brother 2340CV comes with anything to get you started. The packaging includes foot plus blind stitch and gathering foot. You will also get a needle set, four-thread nets, spool cups, and spool mats, tweezers, a cleaning brush, a softcover, a hexagonal wrench, and an operating manual.

Is Brother 2340CV really a good one? Our verdict 
With Brother 2340V, you can hem any fabric stretch, no matter how thin or delicate, and even put a professional finish on every cloth you make. Hemming is an easy but tedious task. Thankfully, this machine zooms through the process!
The machine is very easy to operate (even when it comes to challenging fabrics, like knits), especially if you have some serger experience. What's more, it comes with an accessory bag that contains lots of added tools you'll need like 4 thread nets, tweezers, and more.
Brother 2340V is a simple and incredible machine!

Credits: photos by Canva

Disclosure: at sewingyourstyle.com we only write about the products that we've researched and considered worthy. But it's important to mention that we are a participant of several affiliate programs, including Amazon Services LLC Associates Program, an affiliate advertising program designed to provide a mean for us to earn fees by linking to Amazon.com and affiliated sites. As an Amazon Associate sewingyourstyle.com earns from qualifying purchases.