Brother is one of the most popular sewing machines makers that creates really good sergers along with sewing, embroidery, and quilting machines. They spell consistency, user usability, and longevity. Those working horses are never disappointed.
And Brother se400 is one of the company's bestsellers. And it's also made our list of best Brother sewing machines. But it really isn't shocking. It's a sewing, quilting, and embroidery unit. And you're not going to break the bank if you decide to buy it. With that being said, let's try to look at all the pros and cons and potential issues you might have when reviewing the opportunity to purchase this particular model.

Everything you might ever need (and even more) is in this review. So, let's get started! 

Are you interested in a particular question about the subject of this article? Then use the table of contents below to jump to the most relevant section. And you can always go back by clicking on the black arrow in the right bottom corner of the page. Also, please note that some of the links in this article may be affiliate links. For more details, check the Disclosure section at the bottom of the page. 

Brother se400 review 
This sewing machine has some impressive features. Brother SE400 is an entirely computerized sewing machine.
This machine comes with a lot of stitches and legs, all of the top quality. It's also heavy duty and does a great job on denim hems, just make sure you read the guidelines for dealing with dense fabrics and using the right needles and thread.  
If you want a machine that allows you to embroider and sew with a range of stitching choices, this machine is for you. 
It's easy to set up, easy to use, and even Mac-users are cool. Good little guy, man.
The machine will sew through thicker textiles when using the correct size of the needle. It comes with a user-friendly DVD / CD that explains a lot of the features of the devices and a user manual (paper book) that is easy to understand and obey. Of course, the embroidery could have been more comprehensive.
Still, if you don't want to pay ~$1000 for the embroidery machines with this capacity, Brother SE400 will fine-tune all your specifications. Great bonus: Brother.com also has tons of free downloadable PES files for use with this computer Computerization also allows the system to import thousands of embroidery designs online. You can buy/find any of them and import them to your embroidery machine.
Main features: 
67 built-in sewing stitches, including quilting, heirloom, and decorative options
Super easy bobbin winding system
Large 4″ x 4″ embroidery area
5 embroidery fonts, 70 built-in embroidery designs, and 120 frame pattern combinations
Robust design editing features 
Easy-to-view back-lit, touch screen LCD display
USB computer connectivity for designs importing and software update
Automatic needle threader
Quick-Set drop-in top bobbin

Brother se400. SYS rating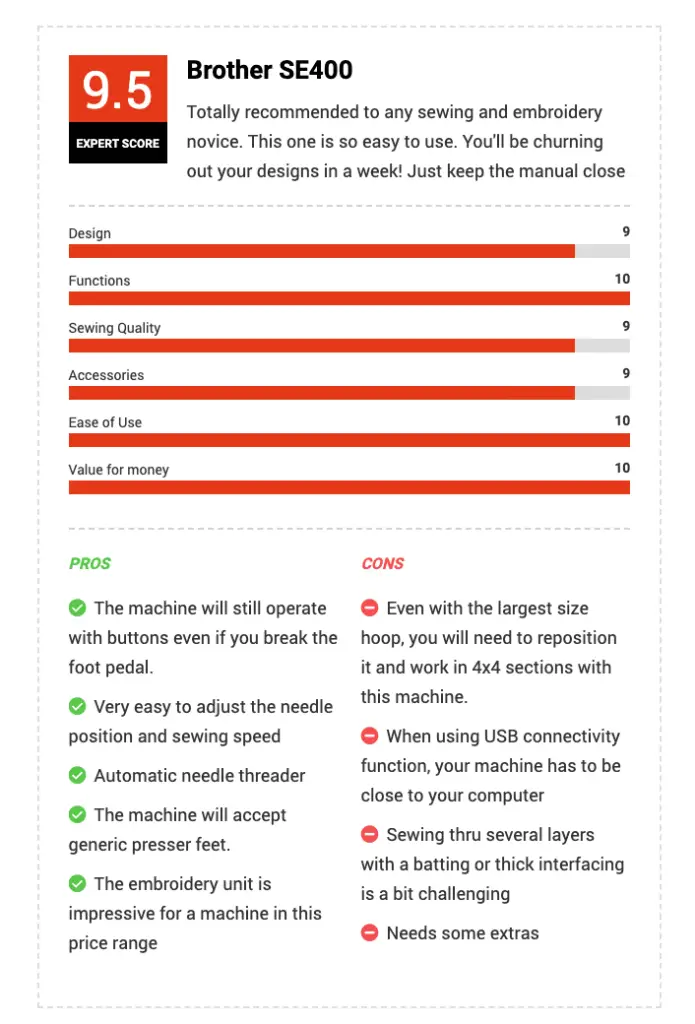 Brother se400 manual 
You can download the full manual here. 

Brother se400 video guidelines

Brother se400. FAQ and Troubleshooting
How to thread Brother se400?
Threading diagrams, such as small arrows or machine-marked numbers, make it easier to see how to thread the upper thread, which is particularly useful for beginners. And there's also an automatic needle threader on this model. It's a small built-in device that swings around and helps you hook the thread through the eye of the needle.
You can check the video guidelines for more information: 

How to wind a bobbin Brother se400 if it stopped winding?
If you use pre-wound coils, you may need to pull a little thread out first. Pull out about 1 mm or so, and they're going to work fine.

In other instances, you may also be able to check that you have the right size spool cap in place, causing the thread to drag on the spool slit. The cap must be wide enough to hold the thread away from the edge of the spool as it unwinds.
Make sure that the bobbin is securely placed on its spindle and then give it a hard push to make sure that the belt is engaged as you shift the bobbin to a winding position.
Can I use Brother se400 on Mac?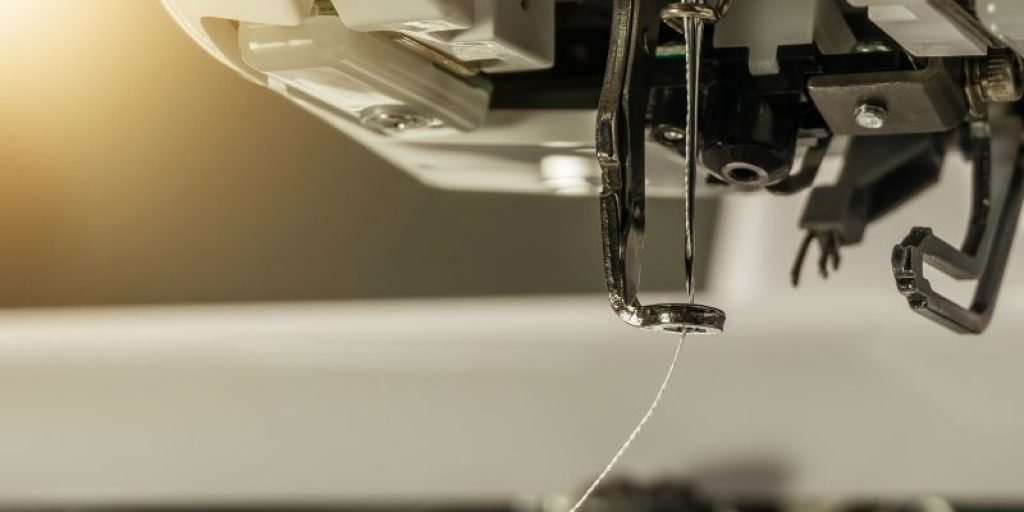 Embrillance software will run on Mac. And they also have a free version. If you're just trying to get designs on your Mac computer, first, you can buy designs / find free ones. Then connect the cable that came with your machine to your device and upload it via Embrilliance. Make sure the layout is within the 4x 4-inch limit, though.
What fonts are included with Brother se400?
There are five different fonts in this series, three of which look exactly the same. Yes, there are three sizes in each plus one of the upper and lower cases. So far as the lettering is concerned, it will work in a frame of 4x 4 inches. So if it's too large, you only have to pick a smaller letter. Fairly adjustable. There is also calligraphy styled letters (capitals) in the designs section. They can't really be adjusted that much, maybe a little smaller or bigger, but they're good.

Can the Brother se400 sew through several layers of denim or other heavy fabrics?
It's working on canvas. Yet it starts to get tricky with jeans. If you're going through 4 layers of denim, you have to go slowly and don't forget to use the appropriate needles and threads. Only follow the instructions, and you're going to be okay with thick fabrics.
What to do if I keep breaking needles on Brother se400? 
Try the following steps to fix the problem
Take all the threads out of there (top and bobbin).
Verify that there are no threads caught in the tension disk (and if there are, softly draw in with thin tweezers and remove). Random thread pieces may create extra pressure on the thread that pushes the needle as it goes along, causing the bending.
Move the needle up and down a few times with the handwheel to make sure there's no clicking sounds or odd pressure as the needle goes down. That will signify that the needle hits the bobbin, and bends a bit more with each stitch before it finally reaches the plate and snaps. If this is the case, make sure the needle is set correctly.
Them re-thread and double-check in your tension settings. If it won't helping maybe it makes sense to get your machine to the service.

Brother se400 accessories
The accessories that come with the Brother SE400 are pretty standard. You'll get 7 extra feet – buttonhole, overcasting, monogramming, zipper, zigzag, blind hem, and button fitting feet. The unit comes with a 4″x4″ embroidery hoop. Also, you'll get the case for all the accessories, foot controller, 4 bobbins with clips, touch pen, set of needles, twin needle, 3 spool caps, spool pin, and net. Plus scissors, seam ripper, disc-shaped screwdriver, cleaning brush, eyelet punch, screwdriver. And of course full manual along with instructional DVD. 
Best feet for Brother se400
Brother SE400 is compatible with the generic feet that are pressed on / low shank. If you have that type of presser feet that are working from your last sewing machine, you will also be able to use it on this model too.

Brother se400 bobbins 
This machine uses bobbin class SA156


What extras do I need if I am starting from scratch? 
Also though this computer is super powerful and comes with a lot of accessories, you're always going to have to buy some extras to get you started.  
Here's what you'll need to buy if you take the embroidery feature seriously: the needles. You'll want to replace the needle every 8 hours or so to keep the thread from breaking.

Stabilizer. Many people are buying a tear-away stabilizer with this machine. But in some cases, it might be the wrong choice. If you're wearing t-shirts or a bulky design, it's better to use a cutaway stabilizer. Even after washing, the pattern will hold.  This one works just fine for the purpose.

You will also need a special thread if you are intending to do the embroidery. But you can get a giant pack of colors in bulk and don't worry about it for a long time (check this set, for instance). You also need backings, but those are also really cheap online (check this option). Just make sure you get the right size. This machine an do a 4×4 square, but the loop size is about 4×6. So you'll need to buy backing that is larger than 4×6 to make it work.

Yet even with the extra spending, you're going to save a lot of cash on customized gifts for years to come. Imagine all the presents of potential grandparents, baby presents, and years of birthday parties that you and your children are likely to be invited to. 
Only estimate the price per present per party and see if it makes sense to create it yourself with a low investment.

Is Brother se400 really a good one?
This is an excellent little machine that's suitable for many sewers – both seasoned and beginners. Although it is fully computerized and packed with all the fancy features, it's still easy to understand, learn, and use. Whatever you are up to – quilting, sewing, or embroidery, you most likely going to love se400!   And you can check more reviews from buyers on the product's page on Amazon here. 
Credits: photos by Canva

Disclosure: at sewingyourstyle.com we only write about the products that we've researched and considered worthy. But it's important to mention that we are a participant of several affiliate programs, including Amazon Services LLC Associates Program, an affiliate advertising program designed to provide a mean for us to earn fees by linking to Amazon.com and affiliated sites. As an Amazon Associate sewingyourstyle.com earns from qualifying purchases.