Crafting is undoubtedly not everyone's cup of tea. If you want to make anything distinct from ordinary crafts, you'll need a really creative mind. The more creative you are with your ideas, the more likely you will succeed in your chosen field. After all, why not? Because artisans think in unconventional ways and come up with unusual ideas.
Embroidering with a sewing thread is one of these ideas. We all know that embroidery requires special threads. Still, we didn't realize that this work may also be accomplished using an ordinary sewing thread. Yes, that is the new in. 
You can now add a unique and distinctive touch to your embroidery creations by utilizing different threads and needles than you typically would. Because that's the crux of art; coming up with unusual concepts and turning them into one-of-a-kind craftsmanship creations.
On the other hand, threads are typically made of various materials such as cotton, nylon, and other synthetics. This piques a crafter's interest in the experiments he might do with his creation, but it also provides him with a wider range of thread options.
Do you have a particular question about embroidery using sewing thread? Then use the table of contents below to jump to the most relevant section. And you can always go back by clicking on the arrow in the right bottom corner of the page. Also, please note that some of the links in this article may be affiliate links. For more details, check the Disclosure section at the bottom of the page. 
Can you use regular sewing thread for embroidery?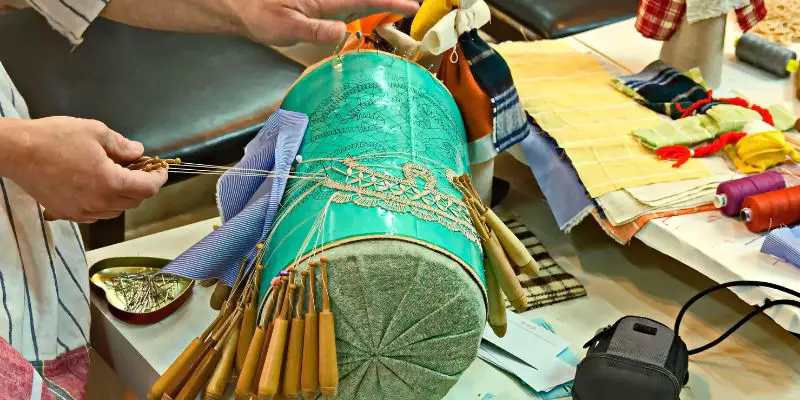 The discussion mentioned above might raise an important question in your mind. Can you embroider with a regular thread? Well, the good news is, yes, you can. And why not? Threads are used for the same purpose in sewing, no matter what project (machine or hand embroidery) you use them for. 
However, you must keep in mind that though you can embroider with a sewing thread, the result that you'd get at the end will not be the same as the one done with an embroidery thread. Your end result may vary depending on the fiber and its weight. Not to mention the use of the perfect needle for the thread you're using since it also changes the end result. 
You may also want to consider another few points while moving from embroidery thread to sewing thread for your embroidery. Which is, that the embroidery thread is different in texture than sewing thread. It's thicker yet softer than the latter because the purpose of embroidery is to bring out the embroidered design to make its appearance appealing. 
Besides, they also come in different sizes. These sizes range from 30 to 60, with 40 being the most frequently used size. If you ever find yourself in a situation where you have to embroider with a sewing thread (either by choice or might), go for this clever technique. 
Try using multiple strands of the regular thread since they are much lighter than embroidery threads. When you double or triple the strands of a standard thread, you can get an eerie resemblance to embroidery thread on the fabric you're working on.
Types of Thread Commonly Used for Embroidery
Here are a few types of threads that are commonly used for embroidery. 
Silk Thread
Silk Thread is often referred to as luxury thread because of the fine texture it entails. Besides, it is an ideal thread for dying purposes and cannot break or fray during crafting. Moreover, when used on top-notch quality fabric, silk thread tends to exude an extra charm. 
Perle Cotton Embroidery Floss
This thread is made of cotton and is available in different sizes: 3, 5, 8, and 12. This thread's main advantage is that it may be used in intricate and complex embroidery stitches to give them a rope-like appearance.
Rayon Thread 
Because of its luster and vibrant colors that create a lovely impact on the fabric, Rayon is one of the most commonly used embroidery threads. You should expect little breaking or fraying when embroidering using rayon thread, which is why it's ideal if you want to finish your embroidered project quickly.
Polyester Embroidery Thread
Because of the resemblance with the rayon thread, polyester embroidery thread is also one of the most used embroidery threads, especially in kids' clothing. Though it lacks Rayon's sheen, it has the advantage of not fraying or breaking.
Sashiko Thread 
As the name suggests, Sashiko thread is an embroidery thread widely used in Japan for darning purposes. The strands of Sashiko threads are very strong and durable since they are 4 times heavier than regular embroidery threads. 
Embroidery Thread vs. Sewing Thread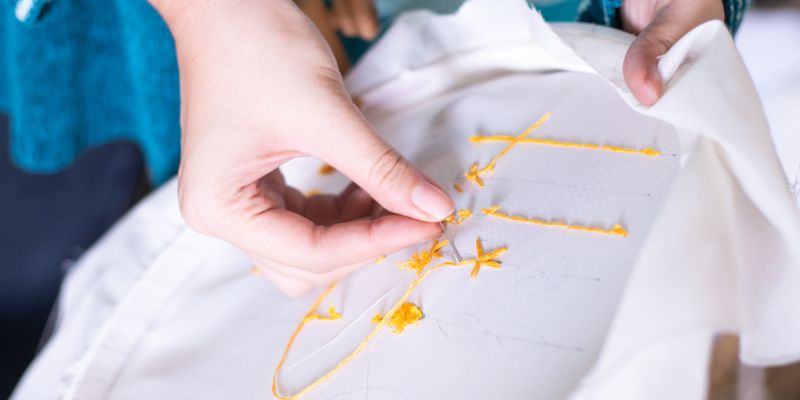 Threads vary from each other in terms of their texture, luster, and thickness and serve many purposes. The same goes for Embroidery and sewing threads. Although they can be used for sewing, some main differences set them apart from each other. 
Embroidery Thread 
An embroidery thread is a strong but soft thread with a lot of luster designed explicitly for embroidery. They are relatively sturdier than regular threads because they have to go in and out of the fabric repeatedly. These threads are numbered differently than normal threads and range in size from 30 to 60.
Sewing Thread 
Sewing threads are thin and fragile, with little to no luster, as compared to the embroidery thread. They are created this way because they must pass through the machine quickly without causing any knots.
How to embroider with sewing thread?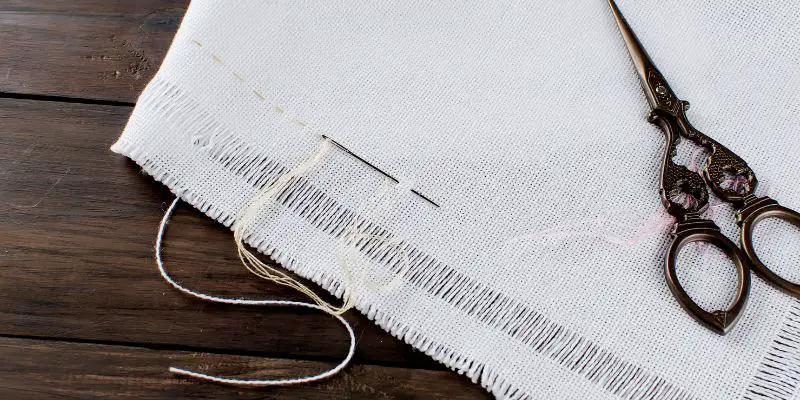 Embroidering with a sewing thread is just as same as embroidery thread. You just run the thread through the needle's eye and start embroidering on the designed pattern. Nevertheless, there are some things that you might want to consider before embroidering with a sewing thread. 
Because sewing thread is thinner than embroidery thread. Try threading the needle's eye with two or more layers of thread to enhance the embroidery design. 
Don't forget to keep an eye on the fabric you're working on. Is it thick or fragile? You don't have to be concerned if it's thick. However, suppose the fabric is frail or delicate. In that case, you may not need to embroider it with numerous layers of thread because this could produce holes in the fabric and damage the whole piece of art. 
Credits: photos by Canva

Disclosure: at sewingyourstyle.com we only write about the products that we've researched and considered worthy. But it's important to mention that we are a participant of several affiliate programs, including Amazon Services LLC Associates Program, an affiliate advertising program designed to provide a mean for us to earn fees by linking to Amazon.com and affiliated sites. As an Amazon Associate sewingyourstyle.com earns from qualifying purchases.