Some hobbyist seamstresses would still consider something like serger a luxury rather than a necessity. However, I truly believe that this kind of machine can elevate the quality of your garments from good to excellent. Not to mention that you'll also save tons of time in the process. 
So in case you are looking for an option to bring your sewing game to the next level, let's talk about Singer Serger 14sh654. Since this might be exactly what you are looking for. 
Do you have a particular question about Singer 14sh654? Then use the table of contents below to jump to the most relevant section. And you can always go back by clicking on the arrow in the right bottom corner of the page. Also, please note that some of the links in this article may be affiliate links. For more details, check the Disclosure section at the bottom of the page. 
Singer Serger 14sh654 machine review
Singer Serger 14sh654 is a heavy-duty serging machine. And it brings a lot of versatility and reliability to the table. There are plenty of features that recommend this serger as the best on the market, including the fact that it features a differential feed for sewing knits (which are the trickiest fabrics as we all know).
This machine lets you stitch with ease, and overcasting is more straightforward than on other devices. And it has a handful of decorative stitches, too. 
This model is a two-needle device, so it can sew six stitches with three or four threads. 
And the best part about it is that it comes with a color-coded lay-in threading system for user-friendly threading. When it comes to sergers, many beginners feel quite intimidated by the threading process. But it's way easier than it seems with this model. 
This is a beginner-friendly sewing machine for fast, reliable, and simple stitching needs. And it also comes with an instructional DVD, which teaches you how to master sewing on this device. 

Main features
3 or 4 thread stitches for various seams and edges
Color-coded threading system 
Differential feed adjusts fabric feed for smooth seams
Free arm 
1300 stitches/min 
Quit portable – only weighs 13.5 pounds
Adjustable stitch width and length
Built-in rolled hem 
Speed control
Free arm accessory storage tray
Presser foot has an extra high position for thick fabrics

Singer Serger 14SH654. SYS rating, pros, and cons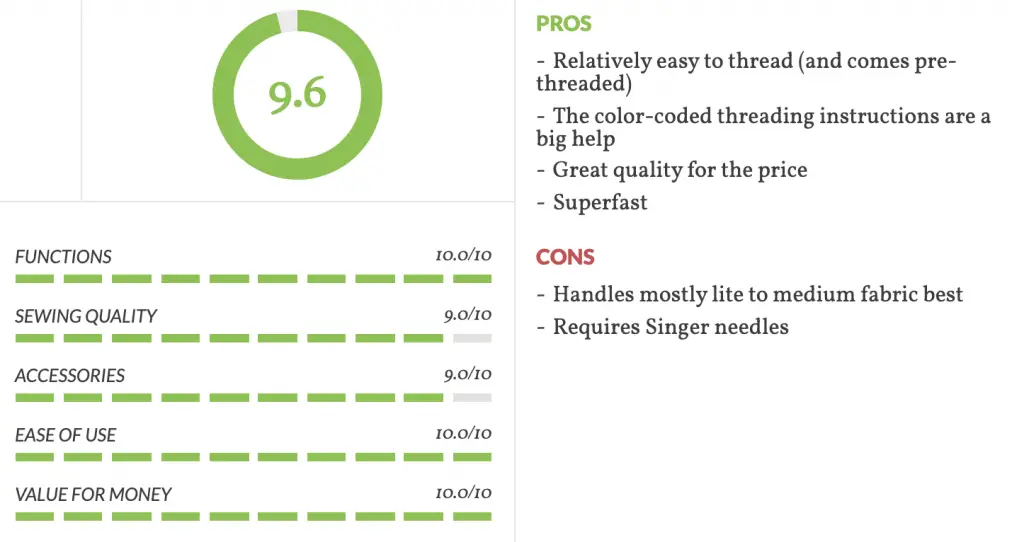 Singer Serger 14SH654 manual 
You can download the full manual here.

Video guidelines

Singer Serger 14SH654. FAQ and Troubleshooting
Can this machine sew a simple straight stitch? 
Sergers and standard sewing machines are fundamentally different. One uses bobbins, one uses loopers. One uses two threads, one uses 3-5 depending on your model. So, sergers cannot sew a straight stitch.
How to thread Singer Serger 14SH654? 
Does it sew through leather and jeans? 
Remember that this machine handles mostly lite to medium fabric only. Unless you can correctly adjust the pressure for the presser foot, don't sew heavy fabric on it.  

Singer Serger 14SH654 accessories
This machine comes with quite a few accessories: all-purpose foot (on the machine), needle set, tweezers, and screwdriver. Your purchase will also come with foot control, power cord, tri-lingual instruction manual, and machine intro DVD.

Is Singer Serger 14SH654 really a good one? Our verdict 
Overall, I would say this serger is excellent for both experienced and beginner sewers who want to improve the finished look of their designs. Although it might be more challenging to learn how to use this machine for beginners. Other than that, it's a cost-efficient solution for anyone looking forward to having a serger in their household. It provides a beautiful professional seam finish and offers unlimited decorative capabilities. 

Credits: photos by Canva

Disclosure: at sewingyourstyle.com we only write about the products that we've researched and considered worthy. But it's important to mention that we are a participant of several affiliate programs, including Amazon Services LLC Associates Program, an affiliate advertising program designed to provide a mean for us to earn fees by linking to Amazon.com and affiliated sites. As an Amazon Associate sewingyourstyle.com earns from qualifying purchases.