Brother machines are well-known on the market due to their durability and versatility, as many models will surely work both for experienced and beginner sewers. And I think you will find this Brother DZ1234 as one of the best in its category and price point when you are looking for a good serger. And it's worth covering it in detail. 
Do you have a particular question about the subject of this article? Then use the table of contents below to jump to the most relevant section. And you can always go back by clicking on the arrow in the right bottom corner of the page. Also, please note that some of the links in this article may be affiliate links. For more details, check the Disclosure section at the bottom of the page. 
Brother DZ1234 review
Overall, this Brother model offers access to all the basic settings any seamstress might even need. It offers top-notch performance and tons of cool little functions, e.g., adjustable stitch width, ranging between 3.0mm and 7.0mm. 
This is an extremely user-friendly device. It comes with color-coded thread guides, numbered upper and lower thread loopers, and even an instructional video. 
It features an impressive 1,300 stitches per minute, along with a lightweight and compact design. Besides, you will love the sturdy exterior and durable materials used for it. It is the type of serger you will use for years to come.
In other words: when you get the Brother DX1234, you will benefit from everything you need to start using the machine right away. The end results you will have are even stitches and professional design, significantly enhancing your work quality.
Keep in mind that some users complain about the thread breaking and tension issues when using this machine. But I think that if you opt for using a good thread and follow the manual, you won't experience such problems and find that this machine is a breeze to run.

Main features
Sturdy metal frame for extra durability
3-4 thread serger
Adjustable stitch width between 3.0mm to 7.0mm 
Sewing speed up to 1,300 stitches per minute:
Color-coded thread guide for easy threading, 
Numbered upper and lower thread loopers
18.1 pounds

Brother DZ1234. SYS rating, pros, and cons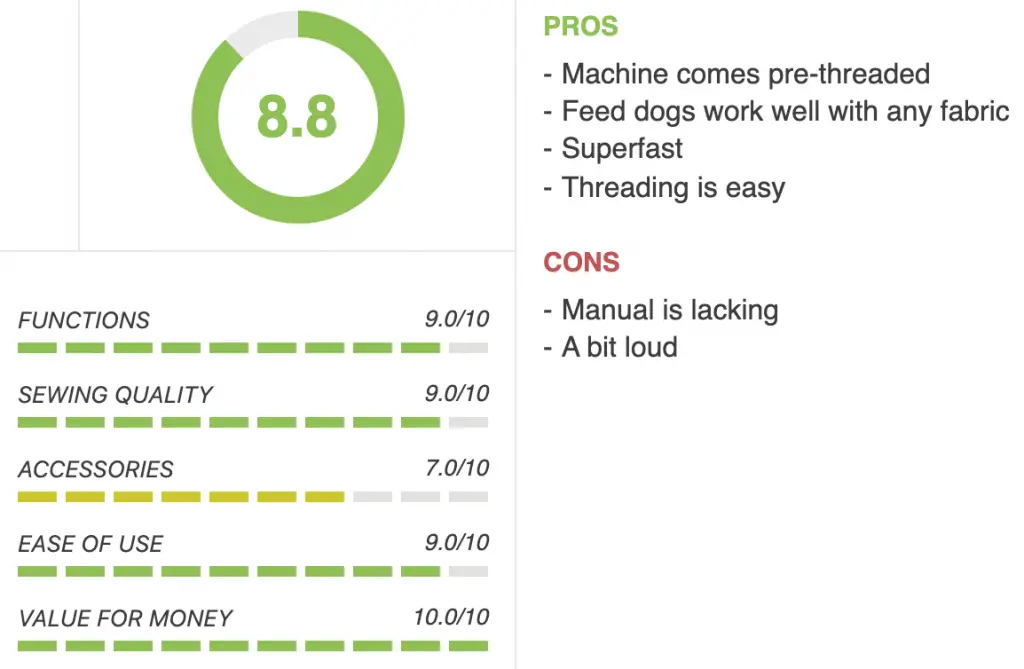 Brother DZ1234 manual 
You can download the full manual here.

Video guidelines

Brother DZ1234. FAQ and Troubleshooting
How to oil this machine before the first use? 

How to thread Brother DZ1234? 
Does it sew through leather and jeans? 
It works with practically any material! You will still have to do a test run on a small piece of any new fabric to adjust all the settings. And don't forget to follow the manual's recommendation and always use a proper quality thread and needles. 

Brother DZ1234 accessories
Brother DZ1234 comes with a small lot of accessories: 3 feet, including gathering, blind hem stitch, and piping feet. And also 2 sets of starter threads. It's not much but you still can get started out of the box. 

Is Brother DZ1234 really a good one? Our verdict 
I do believe this is a fantastic machine. The metal exterior will last for years. And the machine's simplicity to use, making it a great option even for beginners. I think this is one of the most affordable sergers on the market with a user-friendly design and easy to thread. It is lightweight, durable, and it won't occupy too much space in your home.
 And if you take the time to compare it to an industrial machine, you will discover that the Brother DZ1234 gets close to those professional tools. It is an excellent investment when it comes to its stitches, speed, and value. 
Get ready to see the enormous difference this device will make in your designs if you give it a shot. 

Credits: photos by Canva

Disclosure: at sewingyourstyle.com we only write about the products that we've researched and considered worthy. But it's important to mention that we are a participant of several affiliate programs, including Amazon Services LLC Associates Program, an affiliate advertising program designed to provide a mean for us to earn fees by linking to Amazon.com and affiliated sites. As an Amazon Associate sewingyourstyle.com earns from qualifying purchases.