Juki MO-735 is one of the most versatile sergers you will stumble upon. This model works smoothly as it is the case with any Juki machine. And you will see that it can work well as a cover stitch unit too.
Overall, you will get access to an impressive performance at a reasonable price. But let's get into some details for the sake of this review.
Do you have a particular question about Juki MO-735? Then use the table of contents below to jump to the most relevant section. And you can always go back by clicking on the arrow in the right bottom corner of the page. Also, please note that some of the links in this article may be affiliate links. For more details, check the Disclosure section at the bottom of the page. 
Juki MO-735 review
This serger (and it's quite robust for this kind of machine) comes with 24 stitching options. So your creativity will really have fun with it, and you'll be able to complete any type of project you might have in mind. 
And threading is not as complicated as you might think. Though, you will need some tutorials on how to use this Juki machine for that. You will see plenty of YouTube videos about using Juki MO-735. So Google and YouTube will become your best friends while you are learning the ropes, and it's not a bad thing. 
And the best part about this sewing machine is that it lets you sew knits with ease. And those are always the most challenging projects. 
Still, I found one downside worth mentioning. If you aim to do some cover stitching, you will see that the blade comes from a weird angle. If the blade wasn't coming from above and if it didn't position itself in those two inches to the needles' right, this machine would've been more than perfect.

Main features
Chainstitch mode
Chain looper threading – in a snap
Heavy-duty upper & lower adjustable knife system
24 stitch patterns (including 2-needle wide, 2-needle narrow and 3-needle)
Multi-function presser foot
Easy cutting width adjustment
Differential feed adjustment
Easy stitch length adjustments
Lay-in type thread tension slots
Color-coded threading
Automatic rolled hemming
Sewing light
Micro safety switch
23.1 pounds

Juki MO-735. SYS rating, pros, and cons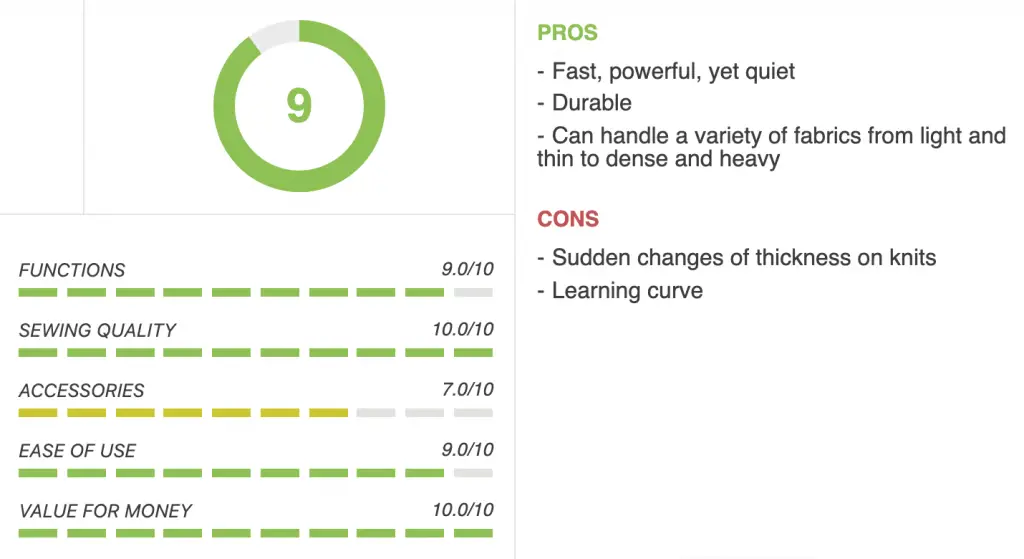 Juki MO-735 manual 
You can download the full manual here.

Video guidelines

Juki MO-735. FAQ and Troubleshooting
How to thread Juki MO-735?
How to insert the needle in Juki MO-735?
Does it sew through leather and jeans? 
For extra thick multi-layers material, you may need to invest in a block of wood and a small silicon mallet. You may use that equipment to firmly bash the material until it gets really flat and easier to sew. But overall, this machine can deal with a few layers of jeans with no problem.   

Juki MO-735 accessories
This model comes with a solid set of accessories including compensating presser foot, spare lower knife, oiler, screwdriver, spool caps, vinyl cover, tweezers, thread and needles, brush, and needle inserter. You will also receive a threader guide, waste bin accessory, instruction manual, foot control, and power cord.

Is Juki MO-735 really a good one? Our verdict 
I believe that the Juki MO-735 is useful to anyone who is committed to learning and experimenting. It comes with a wide array of features, including Cut/Sew/Finish in one operation and a huge variation of stitching patterns. And you will see that no matter what stitch type you opt for, the results will be impeccable.
 If you're one of those who love sewing with knit, this Juki machine can be the best match. There is no need to purchase a bulky industrial machine when you have this Juki MO packed with all the features you might need in this case. 
I can say with certainty this is the best choice in its price range. And it comes with all kinds of learning material to get you started.

Credits: photos by Canva

Disclosure: at sewingyourstyle.com we only write about the products that we've researched and considered worthy. But it's important to mention that we are a participant of several affiliate programs, including Amazon Services LLC Associates Program, an affiliate advertising program designed to provide a mean for us to earn fees by linking to Amazon.com and affiliated sites. As an Amazon Associate sewingyourstyle.com earns from qualifying purchases.